When having an issue with drivers or graphics or system file corruption, Windows System Restore is the easiest way to get back to a working condition of Windows 11/10. If you have created a system restore earlier, this guide can help you do a system restore in Windows 11/10.
Note: System Restore is not set to on by default. You should see if you have enabled it at some point or if Windows has created it. We have also explained how to create a system restore at the end of the post.
What Is A System Restore Point?
A System Restore is entirely different from a system backup. A system restore is created before any noticeable change like a driver update, software installation, or system update is done to your system. If anything goes sideways, you can revert your PC to its old state. A system restore does not affect your files and documents in any way.
A System restore uses OS files which are essential for restoring settings and the state of the computer. Volume Shadow Copy Service controls the whole process, which selects and separates the files.
How To Do a System Restore in Windows 11/10
These are three methods you can use to perform System Restore. If you do not find any system restore, enable it and create it often.
System Restore from within Windows
System Recovery
Advanced Recovery
You will need admin account access to use this.
1] System Restore from within Windows

If your Windows Machine boots up normally and you can reach your Windows Desktop, follow the steps below to restore your computer.
Windows 11/10: Open Windows Search using Win + S and type Recovery. Click on the Recovery(Control Panel) link when it appears.
Windows 7: Type System Restore in Windows Start Menu or go to Control Panel > Action Center > Restore your computer to an earlier time
The System restore windows will display a list of available restore points.
Select a restore point that suits you best. If your System stopped working because of software installation, choose the restore point close to the date of installation of the software.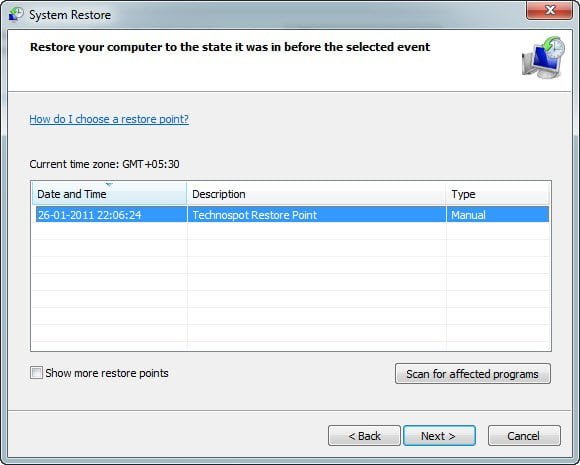 If you want to find more hidden restore points, check on the option showing me more restore points.
Use the Scan for affected programs to find how many of your existing programs might be impacted by this System restore. It is helpful if you want to save back those data and files.
Select the restore point and follow the wizard. Once restore is complete, your System will be rebooted, and your computer will be in working condition.
If you have never created a restore point, create it immediately by turning it on. You can also use the One-Click System Restore Point Creator.
2] System Recovery
Press F8 when your computer starts.
Choose System Recovery, which should be the first option
You will need to verify with an admin user name password
Next, you will get five ways to recover the computer in case of a problem: Startup repair, System Restore, Windows complete pc restore, Windows Memory Diagnostic Tool, and Command prompt.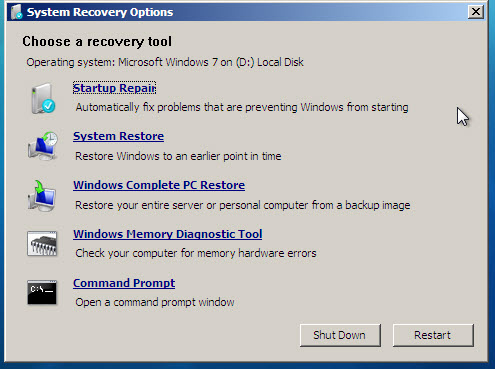 Choose System Restore and follow the on-screen instructions to complete the process. It will be similar to what we have seen in the above section.
More on the recovery options:
Windows Complete PC restore: It is useful when you have a backup of your PC or the drive where you installed windows.
Command prompt recovery mode: It is only for advanced users
Memory Diagnostic tool helps you troubleshoot memory issues on the computer.
Startup Repair can fix problems from applications that prevent Windows from starting.
3] Advanced Recovery
While the process remains the same as Windows 7, Windows 11/10 Advanced Recovery offers an enhanced menu. You still need to press F8 to access the Advanced Recovery if you cannot access it from within the System. It is also called the Windows Recovery Environment.
When in Recovery Environment, select Troubleshoot.
To restore from a system restore point, choose Advanced Options > System Restore.
Then follow the on-screen instructions to return to the computer's working state.
Restoring won't affect your files, but it will remove apps, drivers, and updates installed after making the restore point.
I hope the guide explained how to do a System Restore in Windows 11/10/7. Let's find out how to create one.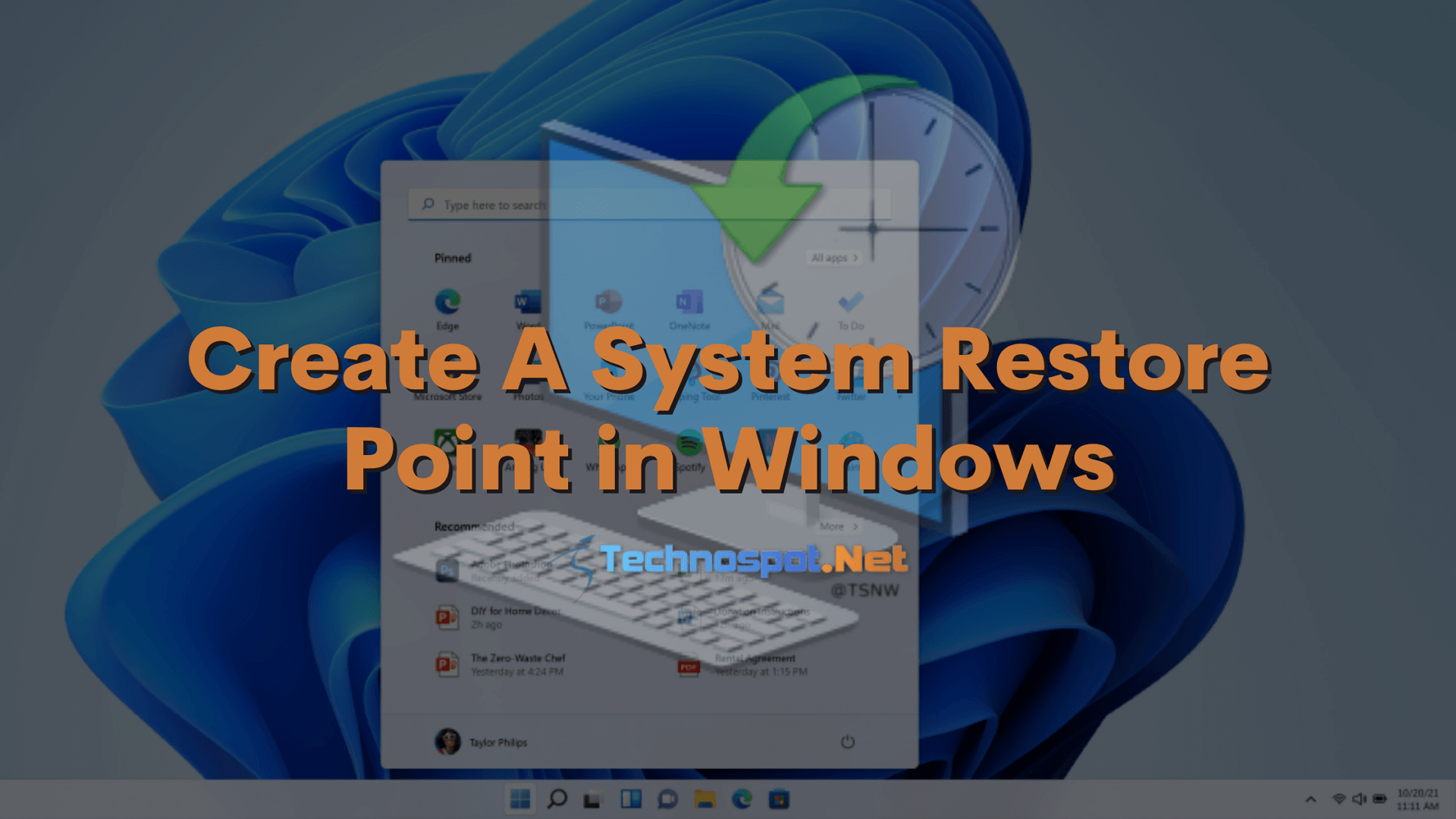 How to Create A System Restore Point In Windows
While Windows automatically creates restore points before any substantial changes to your system, there are chances that it may have been turned off for your computer. You may also want to create a restore point before doing a significant change manually. Let's look at how to automatically and manually create System Restore Points in Windows.
1] Automatically Creating A System Restore Point In Windows 
Follow these steps to make Windows create a system restore point every time your system goes through a substantial change:
Search Create A Restore Point in Windows search.
Open the first option that appears. It will open the System Properties window.
Now, go to the System Protection tab in the System Properties window.
Now, you'll be able to see a Configure button. Click on it.
In the Restore Settings section, you'll see two options, Turn On System Protection, and Disable System Protection. Select Turn On System Protection to automatically create a system restore point before any significant change is done to your system.
2] Manually Creating A System Restore Point In Windows
Suppose you are planning to make a substantial change to your Windows computer and are unsure whether a restore point will be automatically created for the particular change. In that case, you can always go for the manual way. Here's how to do it:
Search Create A Restore Point in Windows Search and open the first option.
It will open the System Properties window. In the window, open the System Protection tab.
Now, you'll see a Create button below the protection settings section.
Click on it, and now you'll be asked to name the Restore point for your reference. Click on Create to create the restore point.
Troubleshooting System Restore
Now that we are all done with creating a system restore and enabling automatic restore point creation, here are some of the issues you may encounter while using the utility and how to fix them.
I Am Unable To Restore the System From A Specific Restore Point In Windows. How To Fix It?
If you are unable to restore the system from a restore point, there is a chance that the files for that particular restore point may have been corrupted. You can try running an SFC scan in the command-line interface to fix this issue. If that doesn't work, the only viable option that remains is using another restore point in place of it.
System Restore Is Taking up A Lot Of Space On My Computer. How To Reduce Space Usage?
You can configure how much space system restore uses on your computer. To do so, open the System Restore window by searching for it in Windows search. In the window, press the configure button, which will open another window allowing you to configure the system and restore storage usage. Deleting all the previously created restore points for the specific drive is also an option. You can use that as well to free up space on your computer.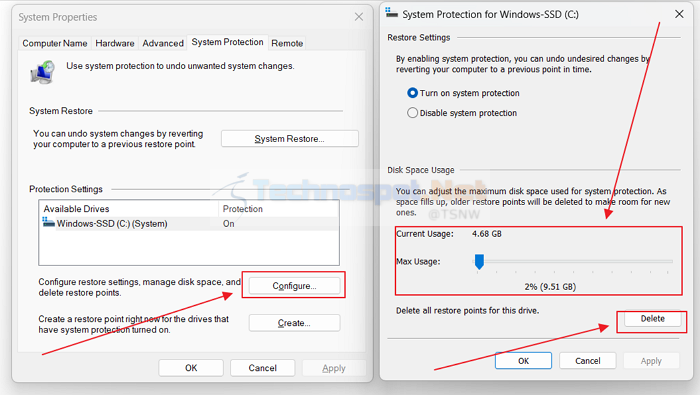 Frequently Asked Questions (FAQs)
Is Rolling Back To Previous Version Of Windows And System Restore Same?
Rolling back to the previous version of Windows and System Restore is not the same; you also cannot roll back with System Restore. System Restore is used to reverse the effect of any change in settings, software update, or software installation. The Rolling back feature, on the other hand, is not always available. You can only roll back for a fixed period after installing a new version of Windows. Also, the feature works independently of System restore, and the rollback files are stored separately.
Can System Restore Fix Issues In My Windows PC?
Yes, System restore can fix various issues in your Windows PC. System restore works by restoring your PC to its previous state by reversing the changes. So if you are encountering issues after a recent change to your PC, System Restore can significantly help fix the problems.
Conclusion
That was all on creating system restore points in Windows and troubleshooting. It is always good to make a system restore point before making any change to your computer, and doing so manually will ensure no chance of missing out. We hope you found the article insightful. Please make sure to share this article with everyone.