Apple always releases the beta version of iOS, which users can try. The same happened with iOS 13, and many who installed iOS 13 Beta had complained about some iOS update issues. While Apple allows you to downgrade to iOS 12 using iTunes, it results in loss of data. Many can't afford to do that, and this is where dr.fone-Repair (iOS System Recovery) tool comes into the picture. It offers you to downgrade iOS without any data loss. In this post, we will share how you can downgrade iOS 13 beta back to iOS 12.
Dr.fone Features & Time limit for downgrade
Now, before we move ahead, we will talk about two essential things.
1] Features of Dr.fone -Repair tool to downgrade
Back up complete iOS device.
Backup and restore your data from one device to another.
Backup Restore between iOS version.
Extract files and data from iCloud or iTunes backup and restore.
Selective data restore.
You don't have to boot your device into DFU or Recovery mode.
2] Time limit for downgrade
While you can downgrade without iTunes, it is crucial to understand that downgrading the iOS version is time-sensitive.
Until iOS 13 is available, you can downgrade to the previous stable version anytime.
After iOS 13 stable public version is released, you only have 14 days to downgrade to iOS 12
Now here is a deal. If you have passed the 14-day duration, it is not possible to downgrade using a signed copy of iOS, but using tools like TinyUmbrella or TaigOne Downgrader, you can install any supported iOS version on the device. They spoof as of they have the original signature and lets you install iOS 12 past due date.
How to downgrade iOS 13 beta back to iOS 12
The first thing you need to do is download the dr.fone – repair tool. Once installed, keep your iPhone ready to get started. It works on all major versions of Windows 10. Once done, it will solve all iOS update problems.
The best part of using that software is that it offers a one-click solution without any loss of data. After downgrade is complete, it will retain the existing data on your iPhone or iPad. Follow the steps to downgrade: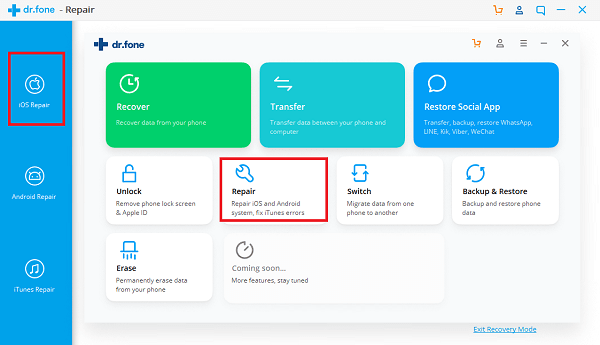 Launch the software, and connect your iPhone to it.
Once it detects, click on the Repair option > iOS Repair.
You will have two options here—Standard Mode and Advanced Mode.
To downgrade iOS, you can choose either of the modes.
Once the device is detected, you should be able to see your iPhone model, the latest stable version.
Make sure to choose correctly. Once done, click on the start button.
I will initiate the downgrade process.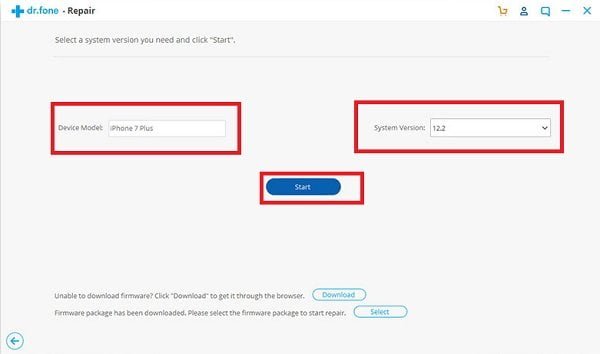 There are two more links on the same screen. The process first downloads the firmware and then applies it to the phone. In case you have issues, you can click on the Download button to that. Once you have it, you can use the second button Select, and then use the firmware to resume the process.
Once you have downgraded iOS, you should remove any existing beta software on your device storage. On your phone, go to Settings > General > Profile. Select the iOS beta profile, and tap on the delete profile. Once confirmed, it will remove it.
Troubleshoot Downgrading from iOS13 to iOS 12
If you are having issues downgrading and the process stops in between, here are some common issues which you can resolve.
1] If the phone is stuck on Apple Logo or DFU mode, then you need to restart the device forcefully. If the logo goes away, try downgrading again.
2] If it is stuck on Attempting data recovery, check if your phone is Jailbroken. You will need to use iTunes and boot your device in the Recovery Mode to fix it.
3] If it is stuck in a loop trying to restore during downgrade, then you need to force restart your device or restart the process.
Apart from these, the Dr-fone repair recovery page also talks about using tools like TinyUmbrella, TaigOne Downgrader, and iFaith. These tools are for advanced users with technical and computer skills.
What else you can do with dr fone Repair Tool
Not only can you downgrade the software, but you can also use it to unlock, repair, switch, backup, restore, and erase. You can even restore anything which gets deleted from the Social Apps.
Overall, the dr.fone repair tool is an excellent tool if you want to downgrade iOS from one version to another. It offers a one-click solution to downgrade to the latest stable version. The best part is that it retains the data, resolves all your iOS update problems and issues.