Windows 11 upgrade is a free offer for all Windows 10 users. But if you are not happy with it or do not want to use it because your application doesn't perform well, you have an option. It is possible to downgrade or rollback from Windows 11 to Windows 10.
Why Do People Downgrade From New To Old Version?
There can be many reasons for you to downgrade from Windows 11 to Windows 10, one of the most prominent being application performance. It is possible that the software needs an upgrade, and it has not been rolled out yet.
The second reason can be the lack of essential features like drag and drop of files to apps in the taskbar. Windows removed this feature with Windows 11. Also, the right-click menu has been limited, and to access the good old full menu, you need to make an extra click, which can get quite annoying at times.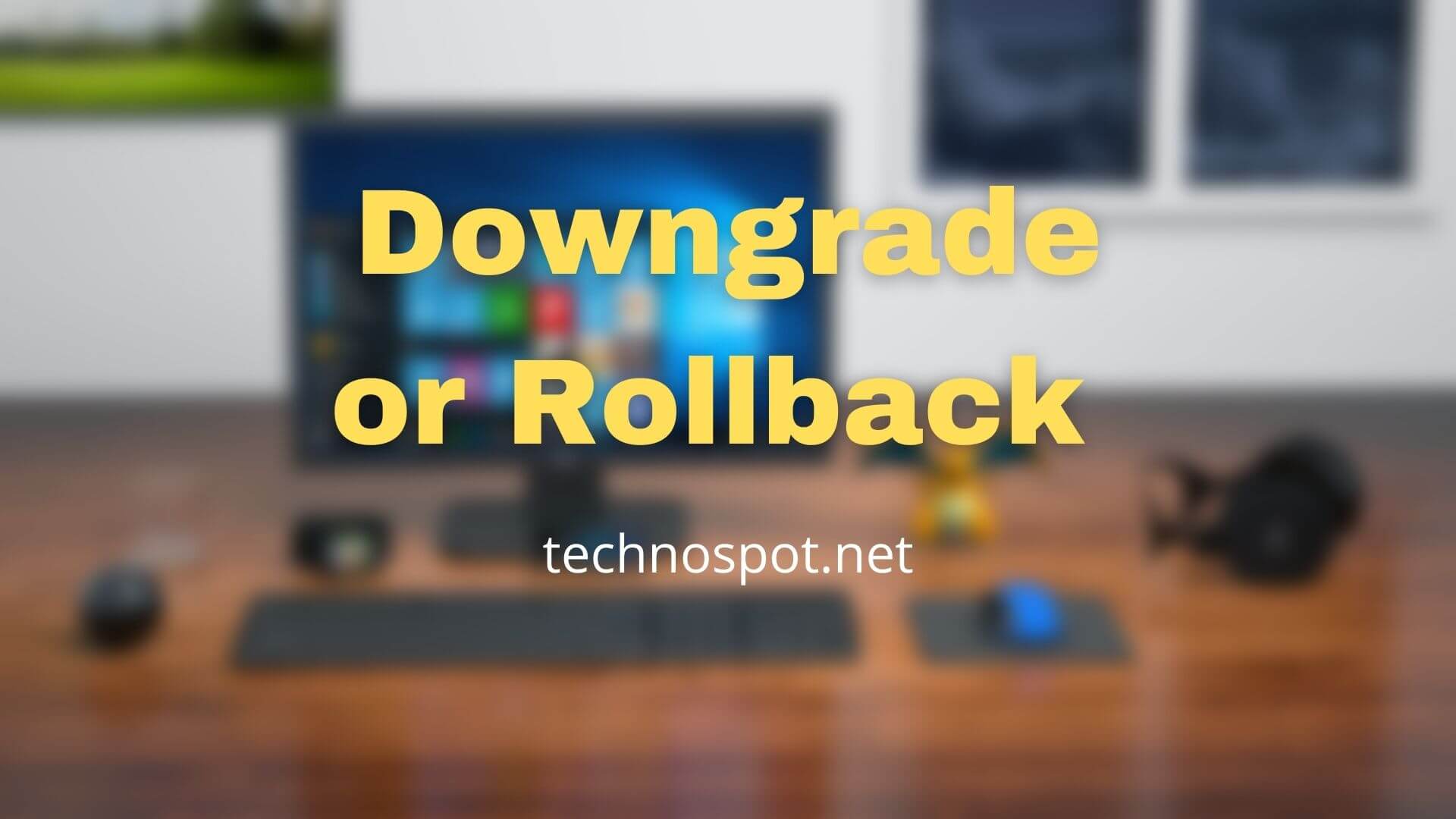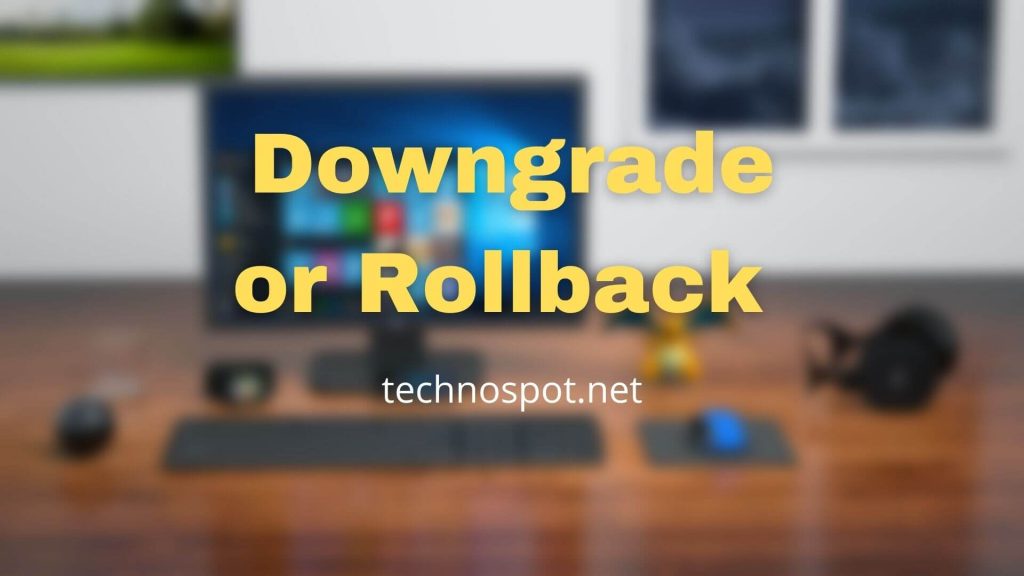 The third one is the UI revamp. Not everyone loves changes in the UI; for someone who has been using Windows 10 for years, Windows 11 might seem like an unnecessary upgrade.
Your reason can be anything; let's move on to our next segment, where we tell you how to downgrade from Windows 11 to Windows 10.
Downgrade or Rollback From Windows 11 To Windows 10
There are two methods which you can use. First is the System Recovery, and the second is Reinstallking Windows 10.
1] The System Recovery Method
It is the easiest method to roll back. Microsoft offers a feature that lets you roll back to the previous version of Windows within ten days of installing a new version. It implies that you can use this method to downgrade from Windows 11 to Windows 10 easily if it hasn't been more than ten days after installing Windows 11.
Listed below are the steps you need to follow to roll back to Windows 10 from Windows 11 using the system recovery method:
Navigate to Settings > System.
Under the System section, please search for the Recovery option, and select it.
Look for the Recovery Options, and under it, you'll find the Previous version of Windows.
Click on the Go back option.
Tap on the Next option from the window that pops up and make sure to click on the No thanks option when a window prompts for an update check.
Click on the Next option if any windows pop up further and click on the Go back to earlier build to begin the downgrade process.
Ensure that you have taken a backup of all personal and important files.
If you do not see the Go Back button enabled for your PC, it means the ten days grace period has expired. When this happens, Windows Storage Sense removes all backup files from the previous OS, and hence there is no way to go back. The only option is to reinstall Windows and install everything again.
2] Reinstall Windows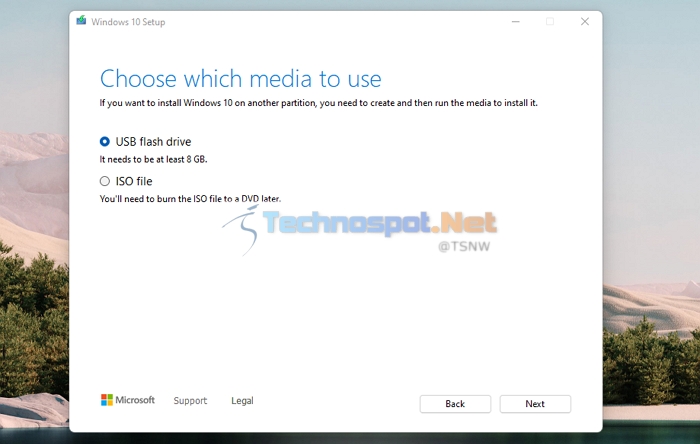 Reinstalling Windows 10 on a PC or a laptop is a relatively easy task if you have done it before. However, in this section, we'll be going over a brief step-by-step guide to freshly installing Windows 10, which will be our desired downgrade from Windows 11.
This process is a clean installation of Windows 10, which means that you should back up your data and store it safely before attempting this downgrade. So without any further delay, listed below are the steps you need to follow to install Windows 10 to downgrade from Windows 11 freshly:
Keep an 8 GB USB Drive ready and plugged in.
Download the Windows 10 Installation Media and run it. You can download the file following this link.
Run it, and after it goes through the install check, you will need to accept the terms and conditions. Accept it.
On the next screen, you will have the option to Upgrade or Create Installation Media for another PC. Select the latter.
Next, select the Windows 10 Language, Edition, and Architecture. Ensure this matches with the Windows for which you have the license.
Select USB Flash drive and click next.
Once Windows creates the bootable media, you can boot with it and install Windows 10.
Make sure the BIOS or UEFI has been set such that it boots from the USB drive instead of the storage device. Once there, you will need to select the System Drive, and when you do so, the installation will wipe everything on the drive.
You can also use third-party tools to create ISO or Bootable USB of any version of Windows.
How To Increase 10 Days Limit To Rollback To Windows 10?
You can extend the rollback limit from 10 days to up to 60 days by simply running a command in the Windows terminal in administrator mode; the command is as follows:
DISM /Online /Set-OSUninstallWindow /Value:60
You can change the number 60 to any number of days, but it should be done before the expiry. Since the rollback needs the backup files, and if it has already expired, the backup file is automatically removed by Storage sense.
Does Downgrading Windows Results In Loss Of Data?
Downgrading to Windows 10 through the system recovery method should not result in data loss as per Microsoft. All your files are already available in Windows.OLD folder, and it will be restored once the downgrade completes. However, if you have created a new set of files, you will need to take an online back.
I Have Deleted Windows.old Folder. Can I Rollback?
While you can still roll back, Windows will not be able to restore all your data and any other file available in that folder. It is created as a backup when the OS upgrades to a major version and contains all files you may need to restore. The only option is a fresh install of Windows.
Conclusion
Installation of Windows versions and even updating them are relatively easy tasks if done carefully. However, downgrading Windows versions is something that isn't done often. That is why this article presents you with an easy-to-follow guide to downgrade your device from Windows 11 to Windows 10 via safe and straightforward methods. With that being said, we'll be wrapping this article up, and we hope that this guide was of help to you.