Time to customize Windows 7 again and now its time to take over Windows Media Player 12 which had been in lot of demand for people who use XP and Vista.
To get new skins for Windows Media Player is very easy. All you need to do is go to
Tools > Options > Downloads and click on Skins.
This takes you to the official Microsoft Site here

This place contains the Official Windows Media Player 12 Skins which you can download for free. However the skins will be little bigger size as the contain lot of files which is required to customize windows media player. You can also find which skins are compatible with the previous version of windows media player.
Batman Skin (  Heavy but fantatstic )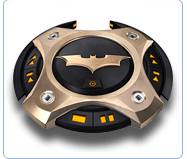 There are other skins right there, I would just list out the one which I loved most.
Age of Mythology
Age of Empires Skin
Back to Future Triology
After you download just double click the .WMZ file and you would see the theme applied to the player. I would recommend to download skins for Media Player from here, rather then looking out in torrents. You never know what kid of virus or rootkis come along with it.
Related :