Do you have many attachments from emails that are becoming a burden for you? This guide will let you know how to download outlook attachments from multiple emails to a local folder.
It becomes crucial to extract Outlook attachments to a folder when there are numerous emails with multiple attachments. In the absence of a feasible manual extraction method, users should use an appropriate software solution. Throughout this article, we have written about the most effective and easiest ways to download Outlook attachments.
Why do we Extract Outlook Attachments from Emails?
In Outlook, users can attach files, documents, etc., to emails and send them as an attachment. It is considered one of the easiest methods of sharing files and documents. Its disadvantage, however, is that it dramatically increases the size of Outlook data files (PSTs). The size of an extensive Outlook data file adversely affects Outlook's performance.
The following are some of the unfavorable effects of an overgrown Outlook data file (due to large attachments piling up):
PST corruption and its associated errors
Slow functioning of Outlook
Freezing of Outlook application in between
Inability to send/receive emails
Abrupt shutdown of the application
The above situations must be handled as quickly as possible, which can be accomplished by extracting the Outlook attachments from the relevant emails and saving them to a local folder. Let's explore different techniques for extracting Outlook attachments.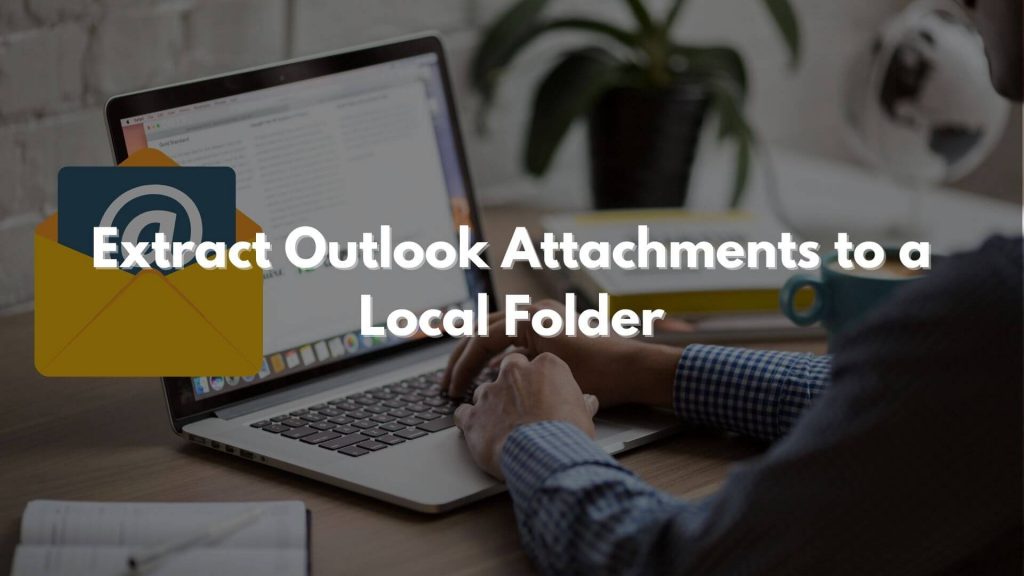 How to Download Outlook Attachments from Multiple Emails to a Local Folder
Here you will find some native methods that allow extracting outlook attachments from multiple emails:
Download Attachments from a Single Email
Export Attachments from Multiple Emails Via VBA Script
Nirsoft's OutlookAttachedView
Make sure to try each of them, and then choose what works best for you.
1] Download Multiple Attachments from a Single Email
To extract attachments from Outlook emails is a common practice. Although this method is simple, it removes attachments from only one email at a time. Here's how it works.
Launch your Microsoft Outlook
Open and select the desired emails from which you want to extract the attachments.
Right-click on one of the attached documents by pointing your mouse at it > Select the option Save All Attachments from the drop-down list.
A window will appear asking you to save all attachments > Click OK to continue.
Now, select the folder on your system to save these attachments > Click the OK button to complete the extraction process.
Thus, the process is simple, but it requires users to repeat the procedure repeatedly to extract attachments from multiple emails, which can be a tiresome task for the users.
2] Export Attachments from Multiple Emails Via VBA Script
VBA scripts are often used to automate attachment extraction in Outlook. To move email attachments to a specific folder, you must use a VBA Macro Code and VBA Script. Despite the lengthy process, it allows attachments from multiple emails to be extracted. You should, however, be careful when running or downloading VBA scripts. Here's how you do it: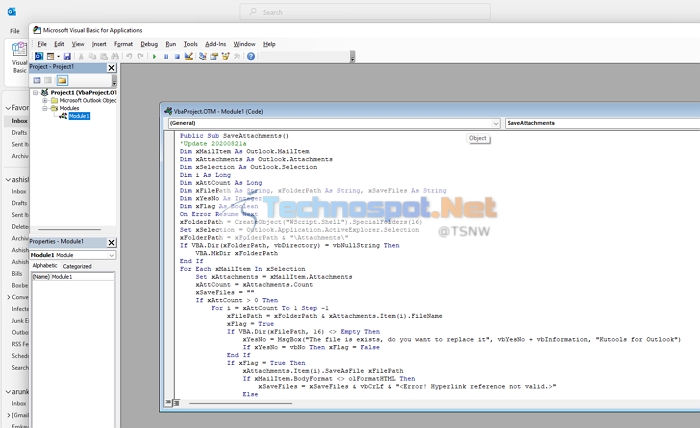 Open Outlook, and then click on File > Options > Customize Ribbon
Select Developer Mode from Main Tabs, and select the checkboxes. It will add Developer mode in the Outlook Ribbon menu
Go back to Outlook, and click on Developer Mode > Visual Basic
It will display Project1 as the default option. Select it.
Then click on Insert > Module to open the Module window.
Open any browser, and get the VBA Macro from the link and save it in the editor
Copy it, and paste it into Module 1 and close it.
Go to File Explorer > Documents and create a folder with the name Attachments
Select the emails from which you want to extract the attachments in MS Outlook.
Now go back to Developer Mode > Visual Basic and select the module which we created above
Press F5 or click on the Run button.
A pop-up will show up, which will display the Save Attachments option.  Select it, and click on the Run button
All your files will be exported into that folder.
3] Nirsoft's OutlookAttachedView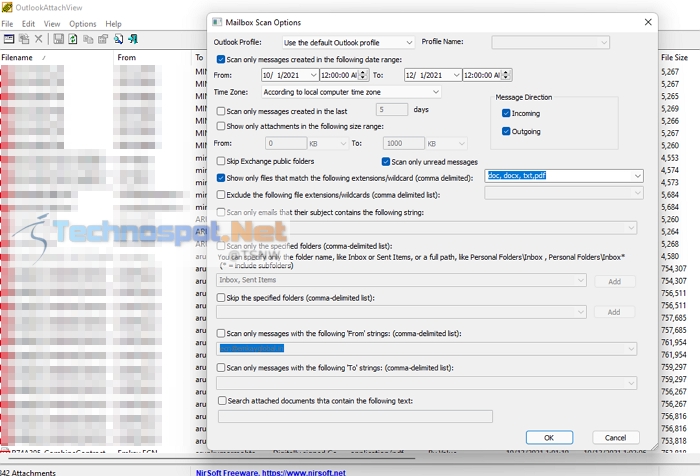 This utility is handy if you want to extract any attachment from a PST File or Outlook profile. It uses the Outlook API to query its database to extract attachments. You can configure folders, from and to email ids, the content of an attached document, subject, and many other options.
Once the result appears, you can then extract the PDF file and save it on the desktop.
Why Does Outlook Not Open Attachments?
If you are one of those who are suffering from a non-working wireless mouse on Windows 11/10, you need not worry. This post will guide you on fixing the wireless mouse when it is not working in Windows 11/10.
If you are experiencing problems opening files attached to Microsoft Outlook, you may need to disable add-ins. Here is how you do it:
Open Microsoft Outlook > Click File > Options > Add-ins.
Click COM Add-ins under Manage > Then click GO.
Uncheck all of the add-ins.
Click OK once all add-ins have been disabled.
Now, close and re-open Microsoft Outlook and download the attached file again.
How Do I View Attachments in Outlook When Forwarding?
Following is the way how you view attachments in outlook when forwarding:
You need to double-click the message with the forwarded attachments.
Select the attachment you want to open and double-click it. If necessary, repeat for each attachment.
You can now choose which action to take.
You can save the attachments locally or in your mailbox, or you can even forward them to others.
What Causes Email Attachments Not to Open?
Your computer may lack the necessary program to recognize the file format, which is one of the most common reasons you cannot open an email attachment.
What are the Drawbacks of the Manual Processes?
There are some drawbacks to manual and automated solutions that users should be aware of when extracting Outlook email attachments, such as -Slow processing.
The process takes a long time.
The macros are complicated.
There are fewer customization options available.
I hope this post will help you extract or download attachments from multiple emails in Outlook.