Many of us have used the Context Menu of Windows without knowing the term itself. The menu that pops up when we right-click on something in our computers is a Context Menu. Have you ever wondered if you can add or remove something from this? Make it more valuable based on your choice? This post will guide you to edit context menu items in Windows.
Why Would You Want To Edit the Right-Click Menu?
A Context Menu gives us access to some of the most widely used actions. Open, Run as Administrator, Copy, Cut, Paste, Delete, New Folder, etc., are examples of actions commonly found in the Context Menu of any computer.
However, besides the commonly used actions, the Context Menu also consists of many other options that most users seldom use. Conversely, some users might find a few options missing in the Context Menu.
How can we edit the list of options/actions in the Context Menu whenever we right-click on something? That is precisely the topic of discussion in this article. We will look at tools that will allow us to edit Context Menu items in Windows 11/10. So without any further ado, let's begin.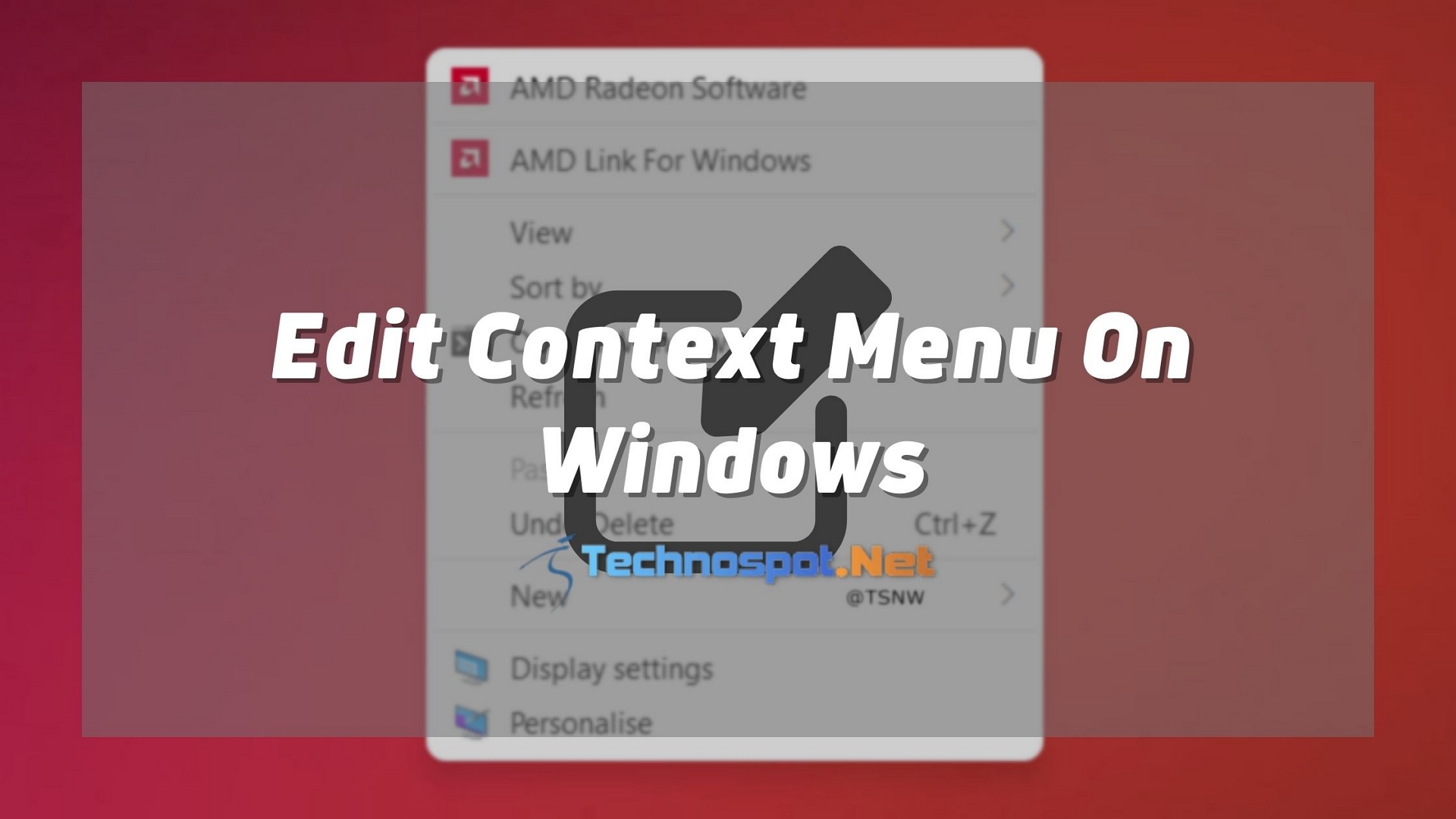 How To Edit Context Menu Items In Windows 11/10
There are multiple ways of editing the items in the Context Menu. Most of them are via third-party tools. However, with the Windows 11 update being rolled out for every compatible Windows 10 device, the Context Menu has been subjected to a drastic change.
While in Windows 10, a right-click on any application/folder would open the Context Menu as it is, right-clicking opens a limited Context Menu, and users have to click on the See More option to access the complete list. It has been deemed pretty annoying by many users. Editing the Context Menu items allows us to get the old and entire Context Menu back in Windows 11.
Tools For Editing Context Menu Items In Windows
This section will present a list of third-party tools that let you edit the Context Menu items in Windows 11/10.
Easy Context Menu
ShellExtView or ShellMenuView
ContextEdit
MenuMaid
File Menu Tools
NileSoft Shell
We've handpicked these programs for you, and they are greatly viable for the purpose they've been designed for. Before going ahead, make sure to backup the registry in case you need it.
1. Easy Context Menu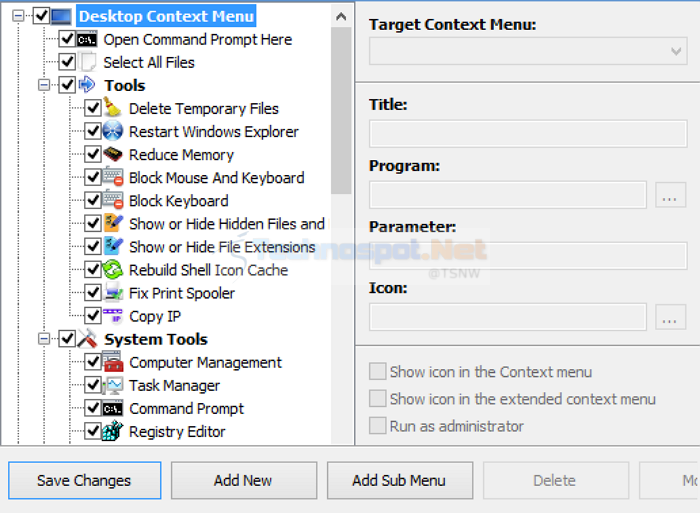 As the name suggests, this program is easily one of the best tools for editing Context Menu items. It's a freeware that allows you to add an icon or even a program to the right-click menu.
What makes it different from other tools designed for the same purpose is that the Easy Context Menu also lets you insert several system tools like Registry Editor, Task Manager, etc., into the Context Menu.
Pros
Free to use and is portable as well
Add frequently used Windows tools such as the Registry Editor or the Task Manager.
Add Menu and Submenus
Extra options to add in the right-click menu as well.
Launch tools with admin permission
Cons:
Using the Easy Context Menu is pretty easy too. All you have to do is check the box against the name of the item you wish to add/remove from your Context Menu, and that's it. It is a great way to restore the original Context Menu in Windows 11. You can use this program to delete any item you find unnecessary from the Context Menu.
2. ShellExtView or ShellMenuView

If we discuss an easy way of removing unused and unwanted items from the Context Menu, ShellExtView or ShellMenuView is our best ally. It is one of the most simple tools or utilities out there.
Using this program is relatively easy. ShellExtView displays a list of static menu items or programs in the Context Menu whenever you right-click on a folder or an application in the Windows File Explorer.
You can use the ShellExtView software to control what to show and what to hide in the Context Menu of your Windows File Explorer.
Pros:
Option for disabling an action/item
Easy to quickly restore if you choose not to use it
Cons
If you remove the software before restoring, options will be permanently disabled
3. ContextEdit

ContextEdit is another excellent tool for gaining command over the complete list of items in your Context Menu in Windows. Windows Explorer does allow some changes to the Context Menu, but that's only to a limited extent.
Shell commands and Context Menu handlers are the most common sources of actions that get listed in the default Windows Context Menu, and you can easily edit them as per your choice using ContextEdit.
Pros
Remove action from the Context Menu without entirely deleting it.
Portable application
Easy-to-use features
Cons
Outdated UI
It takes time to understand the Tool
4. File Menu Tools

File Menu Tools is our last pick for the best tools to edit the Context Menu in Windows 11/10. All of the tools mentioned in this presentation are quite viable as Context Menu editing tools.
However, File Menu Tools takes extra credit for providing greater functionality. Along with adding and removing utilities/actions in the Context Menu, this Tool also allows you to add customized commands that enhance functionality.
This tool lets you edit changes to the Context Menu made by other tools/software. File Menu Tools is a complete package with features that allow you to take full control of your Context Menu in Windows 11/10 and add changes accordingly.
Pros:
Fantastic user interface
Easy to select items and edit properties
Extended Delete
Run with Arguments
Add Move to, Copy To, Copy Path, etc.
Enable/disable commands which are added by other applications
Cons:
Paid Tool for complex operations

Custom commands.
Unlimited number of files/folders
5. MenuMaid

MenuMaid is yet another brilliant program that you can use to edit the Context Menu in Windows 11/10 as per your choice. What makes MenuMaid unique is that it allows you to edit the Context Menu of browsers. MenuMaid is similar to Easy Context Menu, which means that MenuMaid is also a portable freeware utility software.
Pros:
There's no need for installation. You can download MenuMaid and run it directly.
The user interface is quite beginner-friendly
Efficient for editing Context Menu items as per your choice too.
Cons:
Options for modern browsers are missing.
6. NileSoft Shell
NileSoft Shell is a highly customizable, easy-to-use, fast, lightweight context menu (right-click menu) editor software that can add a ton of functionality to the regular Windows context menu. You can use the same software to declutter the Windows context menu. As you install more and more software, the context menu gets overwhelmed with more and more menu items. The application is entirely free to use and has a straightforward interface.
It is a command-line utility rather than being a straightforward application, so for using it, having basic knowledge of how to execute commands in the Windows terminal or the command prompt is a necessity while using the interface. It can turn out to be complex for some users. On the upside, you don't need to install any additional application to use the shell as it is a portable application.
Shell is packed with features and customizability of options, all thanks to its geeky command-line interface, which allows it to be more open to customizations. Some of NileSoft Shell's prominent features include adding new items to the context menu, removing items from the context menu, assigning icons to the items in the menu, and supporting all components that support the context menu.
Conclusion
The recent changes made to Context Menu in Windows 11 aren't entirely pleasing, and the old Context Menu in Windows 10 had too many options that users rarely used. However, this article discussed some of the best tools for editing Context Menu items in Windows 11/10. You can choose one for yourself and customize your Context Menu as you want to. That said, we'll be wrapping this article up, and we hope that this article was of aid to you.
Can I Edit Context Menu In Windows 11?
No, there is no such setting that will allow you to customize the context menu directly. However, you can do so by using third-party apps such as the File menu tool and others. While using such software, please make sure that you know what you are removing or adding to the context menu and what effect it can have.
Is It Safe To Edit Context Menu In Windows?
Yes, it is safe to edit the context menu in Windows. However, you can only do it through third-party apps that come primarily from individual developers, so please make sure that you download the software you trust to edit the context menu in Windows.
Can I Add And Remove Items To Windows Context Menu Directly?
Unfortunately, there is no direct method to add items to the Windows context menu or remove them. You can, however, use context menu softwares available on the internet.
Is It Safe To Use Command Prompt Or Windows Terminal To Make Changes To My Windows Computer?
Generally, using a command prompt to make some extra tweaks to your Windows computer is fine. However, you should only do so if you understand each command's impact on your computer, as a wrong command executed can prove detrimental to your computer system.
Can I Open My Browser From Windows Context Menu?
You can open a browser window straight from the Windows context menu. For this, you need to use third-party utilities that allow you to add new items to the Windows context menu and perform tons of customizations.