When you first install Microsoft Office Outlook 2010, all the emails are displayed serially and the Gmail Like conversation view is not available for the first time which is one of the latest feature in Outlook 2010. In order to enable the conversations view for emails you will have to follow the steps below :
In ribbon Menu go to > View
Select Checkbox which says Show as Conversations.
And then select one of Conversation Settings which suits your need best.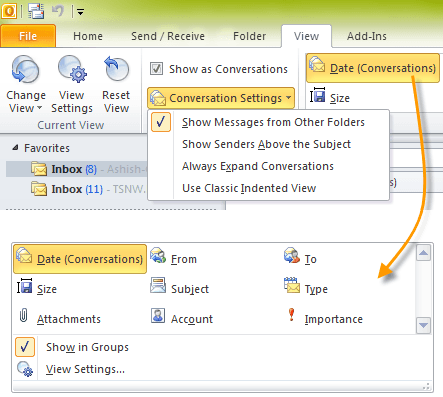 Like you can see in the above image, there are two important things you should look at. First is the conversation settings which is simple but can save you time in few cases like  you want the conversation to be always in expanded mode so you don't have to manually do it. Secondly How you want conversations to be grouped. In case you work where attachments are important you can group according to that or if account is important you can do that.
Now if you are eager to know how conversations exactly work and behave in Outlook 2010, read our details post on How threaded email conversations work in Outlook  2010