Sharing or transferring documents, files, links, and multiple things from one PC to another can prove to be quite a hassle if done without knowing the right way. We used to use data cables, Hard disks to transfer data, but now, that's old school.
There is now a feature called "Nearby Sharing" that has taken the place of the traditional method of transferring documents and other items. This article will go over how to enable or disable the Nearby Sharing option in Windows 11 and Windows 10. But first, we'll shed some light on what Nearby Sharing is all about.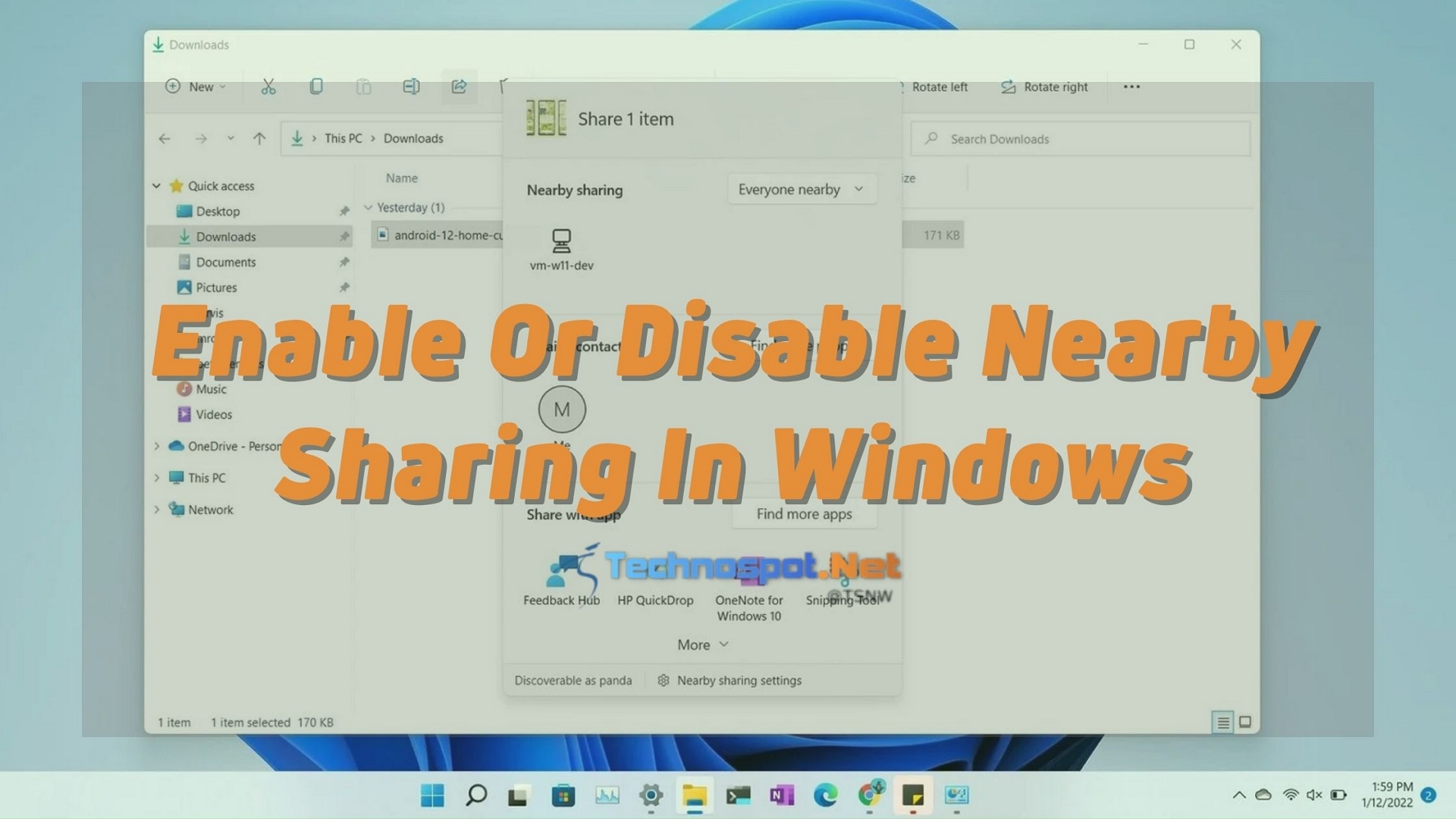 What Is Nearby Sharing In Windows?
If you're unaware of this handy tool, it isn't entirely new. It was first introduced in Windows 10, allowing users to transfer their files to other compatible devices in range using both Bluetooth and WiFi. The most significant factor in its success was that it could send any file without the help of USB drives and the Internet. It is AirDrop but for Windows. That said, it has its demerits as it cannot transfer documents, links, and photos to non-Windows devices, which includes your smartphone too.
After its initial release, it quickly became a go-to tool for sharing files with nearby devices. Since the Windows 11 update, many users have been shifted to the newer version. The procedure to enable or disable them is quite different than before. As a result, we're here to guide you through the entire process on how to enable or disable "Nearby Sharing" in the newer Windows 11.
Minimum Requirements For Nearby Sharing
There are not many requirements when it comes to using nearby sharing. Here are some:
Windows PC with Windows 10 (1803) or later
Both the PCs must have Bluetooth 4.0 or be superior with LE (Low Energy) option.
Nearby Sharing should be enabled in both of them.
The receiver should be in close range of the sender.
Enabling Nearby Sharing On Windows 11/10
Now, there are numerous ways of enabling or disabling Nearby Sharing in Windows, but we're going to discuss the best of them. There are five significant ways by which you can Enable or Disable Nearby Sharing in Windows 11.
Windows Settings
Windows Context Menu
Windows Action Centre
Windows Registry
Local Group Policy Editor
Let's understand these methods in detail.
1. Enabling Or Disabling Nearby Sharing Using Windows Settings
If you don't like the above methods because they require some commands, to be honest, those methods are frequently misunderstood as lengthy by some general users. But, as complicated as they appear, they are moderate. If you want to use your Nearby Sharing feature easily, this is the app for you. The simplest way to access Nearby Sharing is through Windows Settings. Here's how:
Open the Settings from the Start menu.
Select the System option.
On the right side, press the Nearby Sharing page.
From here, you can access your options to enable or disable nearby sharing.
There are three primary options, OFF, My Device Only, and Everyone Nearby. All functions are the same as their name suggests.
As you can see, this is the easiest way to access the Nearby Sharing feature. However, there are plenty of other ways by which you can perform this action. Let's look at them:
2. Enabling Or Disabling Nearby Share From The Context Menu
Instead of enabling it beforehand, you can allow it when sending a particular file. If you've decided what file you want to send, this is how you can Enable or Disable Nearby Sharing:
Just right-click on the file that you've chosen to share.
Click on the option that says, Show more options in the context menu.
Press Share.
Now click on the Nearby Sharing option and choose between My devices only or Everyone Nearby at your convenience.
3. Enabling Or Disabling Context Menu In Windows Action Center
Click the Windows+A shortcut on the keyboard to open the Action Center.
There you'll see the Nearby Sharing option with its icon.
Press the icon to enable or disable it.
4. Enabling And Disabling Nearby Sharing Through Windows Registry
Before we start, create a system restore point if something goes wrong and you need to fix it.
First, we need to open the registry editor press the Windows+R keys. It will open the Run program.
Type Regedit and press the Enter Key, and then select Yes on the UAC prompt to proceed further
Write this following path in the address bar present there and press Enter.
HKEY_CURRENT_USER\Software\Microsoft\Windows\CurrentVersion\CDP
Click on NearShareChannelUserAuthzPolicy, edit the value to 1 for my device only, and edit the value to 2 for everyone nearby.
Open the CdpSessionUserAuthzPolicy, change the value to 1 for my device and 2 for everyone.
Lastly, open BluetoothLastDisabledNearShare, and edit its value to 1 for My device only and 2 for Everyone nearby.
Follow these steps to disable Nearby Sharing through the registry editor:
Do a double click on NearShareChannelUserAuthzPolicy present on the right side, edit the value to 0, and press OK.
Now, open the CdpSessionUserAuthzPolicy, edit the value to 1, and press OK.
There'll be a SettingsPage registry key beneath CDP. In there, open BluetoothLastDisabledNearShare and edit its value to 0, and press OK.
5. Enabling And Disabling Nearby Sharing Using Group Policy Editor
It is one of the easiest ways to handle your Nearby Sharing feature. To do that, open the Run utility by pressing the Windows+R key together.
Type gpedit.msc and press OK. It will open the Local Group Policy Editor.
Go the following path shown below:
Computer Configuration > Administrative Templates > System > Group Policy
Now, double click on the Continue experiences on this device option.
From here, you can either Enable or Disable the Nearby Sharing on your computer.
Choose which one you want to do, select Apply.
Press Ok.
Troubleshooting Nearby Sharing
If you're facing some issues with sharing files via Nearby Sharing on your Windows 11 PC. Here are some possible reasons behind it. Clearing them will resolve your issue in no time. Check the following
Bluetooth drivers. As mentioned earlier, your Bluetooth version must be 4.0 or above. Check whether the drivers are installed correctly.
Bluetooth compatibility in both the sender and the receiver devices.
Both computers are connected to the same network and use the same network profile type.
Connection of your devices.
Is Nearby Sharing Feature In Windows As Good As Apple Airdrop?
Apple's Airdrop feature is unparalleled in many ways, be it the integration, the transfer speeds, or the overall experience. There are no smartphones currently being offered by Windows, so the feature does not even come close to Apple's Airdrop.
Can I Share File From Android or iOS Devices To My Windows Computer Using Nearby Sharing?
No. The feature, for now, is only available for sharing files to and from different Windows computers. We can expect to see file-sharing abilities with Android devices in the near future.
This article has mentioned all the significant ways you can access the Nearby Sharing option on your Windows 11 PC. It is indeed a great utility to have if you're in a working environment. But one thing you must know is that you should care about the privacy of your computer and files that you're sharing on a public network.