Remote Desktop Access services allow a user to take control over a computer placed at a certain location from anywhere globally; all one needs is to enable Access and have a stable internet connection. While connecting to a Remote computer is quite simple, there are some errors that users face while setting it up. One of the major reasons Remote Desktop cannot connect is that it is disabled or facing internal issues.
If you're concerned about your privacy or would like to use Remote Access, this post will guide you on How to Disable or Enable Remote Access functionality on Windows.
How to Enable or Disable Remote Desktop Access in Windows 10
There are various ways one could Enable or Disable Remote Access in Windows. Majorly this varies with the version of Windows you're running on.
Via Settings
Via Command Line
Using System Properties
Note: Windows 10 Home version does not have Remote Desktop feature.
1] Windows 10 Settings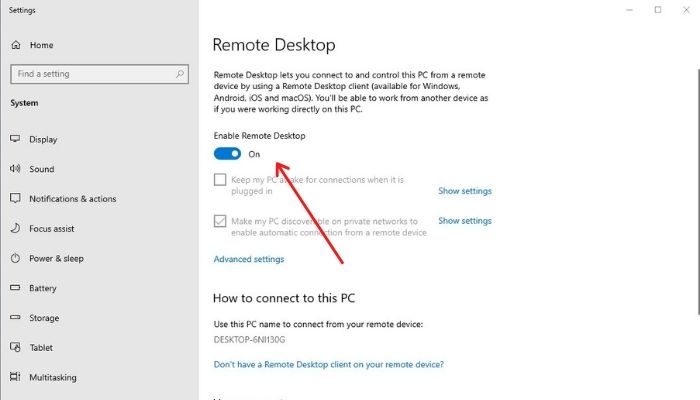 The Settings panel houses one of the simplest solutions to any problem one faces with Windows, and Remote Desktop Service is no exception.
Open the Settings panel in Windows 10 (Win + I).
Next, navigate to the System menu.
On this page, scroll down and click on Remote Desktop from the navigation pane.
You'll land on the Remote Desktop Page, now toggle the toggle on to Enable Remote Desktop, and toggle it back off to disable it.
You'll need to confirm either toggling it ON or OFF.
2] Command Line

Windows also does offer an alternative way to toggle the setting for Remote Access On or Off via the command line. Here's how you can do so:
reg add "HKEY_LOCAL_MACHINE\SYSTEM\CurrentControlSet\Control\Terminal Server" /v fDenyTSConnections /t REG_DWORD /d 0 /f
Alternatively, to turn it off, copy and paste the below query into the command line.
reg add "HKEY_LOCAL_MACHINE\SYSTEM\CurrentControlSet\Control\Terminal Server" /v fDenyTSConnections /t REG_DWORD /d 1 /f
3] Using System Properties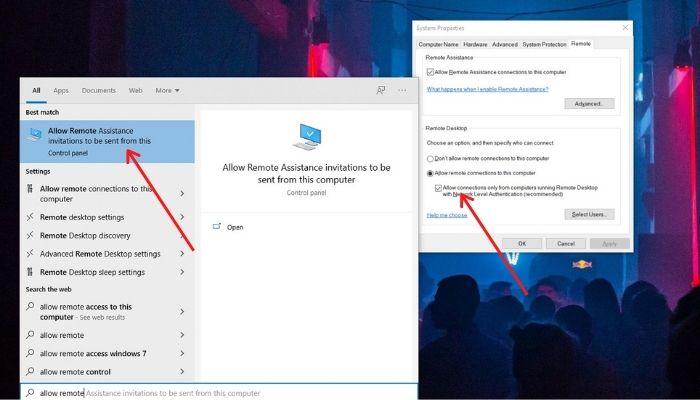 There's a simple checkbox, hidden deep under Settings which could be used for accomplishing our task. Here's where you can find it:
In the Start Search Box, type in Allow Remote Access to your Computer and choose the main listed result.
In the new Window that pops up, check the checkbox stating Allow Remote Assistance connection to this computer to enable it, and uncheck the checkbox for the compliment.
Similarly, you'll find another option under Remote Desktop on the same Window, apply the same steps, and you'll be good to go.
That said, why do you prefer to keep the Remote Desktop Service either turned ON or OFF? Do let us know by dropping a comment down below.