Years back, there was a trick which allowed to export Google Contacts in the much cleaner way, i.e. in case you only wanted some particular fields, using the print option of Google Contacts. It seems Gmail team updated something and it no more works. So the questions hit back, How do I export contacts from contact book where it contains only Name, Email, Phone number or only fields which one requires. Right now, when you try to export, it has tons of fields which are either empty or just not needed. So in this post, I will share the trick to export only Name, Email and Phone number from Google Contacts. In the end, I will use any of the standard CSV editors to get the job done. 
How to export only Name Email and Phone number from Google Contacts
Export Google Contacts
Download a CSV editor
Edit CSV File.
Export Google Contacts
Go to Google Contacts following this url: http://www.google.com/contacts
Next, select a group or set of contacts and click on More Button. Then export in CSV format.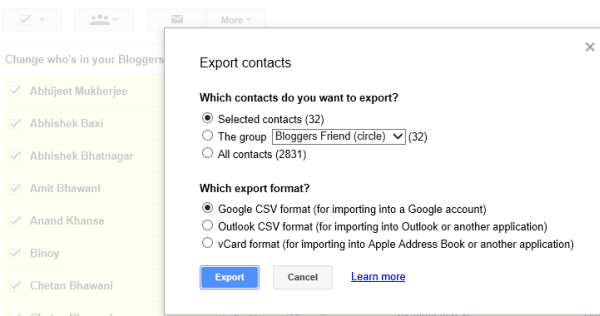 Download CSV Reader and Editor
Now download any popular CSV editors like  CSV File View or CSVed (Unicode supported).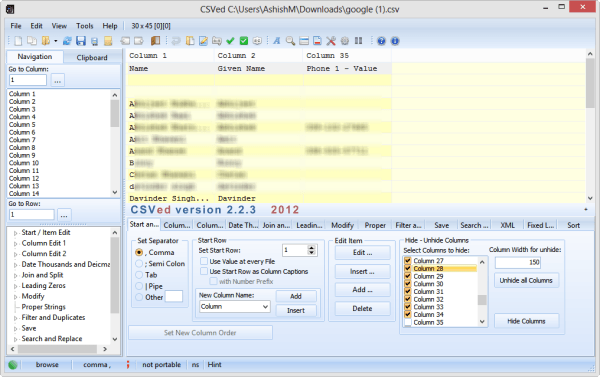 Editing the CSV File :
Next, open the CSV file you imported from Google contacts in any of these editors. Look for an option where it allows you to view only particular columns or hide specific columns. Once done, you can export with only selected fields.
You will have to explore options in the software which can help you do it quickly. As an example, CSVed comes with an advance exporter which can even help you create templates, export for Excel, HTML etc.
Final Result :
After you do this, you will finally have a CSV file which will only have fields which you require, and you can cleanly import it anywhere you want. I hope this helps.