Do you find it tedious to extract archive files individually? If so, you can use tools that extract multiple archive files quickly. Archiving files aims to speed up the transfer process, but spending time to extract them individually, in turn, consumes more time. As you face the same problem, this article will help you solve it by automation. You will learn to extract multiple files quickly, saving time and effort automatically.
How to Extract Multi-Part Zip Files?
Zip Files or compressed files and folders help for easy transfer. But you cannot access files and folders directly.
Extracting multi-part zip files involves combining multiple split parts of a zip archive to reconstruct the original zip file and then extracting its contents. Here's how you can do it:
Collect All Parts: Ensure you have all the split parts of the multi-part zip file in the same directory. These parts typically have file extensions like .zip.001, .zip.002, and so on.
Combine Parts (if Necessary): Some zip utilities may automatically combine split parts when you extract the first part. However, you can use tools like PowerShell on Windows to combine the parts manually. Open a terminal or command prompt and use a command like this:
Copy-Item -Path "file.zip.*" -Destination "combined.zip" -Combine
You can also use the ExtractNow tool on Windows to extract the files without the black-and-white interface.
How To Automatically Extract Multiple Archive Files Quickly?
Batch processing is an easy way to extract multiple archive files quickly.
Some valuable tools that can help do it are as follows:
PeaZip
7-Zip
WinZip Self Extractor
Let's dig into the details for each one:
1]  PeaZip
Are you looking for a tool to help you extract multiple formats of files and folders?
If so, you must try PeaZip to open, browse, or extract over 200 archive files. It includes 7z, apk, bz2, gz, tar, zip, cpio, deb, lzh, lha, among others. Moreover, it supports extracting RAR files for free. The best part is that you don't have to install additional packages or plug-ins to extract multiple files.
To simplify your process, there is an extract, then move to the destination option. It will help you extract the files together. Further, you can directly transfer it to a destination that you will select to make your work easy.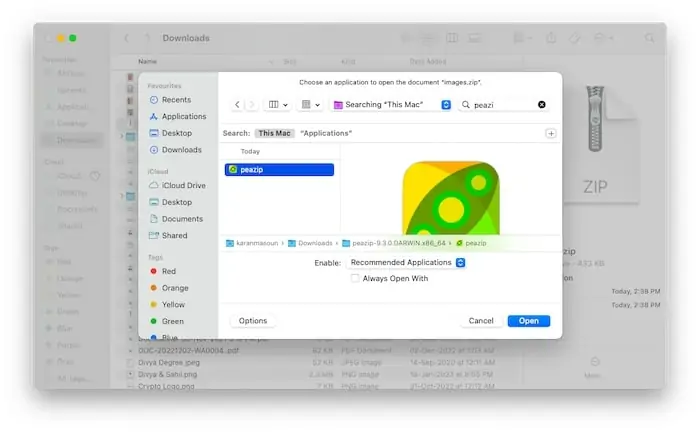 Features
No High Compression Ratio- Peazip does not have a high compression ratio. This means you can store files in the archive without changing their size.
Free to Use- PeaZip is an entirely free-to-use tool.
Searches Duplicate Files- To help you avoid extracting multiple duplicate files, it searches duplicate files and enables you to remove them.
Better Protection- To ensure complete protection of your files, it offers AES-256 password protection.
How to Extract Using PeaZip?
Open the main PeaZip application on your PC.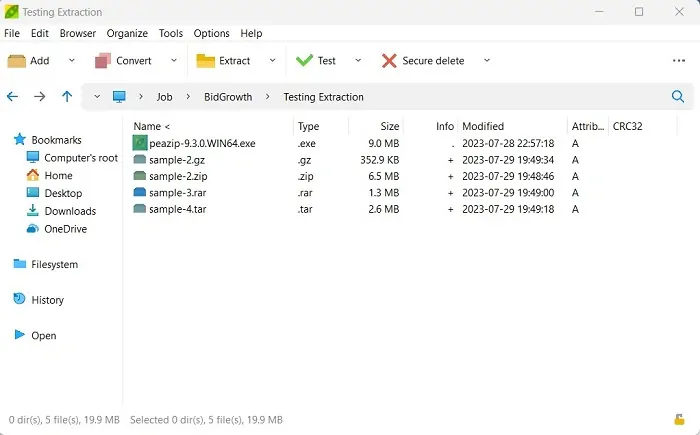 Then, choose the archive or group of archives to extract from the location.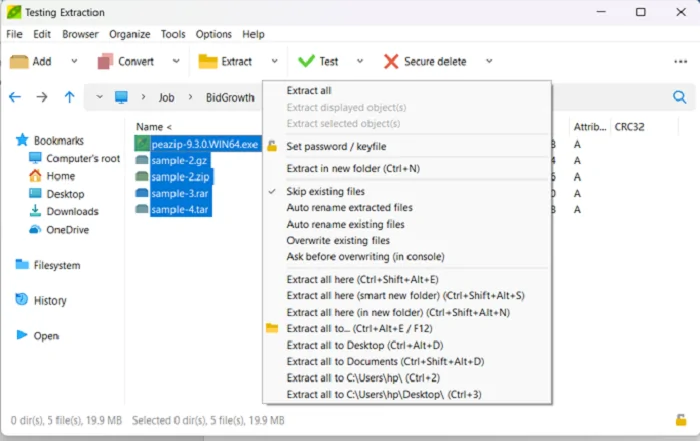 Click Extract below the Menu Bar.
The Archive Extraction Screen pops up.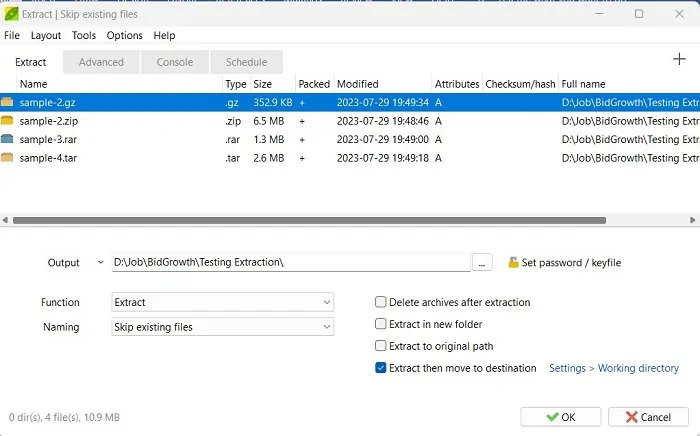 Select the necessary options like destination path, passwords, etc, as required. Click OK.
The drop-down arrow on the right of Extract can be used for different extraction processes. Extract all to…, direct extraction to relevant folders, and Extract Here.
You can check it out here.
2] 7-ZIP
Are you looking for a safe archiver tool that doesn't harm your computer?
7-Zip is a useful archiver tool that won't harm your computer. It offers a higher level of security for your compressed files protecting your data. The tool is entirely free and open source, making it easy to use. It supports multiple formats and batch processing.
It helps you compress and extract files with a size of up to 16000000000 GB. Consequently,  you don't have to worry about the size of your files and get quick downloads.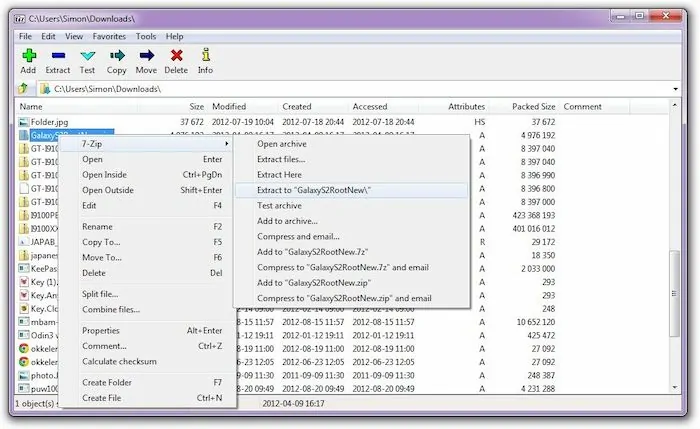 Features
Open architecture- Its open architecture makes it platform-independent. Thus, the tool is handy whether you own a Windows or Mac.
Strong AES-256 encryption- The encryption standards ensure advanced security for all your files. Thus, it won't lead to data breaches.
Flexibility in Compression and Conversions- With 7-Zip, you can choose any compression and encryption technique.
Supports multiple languages- With multi-language support, you don't need to be well-versed in English to use the tool.
How to Use 7Zip to Extract Archives?
Open the 7Zip File Manager.
Find the desired archives in the correct location and select them.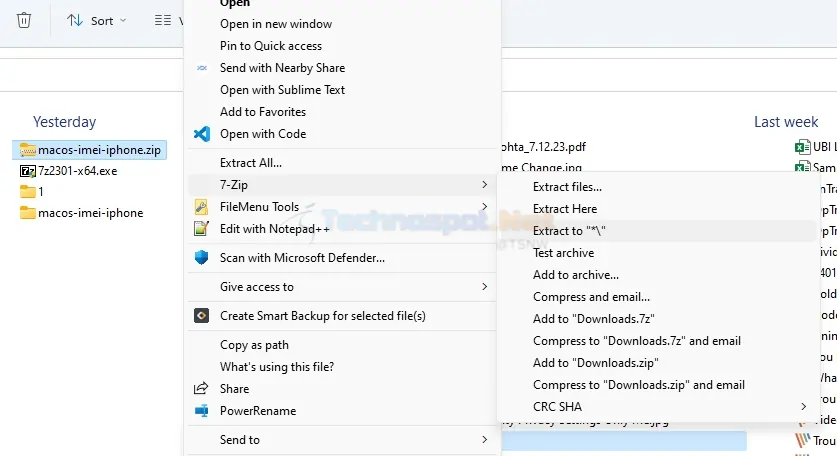 Click Extract from the menu. The Extract dialog box appears.
Do the necessary changes and click OK.
Now, it will be saved on the chosen path!
You can check it out here.
3] WinZip Self Extractor
Are you seeking a file Extractor to help create and customize self-extracting files?
If yes, you must know about the WinZip self Extractor tool that lets you make and personalize self-extracting files. Using a single operation, you can use its drag-and-drop feature to extract multiple files at once.
In addition, you don't have to download any separate software for the extraction process. You can decompress and self-extract zip files using your Windows PC or other device. Further, you can install and save it in any space you choose within minutes.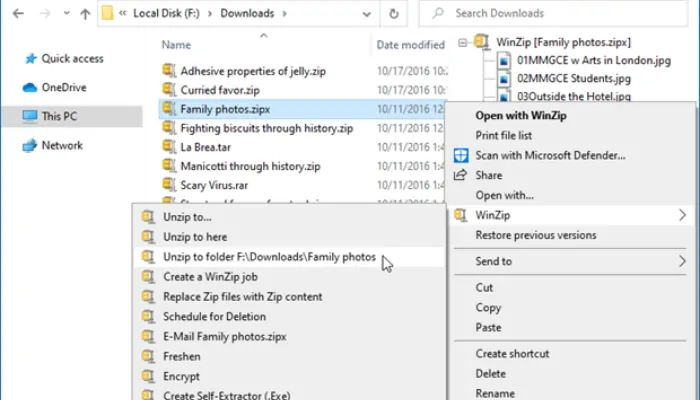 Features
Self Extractor for software- You can make self-extracting zip files for installing software that runs in Microsoft format.
Supports multiple languages- You can create files with English and German messages.
Enhanced security protects your sensitive information with 128- and 256-bit AES encryption.
Suitable for beginners- Beginners can unzip files even though they don't know how to use a separate unzip utility.
Automatic restoration- It automatically restores folders from zip folders, including empty ones.
How to Extract using WinZip?
Open WinZip and go to the source folder.
Select the archives you wish for the extraction.
Right-click on the archives and select Unzip. Then select the destination folder to complete the process.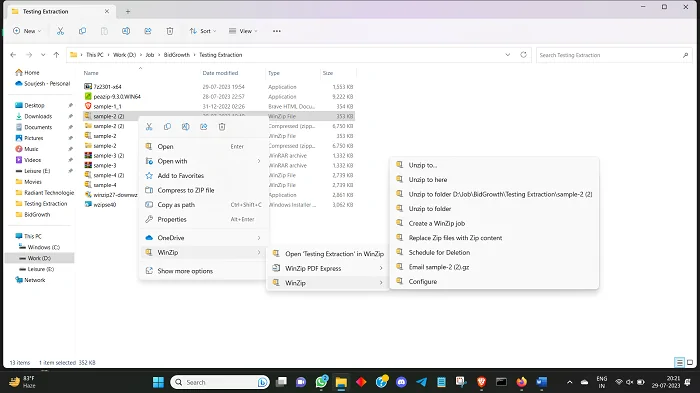 You can check it out here.
Conclusion
Creating and sharing zip files makes file transfer easy and quick. But waiting for multiple files to unzip one by one is problematic when you have a pile of them. So, you can use the tools mentioned above, like PeaZip, 7-ZIP, or WinZip, to extract multiple files simultaneously.
However, remember that each tool has a different process to extract multiple files, and following that will make your task easy and comfortable. If you share work on various files and keep sharing zip files, then this tool is just what you need.