Do you want to extract text from images in Windows PC for free? Then, this guide will share tools that allow you to extract text from any image or anywhere in Windows using the Snipping tool and Microsoft PowerToys. So, if you have been using Google Lens and Apple's inbuilt OCR to copy text and send it to your PC, you don't need to do it anymore. The same functionality has recently been extended to the Windows.
What Is The Extract Text From Images Feature In Windows Snipping Tool?
Microsoft's Snipping Tool has a feature that copies text from images and handwriting using OCR technology. A similar feature can be found in the Microsoft Edge browser, but only for digital text. An alternative is the Text Extractor in Microsoft Power Toys, which has other useful features.
Microsoft has also rolled out the Redact feature with the snipping tool that allows you to hide sensitive information before sending it out to anyone.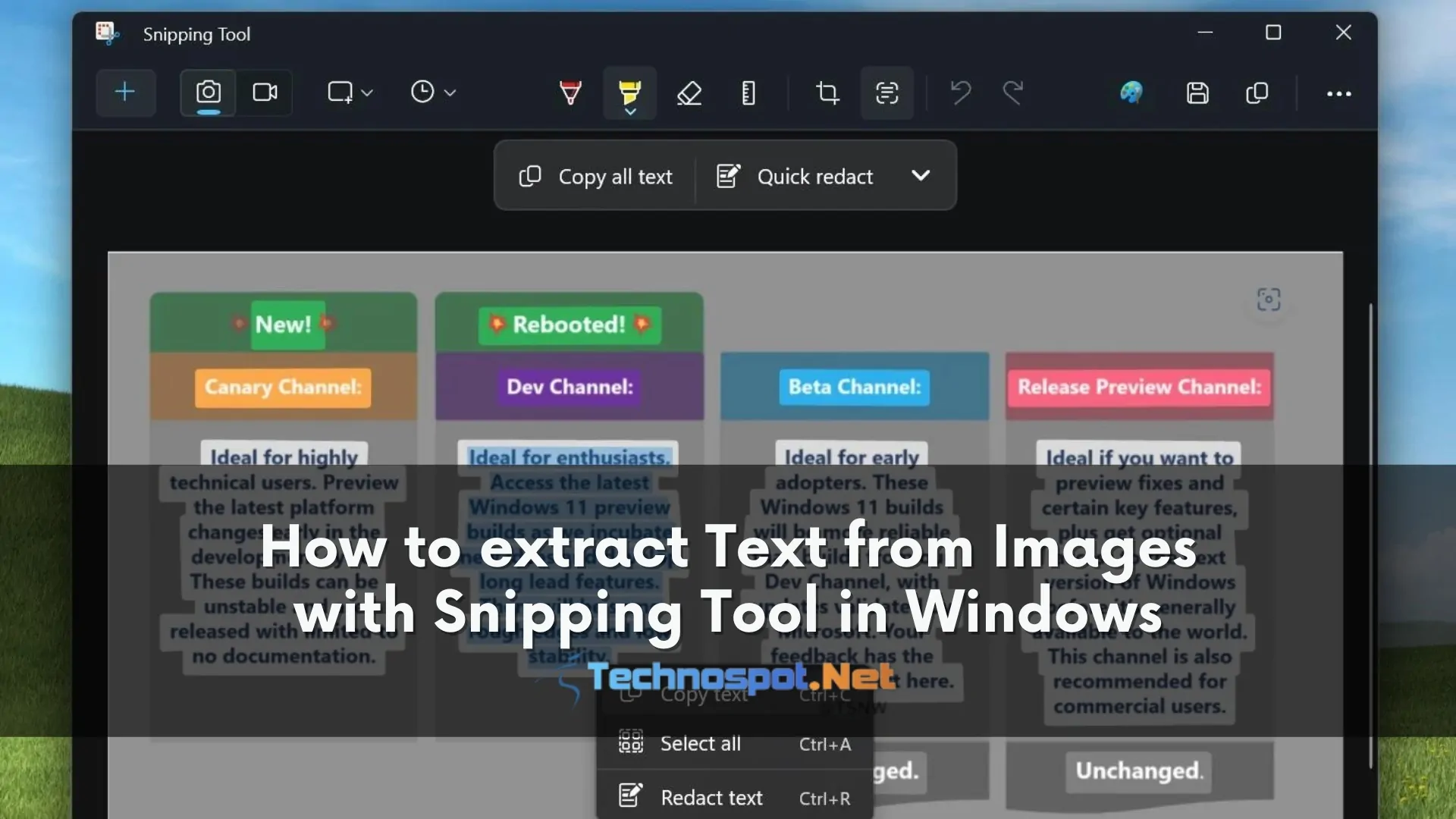 How to extract Text from Images with Snipping Tool in Windows
These two methods can extract text from anywhere in a Windows PC:
Extract text from Images with Snipping tool
Extract Text From Images With Microsoft Powertoys
While they work well, the accuracy can be limited depending on the text type, font, and other factors.
1] Extract Text From Images With the Snipping Tool
To get the feature for your Snipping tool, ensure your Windows 11 is updated to the latest version. Open Settings and head to the Windows update section to check if an update is available. Check and install any updates if available.
Use the Windows+Shift+S or Prtscr shortcut to take the screenshot using the Snipping tool.
Once the screenshot is captured, it will go to the notification panel and open from the taskbar to open the Snipping tool screenshot edit window.
You will see a text page-like icon next to the crop icon in the window's top bar. Click on it.
You will see two options: Copy all text and Quick Redact. Click on Copy all text.
This will copy all the recognized text from the image to your clipboard, which can now be pasted anywhere and edited according to your convenience.
The Quick Redact feature allows users to mask sensitive text information before sharing screenshots. You can hide the information by using Ctrl + R or the Redact text menu.
2] Extract Text From Images With Microsoft Powertoys
Microsoft Powertoys features a Text Extractor feature that allows you to extract text from anywhere in Windows without taking a screenshot in the first place. Here's how to install and use the tool.
Open PowerShell with admin permission, and execute the following command to download and install Microsoft Power Toys on your PC.
winget install --id Microsoft.PowerToys
Alternatively, you can download and install Microsoft Powertoys by heading over to the official GitHub repository for Microsoft Powertoys.
The text extractor tool is enabled by default. If it isn't, search and open Microsoft Powertoys from Windows Start.
From the left pane, head over to the Text extractor and ensure its toggle is enabled.
Once the feature is turned on, you can use the keyboard shortcut, Windows+Shift+T, to open up the text extractor, then select the area from where you wish to pick up the text. It will automatically be copied to your clipboard.
Want even more tools? Then check out some of the best tools to copy text from images in a Windows PC
Conclusion:
Extracting text from images is no longer something you need to pay for. Thanks to the Snipping tool and Microsoft PowerToys, this feature works flawlessly. In this article, we learned how to extract text from images using the Snipping tool and PowerToys in Windows. Both the Snipping tool and PowerToys facilitate saving time while going through scanned documents and important data.