There are so many reasons due to which we end up having several empty folders on our Windows systems. Sometimes you create a folder for something specific and forget to copy the files in it, at times you uninstall a program from your system, and the program is uninstalled but leaves behind an empty folder, and so on. Keeping empty folders on your system probably won't harm you in any way, but this can be irritating at times, and all you wan is batch delete those empty folders. Viewing a drive or folder which has loads of folders in it and several of these folders are empty. Such a scenario doesn't only make it look messy but also makes it tough to manage.
If you want to get rid of empty folders, here is a free utility named FMS Empty Folder Remover. It is an awesome way to get rid of empty folders, this tool shows you the empty folders, and later you can batch delete them.
How to find and batch delete empty folders on your system
The setup file for this utility is small, and once installed, you can easily use it to find and delete the Empty Folders. The interface, too, is straightforward. Use the 'Open Folder' button, and it will automatically check the folder for any Empty folders within, and show you the list.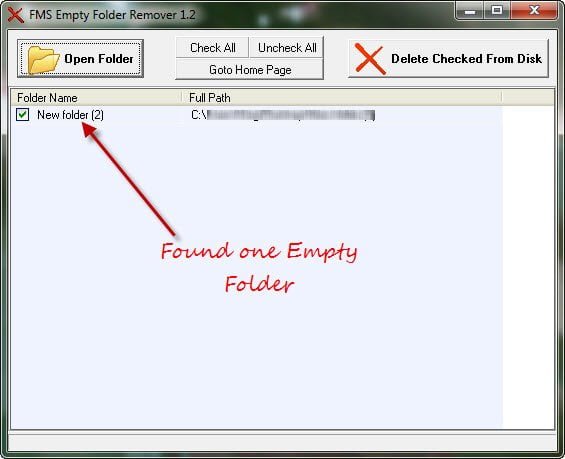 Once you get the complete list, you can use the checkbox adjacent to every folder in the list to select or deselect them for deletion. Once done with this, use the large 'Delete Checked From Disk.'
Here is a small video which will show you the working of this utility.
FMS Empty Folder Remover effectively does what it claims to do; I tried this utility. I found it to be efficient enough to make an entry into the list of must-have Tools and Utility for the Windows user. The option to batch delete empty folders is very handy.
Go ahead and give it a try and share your views about it with us.
Download FMS Empty Folder Remover| Alternate software to remove folders