I keep collecting pictures/wallpapers and images from several places, let it be from several webpages, a friend's computer, etc. hence I have a huge collection, and sometimes I find multiple copies of same image, there are several tools available which work as Duplicate File Finders, and using them you can dig your storage for duplicate files and later you can remove the duplicate ones, also there are tools which perform byte by byte checking to search for duplicate files.
Here is another app on same lines, which is a dedicated duplicate image finder and remover, AntiDupl. I found this app really a great choice for removing duplicate images it works pretty fine. AntiDupl is a light weight app, latest version is 656KBs to download the setup exe file, later it creates a folder and in the folder you find the .exe to run this app, it launches in a window as shown below.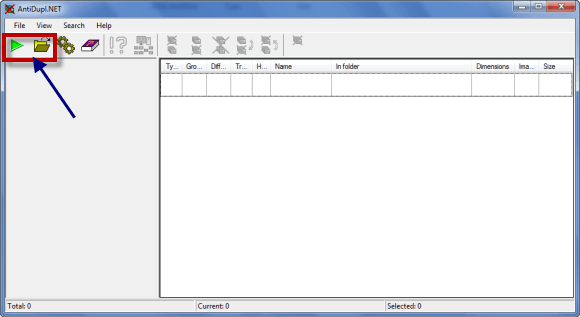 Click on the yellow colored Folder button; add the files or folders to check for duplicate files later click the green colored 'Play' button to start your search, soon you will get the results, and it works pretty fast.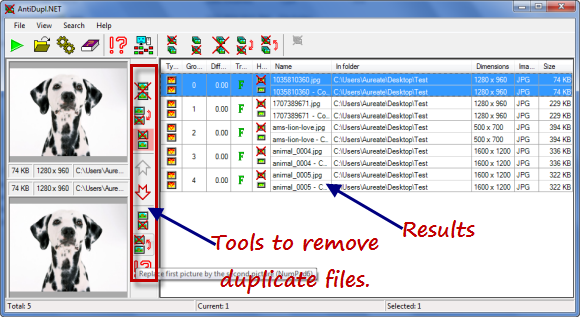 Now you can browse the results using the down arrow on your keyboard, and the tools panel as shown in the above snapshot, allows you to easily remove a file, you can delete any of the file from the set of duplicates.
It works for almost all image file types, .bmp, .gif, .jpg, .png, and .tiff. You can also include hidden and system files/folders in your search.
So, if you to have loads of image files and want to check them for duplicatesto save some space on your hard disk drive, try AntiDupl, and share your views about this tool with us via comments.
Download AntiDupl
Related : Duplicate and Same file searcher is another awesome app to search and remove the duplicate files from your system, and it works with almost any file type.