Wordsmith is an online service which allows you to find a definition or meaning of a word by just sending them an email. All you need to do is mail to [email protected] with subject as define "yourword" e.g define books. You need not to edit the body part of the mail and leave it blank.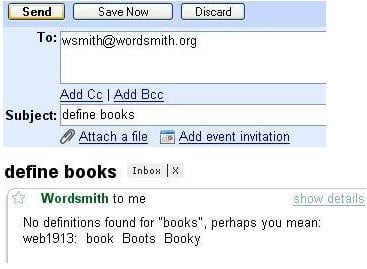 In response to your email, you will get defintion of the word and in case the definition of the word you were looking for is not there, This is very helpful in case of typos or when spelling is not known to us.
Apart from Meanings you also can ask for synonyms, acronyms and anagrams. All you will have to do is replace define with synonym, acronym and info respectively.
A Word a Day :
If you are interested to learn a new word every day, you can subscribe to their service to get one new word every day. This is a better service than going to look for dictionaries either online or offline. People like me who have their Inbox open all the time will certainly go for it. The service response is very fast. Check out Wordsmith