People who spend a lot of their time over the internet, end up bookmarking several pages. I personally feel bookmarking is an art, it's not just all about the pages you like, it takes a lot to handle the bookmarks  and failing which, bookmarking ultimately turns out to be a useless feature.
Why ? Because if you don't know how to organize your bookmarks, in such case, searching for bookmarked page under your 'Bookmarks' tab will probably take more time than Googling for the same page, LOL, don't you agree with this?  Moreover there are two major problems :
How do you know if the bookmarked pages had already been bookmarked before or not ?
If the existing bookmarks are still working or are they just dead links ?
Here is a new experimental add-on, which is built to take all round care of your Bookmarks in Firefox. This add-on checks bookmarks in your Firefox for
Duplications
Empty folders
Non existing (or deleted) pages  etc.
So if you maintain a huge list of bookmarks, it will render the useless ones, because all the bookmarks which are duplicate of some other bookmark, which refer to a non existing page now are completely useless.
Once installed, you can access it under the Bookmarks tab of your FF, as shown here.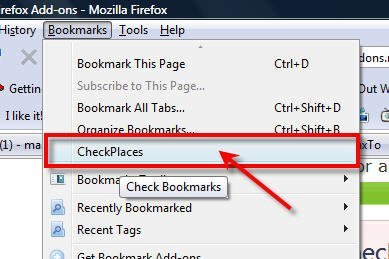 Once you click the 'CheckPlaces' you get to choose the checking parameters.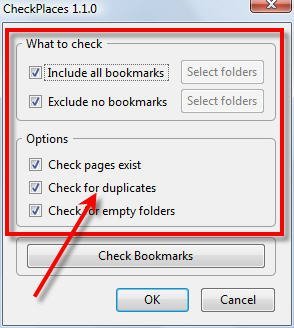 When done with this step, you can hit the 'Check Bookmarks' button to start the checking process, which at the end renders you a detailed status of pages which were found as duplicate, or not longer exist (i.e. failed pages), here you can choose to delete the reported bookmarks.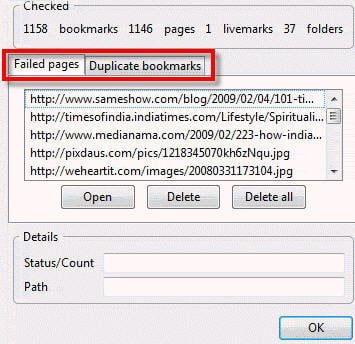 I found this add-on very useful, it might help you by shortening the Bookmarks list for you, which is like moving towards an organized bookmarks tab in Firefox. Try this add-on, Check Places,  and do share with us if you too found it useful, as we did.