Whenever there is new software installed in a Windows machine, the registry is the final place where all license is stored. While the keys are usually available on email or on the website portal from where you bought it, we sometimes cannot find it. It becomes painful when you need to reinstall the software, and the key is not with you. In this post, we will share how you can find licenses and serial numbers of installed software on Windows 10.
Find licenses and serial numbers of installed software on Windows 10
Before we go ahead, this should be done beforehand i.e. when the product is already installed and activated on your Windows computer. When you uninstall a product, the licenses, and serial numbers are also removed.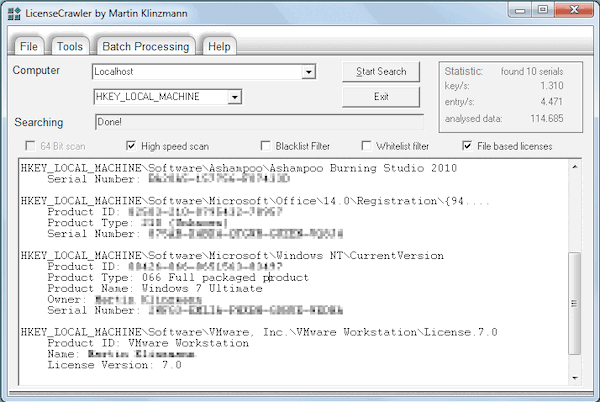 Kilnzmann License Crawler is a free software which can find purchased and registered license and serial numbers. This small piece of software crawls and goes deep into the Windows registry hive and brings in the detail including the Serial Key or Licenses of the already installed software.
It can help you to find out your Windows 10 License as well, but its rather easy to connect a Microsoft account for self-activation.
Access Remote machine keys
If your user account has admin permissions, you can access remote machine's registry. You will be able to scan the remote machine registry and find all software and its keys. It is useful when you are setting up a new computer, and all your keys are available on another computer. You have the option here to choose the computer name and also works with 64bit machine.
Download
The software is free to share, copy and distribute as well. However, you will have to make sure to
Attribution — You must attribute the LicenseCrawler by the author (Martin Klinzmann).
No Derivative Works — You may not alter, transform, or build upon the LicenseCrawler.
The software works on Windows 10, Windows 8.1 and Windows 7. Download it from here