These days if you lose your phone, its almost like loosing your wallet loaded with money, after all you have digital life, password, email and everything right there. Well nobody can do anything if you lose your phone but if you have configured your iPhone or iPad with Find My iPhone app prior to that, you might be lucky to track it down online and over Google Maps.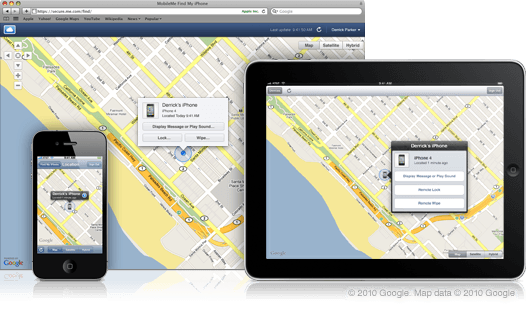 Features :
Its completely free. Via
Remote detonate your data on the phone. Complete Wipe.
Remotely lock your phone with password protection.
Play a sound or message.
Displays location on a map to pin point the location.
Resources :
To download the new Find My iPhone app for your iPhone, iPad, or iPod touch, visit the App Store.
To use Find My iPhone on your Mac or PC, go to me.com/find.
Be sure to set up MobileMe and Find My iPhone on all the devices you want to locate.