In case you need to find how long your computer is up and running, there are a couple of tools that let you know about the duration. However, finding from how many hours your computer is turned on is helpful just in case somebody is lying to you. In this post, we will share how you can find your computer usage or Windows System Uptime.
It works on Windows 10, Windows 8.1, and Windows 7.
How to find your Windows system uptime?
Follow any of these methods to find out how long the computer has been in use or turned on. It will also include any standby time except for the last method.
Task Manager
System Info Command
Control Panel Network Settings
While it works fine, if all you want to manage is your Kid's computer usage, we suggest using Microsoft Family Feature to achieve it.
1] Task Manager
Right-click on the taskbar, and select Task Manager
Switch to the performance tab which details about CPU, GPU, Memory, and other usage statistics
At the bottom-middle, locate the Up Time section, which gives a live counter for how long the computer is turned on.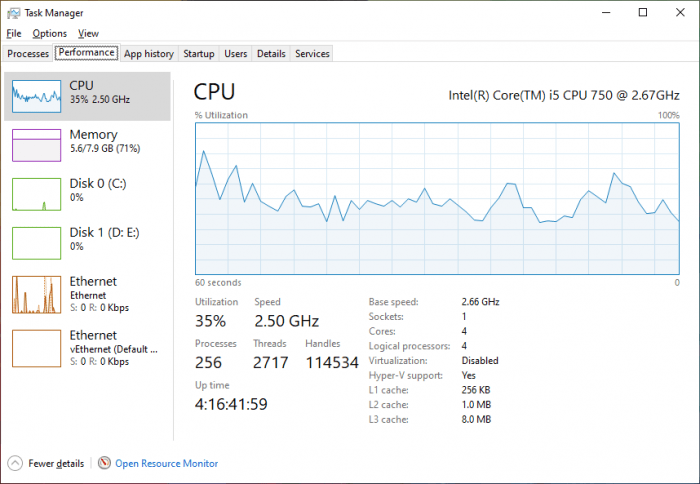 You can also launch Task Manager using Ctrl + Shift + Esc to open the task manager.
2] System Info Command
Type CMD in the Run prompt and enter or type command prompt in the start menu and launch it from there.
Type systeminfo and press the enter key.
It will result in a lot of information about the computer. What we are interested in is the mention of the entry of System Boot Time.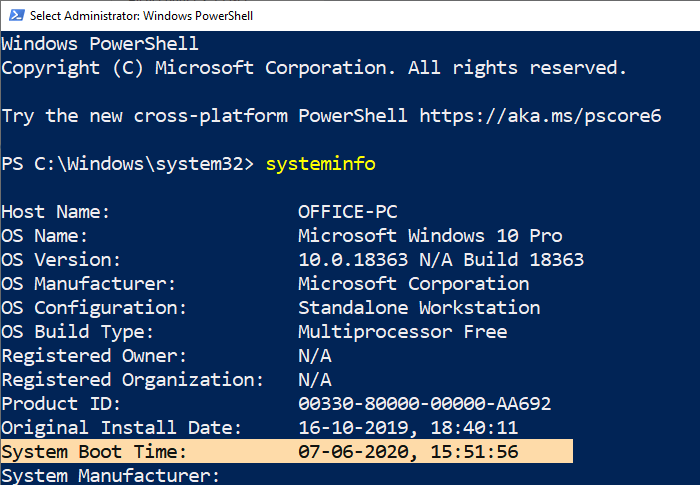 You can also use the command below to only display System Boot Time.
systeminfo | find "System Boot Time"
System Boot Time is the exact time the power button the computer was pressed. Once you have this, it will be easy to figure out how long the computer was turned on.
3] Control Panel
Type Control in the Run prompt, and press the enter key
Click to open Network and Share Center
Then click on Ethernet link next to the active connection
Under the General tab, look for the Duration section, which will give you an idea for long the computer has been in use.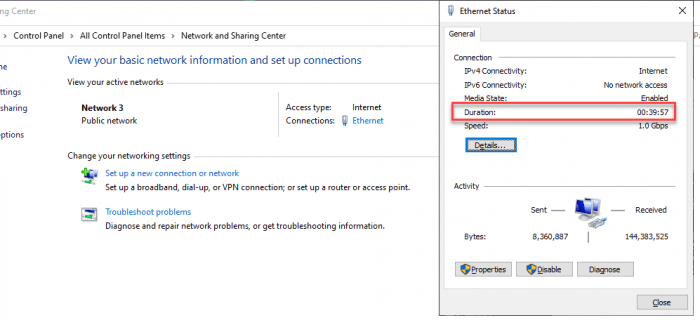 That said, the Control Panel method is not full proof, and only gives an idea for long the ethernet has been in use. Since a non-admin account will not have ways to disable it or reset it, it roughly works out. If not, it will at least tell you how long someone was using the internet on the computer.