TimesJob is one of the most wonderful Job Search portals that should be used to look for a job. Coming to the topic, if you have forgotten your login name or password ( for TimesJob), there is only one way to get it "Using your TimesJob id "….Now that's really funny. What if you have forgotten your time id itself. There is no option; I was not able to find where you can use your email id.

This happened to me, and I was able to get it accidentally. Here is the whole scene
I tried using the usual names, but it did not work.
I clicked on Forgot password, hoping to use my email but was surprised that there was no option except it asked me for TimesJob id itself.
I thought I might not have registered ( As I went there after years). I went to signup as a new user.
Wallah, As soon as I entered my email id there, My username was shown up there, which I created along back.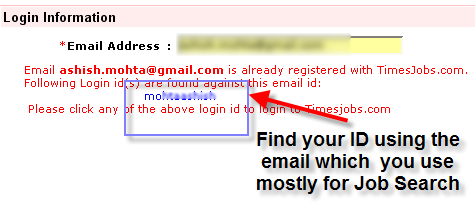 So baseline, If you don't remember your timesjob id, move to the new user and enter the email id which you might have used or if you know, nothing like it. Now you can use it in forgot password feature to get your password emailed to you.
Suggestion to TimesJob
Please allow users to use email id in case they forget their password.
Please don't show up the username when the email id is entered, as it reviles the username instead. You can say the email id is already in use.
Happy Password Hunting