An inaccessible boot device on Windows is one of the known errors. It is a blue screen of death error, meaning the PC cannot boot. Luckily getting rid of the error is not as complicated as it might seem in most cases. And in this post, we will talk about a few quick ways to help you fix an inaccessible Boot Device on Windows 11/10.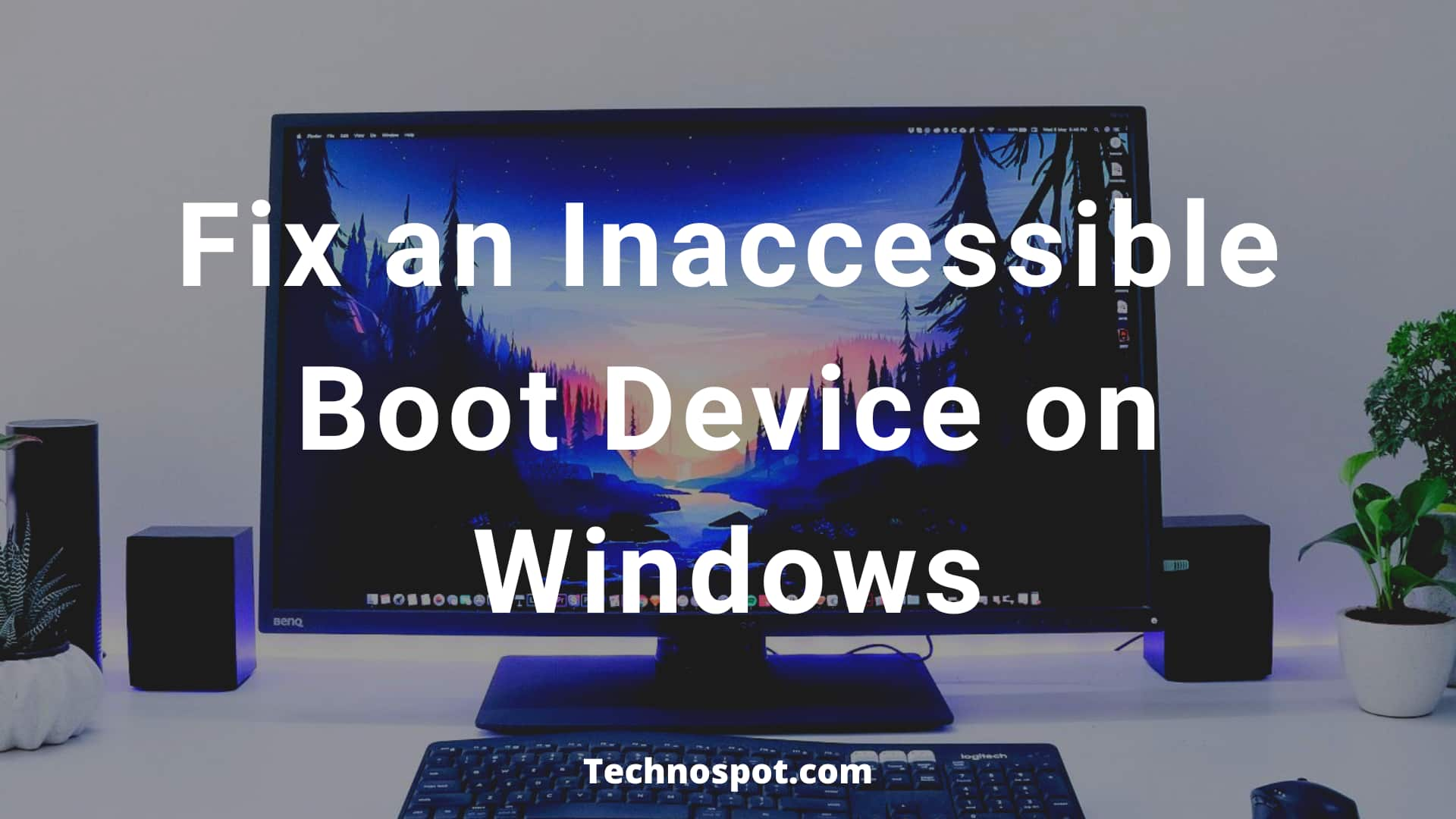 What causes an inaccessible boot device?
Inaccessible boot device errors can appear because of a wide range of reasons. Many have reported experiencing this error after a failed update, misconfigured boot record, and corrupted the storage device where Windows is installed.
Fix an Inaccessible Boot Device on Windows 11/10
Now that you know what is causing the error, it's time to talk about the fixes. Below are some common fixes that you can try out:
Check for Loose connections & Hardware Faults
Switch to AHCI in BIOS
BootRec Options
Run a system file scan
Run a Check Disk scan
Reinstall Windows (Last Resort)
1. Check for Loose connections & Hardware Faults
First, ensure that no loose connection is causing the issue. If you are using a desktop, open the cabinet and check the wires connected to your HDD or SSD. Ensure the cables are correctly attached and there is no loose connection.
2. Switch to AHCI in BIOS
If the issue appears right after updating your BIOS, you can try switching AHCI in BIOS. The BIOS allows you to choose a mode for SATA drives and if you are using something other than AHCI. Then it needs to be updated.
For this, shut down your PC, turn it on, and then get into BIOS mode. Depending on what computer you have, the BIOS menu will be different. But usually, it is pressing the DEL button repeatedly until the BIOS menu appears on the screen.
Once in the BIOS menu, look for Storage configuration > SATA Configuration/SATA Emulation or something similar.
Then enable AHCI if it's not already enabled and exit from BIOS. Next, let your computer boot up usually and see if this fixes the issue.
3. BootRec Options
BootRec.exe is a great way to deal with startup issues on Windows machines. It is a troubleshooting program that helps you fix boot problems in Windows Advanced Recovery.
There are two ways you can use BootRec. These two methods are:
Startup Repair:
You will need to use another Windows PC to prepare the bootable USB drive.
First, download the Microsoft Media Creation tool and insert a flash drive on your computer.
Next, launch the Microsoft Media Creation tool and follow the onscreen steps to create a bootable drive.
Follow this on the PC on which you have issues
Now boot your computer using the bootable drive.
Select your language, time, currency format, and keyboard layout and click Next.
Next, click on Repair your computer.
Go to Troubleshoot > Advanced Option > Startup Repair.
Now let Windows perform an automatic repair and see if it fixes the issue.
If this method fails to repair your computer, you can try repairing boot codes, fixing BCD errors, and replacing Bootmgr. For this, you can follow the below steps:
Use BootRec.exe to fix Boot Record
Follow the same methods mentioned in the Startup Repair till you are on the Troubleshoot Window in the Advanced Recovery. From here, select Command Prompt. In the command prompt, run the following commands one by one:
To repair boot codes: BOOTREC /FIXMBR
To Repair Boot sector: BOOTREC /FIXBOOT
To fix BCD errors: Bootrec /ScanOS
To replace Bootmgr:
To replace Bootmgr, first, change the directory to the System reserved partition.
Then run the following command to unhide the file:
attrib -r -s –h
Next, navigate to System drive and rerun the same command:
attrib -r -s –h
Rename the Bootmsg file as bootmgr.old by running the below command:
ren c:\bootmgr bootmgr.old
Next, navigate to System drive, copy the bootmgr file, paste it to System reserved partition, and restart your computer.
4. Run A System File And System Drive Scan
Next, you can try running a system file scan. However, since we won't be able to access Windows and its command prompt. We will first need to make a bootable drive.
For this, you will need a second computer where you have to download the Microsoft Media Creation tool. You will also require a flash drive of 8GB at least.
First, follow the same steps mentioned in the system repair method from above till you are in the Advanced startup.
Go to Troubleshoot and select Command Prompt.
Over here, type the following command and press enter: sfc /scannow
Now let the search get completed.
Once done, type down the following command and press the Enter key to check your hard drive. chkdsk /r C:
Wait for this to be completed as well.
Finally, reboot your computer and see if it fixes the issue.
5. Reinstall Windows (Last Resort)
If, in the end, nothing works out for you, then reinstalling Windows would be the last option. The process will delete whatever data you have in your system drive. So in case you want to save your files, you might want to consider connecting your HDD or SSD drive to another computer and taking a backup.
Once you have taken a backup, here are the steps that you have to follow:
First, download the Microsoft Media Creation tool and launch it.
Next, connect a flash drive at least 8GB in size to make it a bootable drive.
Now Media creation tool will download the necessary files and set up the bootable drive.
Once ready, plug it into your computer where you wish to reinstall Windows.
Change the bootable drive setting from BIOS.
After that, press the Enter key to start installing Windows and wait for a while.
In a few moments, you will get to see a Window. Select your language, time, and keyboard from here and click on Next.
Then click on Install now.
After that, accept the terms and conditions and click on Next.
Next, click on Custom: Install Windows only (advanced)
Over here, select your primary partition and click Next.
Finally, click on OK to proceed with the installation.
You will also be required to complete a few additional steps. Also, for a screen-by-screen guide, you can follow this tutorial or check Microsoft Forum.
Conclusion
So those were a few fixes for the inaccessible boot device error. Now go ahead and try these fixes out and see if they are useful to you. Also, if you get stuck at anything, feel free to drop a comment below.
Does Resetting the PC Fix the Inaccessible Boot Device?
If your PC is not booting up, then resetting wouldn't work. As for this, you will have to access Windows settings. Instead, you can reinstall Windows from scratch. But first, make sure to take a backup of your data.
How Do I Get to Bios or UEFI in Windows 11/10?
You can get into BIOS or UEFI in Windows while turning on your computer by pressing some dedicated keys. The key varies from motherboard to motherboard. However, you can try out keys like F2, F12, ESC, F10, F2, and DEL buttons to access BIOS or UEFI.
Can Malware Cause Inaccessible Boot Devices?
Yes, malware can cause an inaccessible boot device in case it corrupts your boot files. In such a case, you must run a system check or reinstall Windows to fix your computer.
Why Is My PC Going Into Automatic Repair?
There are many reasons why your PC is going into automatic repair. For instance, it might be because of missing or corrupted system files, including problems with the Windows registry, incompatible hard drives, etc.