Today morning when I tried launching Microsoft Office 2010, I was greeted by this message – Cannot start Microsoft Outlook. Cannot open the Outlook window. It was a bit of an issue as I am a heavy user of Outlook for checking all my mails. In this post, I will show how you can resolve this problem.
Cannot start Microsoft Outlook, Cannot open the Outlook window
Looking around, I found a solution that worked for me. Here I am listing a few more in case my solution doesn't work for you.
Reset the Outlook navigation pane
Repair Outlook PST file
Repair Office using Online or Offline Repair options
Fix Broken Outlook Profile
Make sure to use it according to your Outlook or Office version.
1] Reset the Outlook navigation pane
Open Run prompt using Win + R and type Outlook.exe /resetnavpane. Hit the Enter key.
The command will reset the profile settings, clear and regenerate navigation pane for the default Outlook profile.
2] Repair Outlook personal folder file (.pst)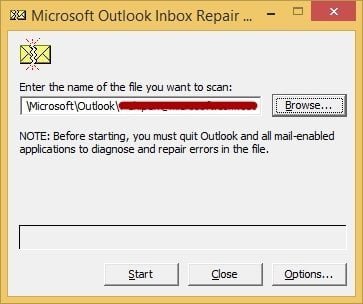 You can use the Inbox Repair tool (Scanpst.exe), which is designed to help repair problems that are associated with a personal folder (.pst) files.  There are two repair tools available:
Start the Inbox Repair tool for Microsoft Outlook 2013 and later
The tool may run multiple times to repair the PST file completely. In some cases, if the PST file is beyond repair, and it recovers partially, then they are placed into the Lost and Found folder. The folder contains folders and items that the Inbox Repair Tool recovered. Unfortunately, things that are missing from the Lost and Found folder may be beyond repair
3] Repair Office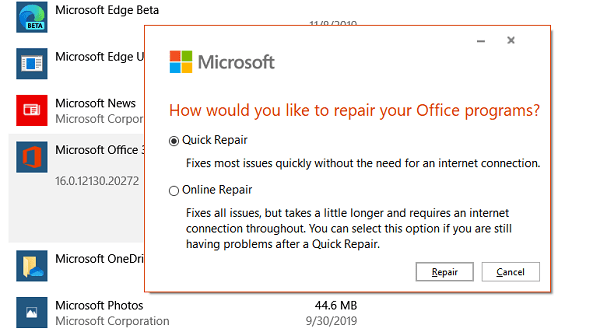 If you have the original setup of Microsoft office, you can repair it. Launch the software, and it will offer you an option to repair all products of Office. Here is how you can manually fix office
Right-click the Start button, and click on Apps and Features
Select the Microsoft Office from the list, and then click on  Modify.
Depending on what type of Office is installed on the computer, you will have two options.

Click-to-run: It will open a window which will prompt—How would you like to repair your Office Programs. Select Online Repair > Repair or Quick Repair
MSI-based: It will offer you to Change your installation. Here you can select Repair and then click Continue.

Follow the instructions on the screen to complete the repair
An alternate way is to download the Office Repair tool. It can fix the problem with Outlook or can help you completely uninstall the product from the computer.
Related: How to Fix Office Outlook default Mail client Error
4] Fix Borken Outlook profile
Outlook 2010, 2013, 2016
Click on File > Account Settings > Account Settings.
On the Email tab, choose your account (profile), and then select Repair.
Follow the prompts in the wizard, and when you're done, restart Outlook.
Note: The Repair option isn't available if you're using Outlook 2016 to connect to an Exchange account.
Office 365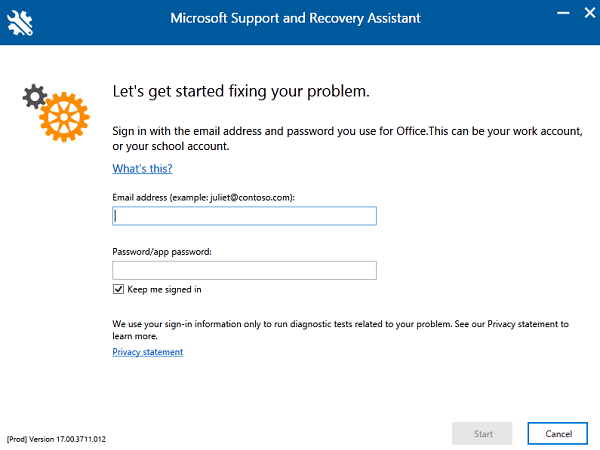 When using Office 365 and Outlook, you can download and install the Microsoft Support and Recovery Assistant from here. When you run this tool, it will prompt you for username and password to repair Outlook.
So if you get the same problem try out the first and if it doesn't work then the rest of them. However, resting the navigation pane might mess with your favorite settings, but that's not much of an issue.