Are you frustrated with not being able to log in to your computer due to a Corrupted User Profile? You may get an error message that prevents you from signing in, which means you will not be able to access your files. Do Not Worry at all!! Accept that it is a severe issue of Windows, and this guide will help you fix corrupt Windows User Profile.
What Are The Reasons For Corrupt User Profile In Windows?
According to Microsoft, this happens when someone tries to login into their account, and Windows is busy scanning the PC. It interrupts the process and causes corruption. Another reason could be a sudden OS crash or abrupt system shutdown while a process is running in the background.
Some significant reasons have been known to occur as a result of the following:
Compromised system or user files
Windows Crash or BSOD
Failed Windows Updates
Missing User Files
Outdated Windows Drivers
Corrupted user account active directory.
Power outage during the Windows update.
 Damaged hard drive file system caused by disk write errors, power outages, or virus attacks.
The Steam folder is write-protected.
Failed Automatic Updates to Windows (which involves upgrading service pack installations)
Low Storage Space
How To Enable Hidden Admin Account
Since most users have a single admin account, we will have to activate the hidden admin account to create a new account. You will need to boot the computer into Recovery mode using a bootable USB. You can easily make it using another PC.
Follow these steps to find the hidden profile:
Once in Recovery, Go to Troubleshoot > Advanced > Command Prompt
Type in the following command: net user administrator /active: yes
You should get a message Command Completed Successfully.
Reboot your computer now.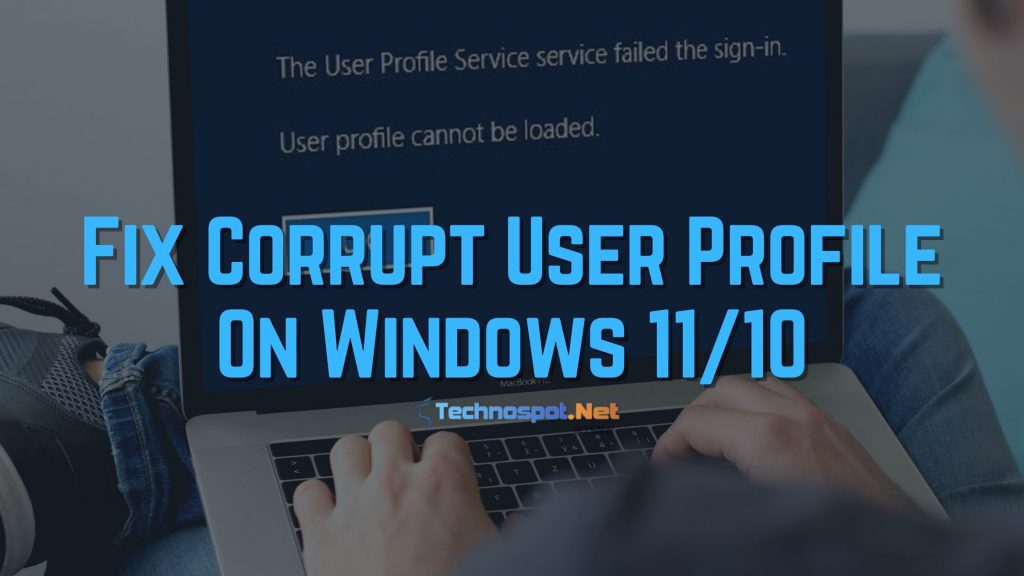 How To Fix Corrupt User Profile In Windows?
There are many methods to resolve the issue. We have listed some of the easiest ones below:
Fix via Registry
Create New Profile and Transfer Files from the old account
Scan using AntiVirus Solution
Update Windows
You will need an admin account to fix this.
1] Through Registry Editor
We highly recommend you take a backup of your hard disk or the important files before following the steps for editing Windows Registry. If you cannot log in to your user profile, try to restart your computer first to prevent any loss of files.
You can boot your computer in safe mode and follow the below simple steps to fix the corrupt user profile through the registry editor.
Go to the search option of your PC, Type Regedit, and open registry editor.
Navigate to the following path:
HKEY_LOCAL_MACHINE\SOFTWARE\Microsoft\WindowsNT\CurrentVersion\ProfileList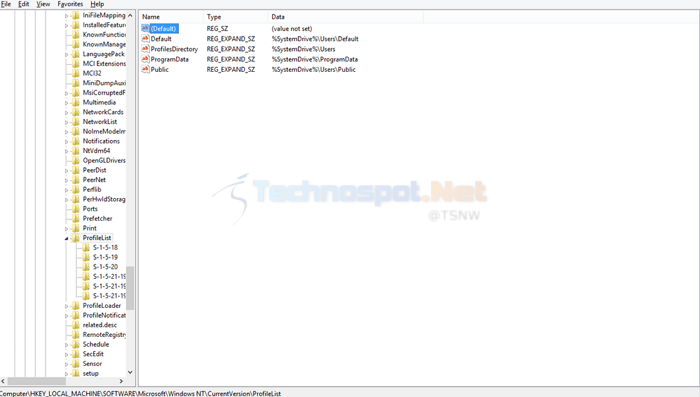 Check each S-1-5 folder, double click on the ProfileImagePath find out the user account to which it is related.
Finally, if you have found the corrupt user profile (Make sure that it doesn't have a .bak ending), you may set the value data to 0 for RefCount and click OK. There might be a chance that this value isn't available; you may create it manually.
Double click on the state to set the value again 0, and click OK.
End with closing the Registry Editor window and restarting your PC.
We hope these simple steps helped you get your user profile back. If it doesn't work, we have the following solution, try creating a new account and transferring old files into it. Let's continue learning from the article.
2] Create A New Profile & Copy File from Old account
You are here because you could not succeed with the previous method. No worries, we have another solution for recovering your old account by creating a new profile and copying all the files to the new user account.
Since you have already activated the hidden admin account, log in to the admin account. To create the new profile, follow the below steps:
Open the Settings on Windows  (Press Windows + I), click on the Accounts.
Click on Family & other people to create a local user profile in Windows 11.
Select Add someone else to this PC.
Provide information to sign in the prompt command and click on the link on the bottom that says  I don't have this person's sign-in information.
Ignore the email part and click on the link on the bottom that says, Add a user without a Microsoft account.
The final window account creation screen is before entering the Username, the password for your new user profile, and clicking Next.
Your files are still in your old account. To transfer them into the new user account, follow the given steps:
Open the User folder, Select File Explorer in the list of results.
Go to This PC > Syste Drive> Users> Folder of your account
Locate Old_Username, which is the profile's name from where you want to copy your files.
Select and copy all the files and folders.
Locate for New_Username, the new user account you have created.
Select the Paste option.
We hope you will create a new account and copy files from the old user account with the above steps.
Restart your PC and log in with the new user account successfully.
For the next two steps, enable the hidden admin account and then execute the suggestions.
3] Run A Deep Antivirus Scan
Do you need deep antivirus scanning for Windows? Probably Yes. Microsoft already has a legitimate built-in Windows defender plan. In some cases, malicious codes can create severe issues and corrupt your user profile. To take this seriously, you need to thoroughly scan your system to prevent it from corrupting your user profile and getting frustrated.
This scan may take a longer time as this scans every file of your computer. Just follow these easy steps to do so.
In the Start menu, search for Windows Security and open it when it appears in the list.
Open the Windows Security Menu.
Click the Virus and Threat Protection button > Quick Scan button.
Once the scan is complete, click on the Advanced Scan button to choose a full scan option. Windows Defender or Windows Security will report any findings.
4] Install Latest Updates
Sometimes, a wrong or buggy update can mess with your user profile. Fortunately, Microsoft takes bugs very seriously, and so it keeps releasing timely updates for that. Here's how you can install the latest updates.
Press Windows + I key to open the settings app on your PC.
Now, open the Update & Security option.
Check For Updates under the Update status. It will be automatically updated the newest updates. Check if the issues still appear after installing all the latest updates. 
That's all to make you not too much worry we figured out some solutions. Now you have fixed your account or created a new user account. We had discussed the recovery of the Registry Editor, Updating profiles, running a deep antivirus into your PC.
I hope the post was easy to follow, and you were able to Fix Corrupt Windows User Profile on your Windows 11/10 PC or Laptop.