GeForce Now is a popular cloud gaming service platform out there. It allows you to stream your purchased games on the cloud. However, many users have recently complained about the GeForce error 0xc184c00f error.
The error usually occurs when you try to launch a game. Whenever you launch a game on GeForce now, it will show you connecting status for a while, and then you will encounter the error.
So if you are facing the same and looking for a solution, this post will help you.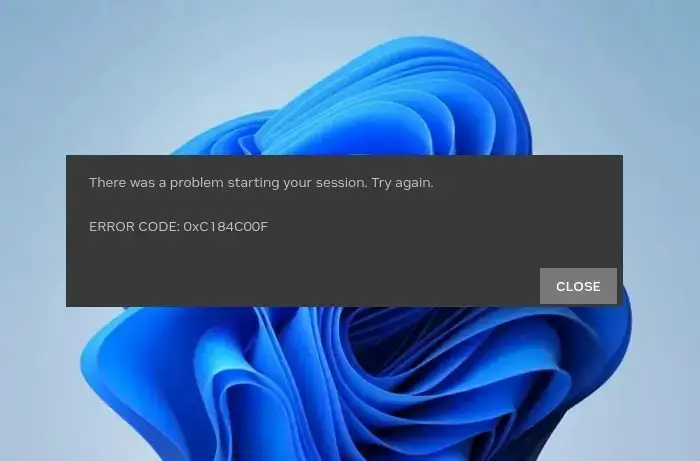 How to fix GeForce error 0xc184c00f?
There are a couple of reasons why you might be encountering the error. NVIDIA servers are probably busy right now, or a bug is preventing you from accessing GeForce. However, here are a few fixes that you can give a try to:
Check GeForce Now server status
Restart NVIDIA services
Reinstall the GeForce app
You may need admin permission for some of these suggestions.
1] Check GeForce Now server status
First, ensure that GeForce Now Server is up and running. If the servers are temporarily down or busy, then it is obvious to face connecting issues. However, you can quickly check the current server status by visiting the GeForce Now Server Status page.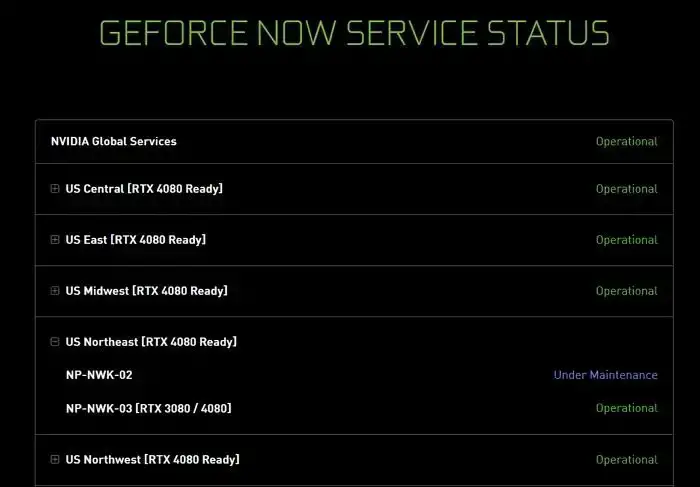 If you see the server in your region down or labeled as under maintenance, consider connecting to it after a while and then check if it works for you.
Alternatively, you can also try using a VPN and then launch the GeForce Now server from a different location and see if you can access the server. If everything seems fine over VPN, you better wait a few hours.
2] Restart NVIDIA services
Next, you can try restarting the NVIDIA services. This will help if the error occurs because of a temporary glitch or if the NVIDIA services cannot run properly. To do so, follow the below steps:
Press Windows Key + R to launch Run.
Type services.msc and press Enter.
Next, look for NVIDIA Local System Container service, right-click on it, and select properties.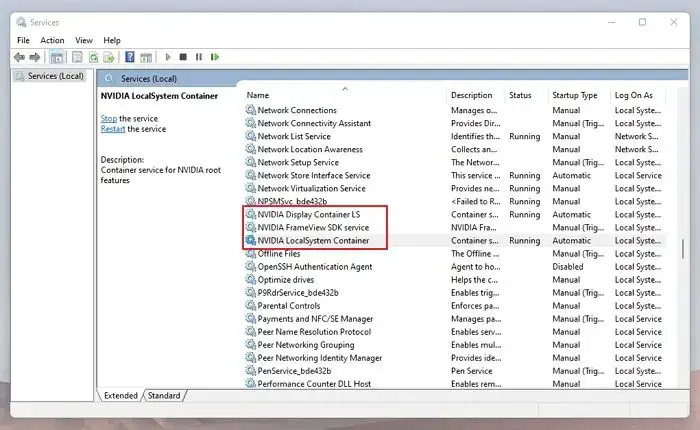 Finally, click Stop if the service is already running and start it again.
If the service is not running, click the Start button.
Finally, press Apply > OK to save the changes.
Note: Repeat the same process for all the NVIDIA services available on your system.
3] Reinstall the GeForce app
You can also consider reinstalling the GeForce app. There is a good chance that the error occurred because of a bug, and NVIDIA has already addressed the issue and shipped an update. So reinstalling the program will help you to run the latest version of the GeForce app that might not have any bugs or errors.
First, press Windows Key + I to launch settings.
Navigate to Apps > Apps & Features.
From here, uninstall the GeForce app.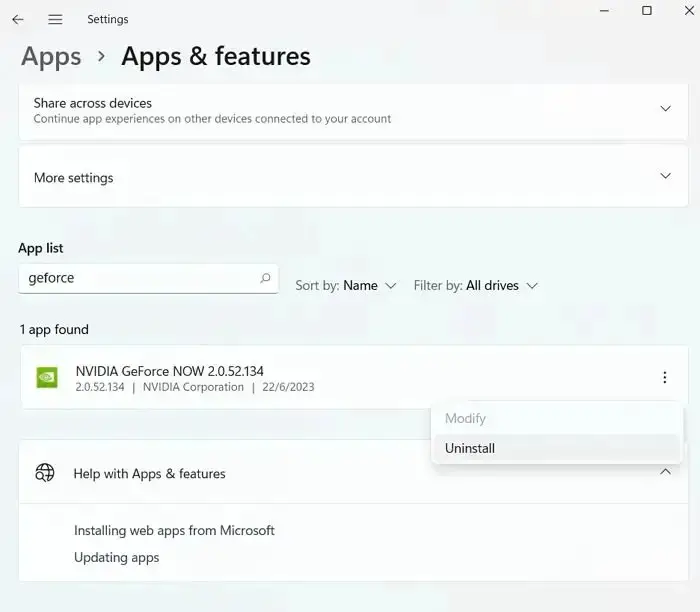 After that, follow the onscreen steps to install the app and see if it works for you.
Conclusion
Those were a few quick ways to fix GeForce error 0xc184c00f. Even after trying these methods, if you still encounter the same, consider addressing the issue with NVIDIA's support team, who will help you with further instructions.
How do I fix Nvidia unable to connect?
If Nvidia cannot connect, then make sure of two things. First is that your internet is working, and second, the NVIDIA servers are running, and there is no issue with the services running on the server. You can also run the Network Troubleshooter on Windows to fix local issues.
How do I restart GeForce experience?
To restart, you need to close the GeForce app and relaunch it. Along with it, you may also want to restart the service related to GeForce, which will ensure fixing a problem or restart the related service.