Is your iTunes Home Sharing not working? Are you finding it difficult to turn on the Home Sharing in iTunes? This post will guide how to fix the iTunes Sync Required error when using the Home Sharing feature. To understand the problem and find a solution, you first must know about Home Sharing.
What is Home Sharing in iTunes?
Home Sharing is one of the most useful iTunes features. This feature allows users to share and access media libraries on different devices. You can stream movies, music, TV shows, and more! However, some conditions need to be fulfilled for this feature to work.
Users have reported issues while using Home Sharing. To eliminate the dilemma, we have compiled a list of potential fixes. Read the section below to know more!
Requirements for the Home Sharing to Work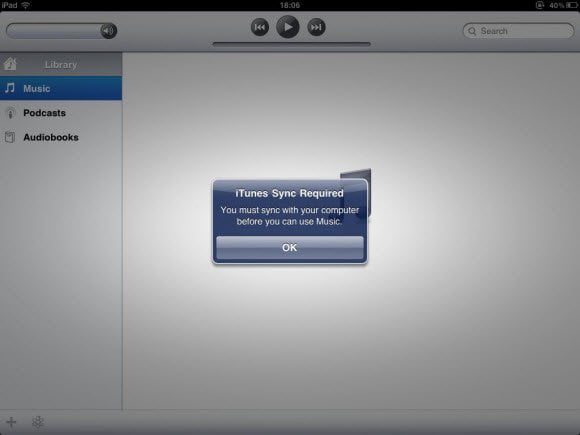 Often, the problem with Home Sharing not working in iTunes is due to a lack of knowledge. You might not know the requirements and thus fail to abide by them. That is why knowing more about the specifications and criteria you must fulfill is vital. Take a look:
Apple devices – iPads, iPhones, and iPods with iOS 4.3 and later.
Apple TV 2nd or 3rd generation or above with tvOS 4.2.1 or later.
Windows PC and Mac with iTunes 9 and later.
Usage of the same apple ID on the devices.
The same Wi-Fi network is to be used for all the devices.
The device must have iTunes opened while awake.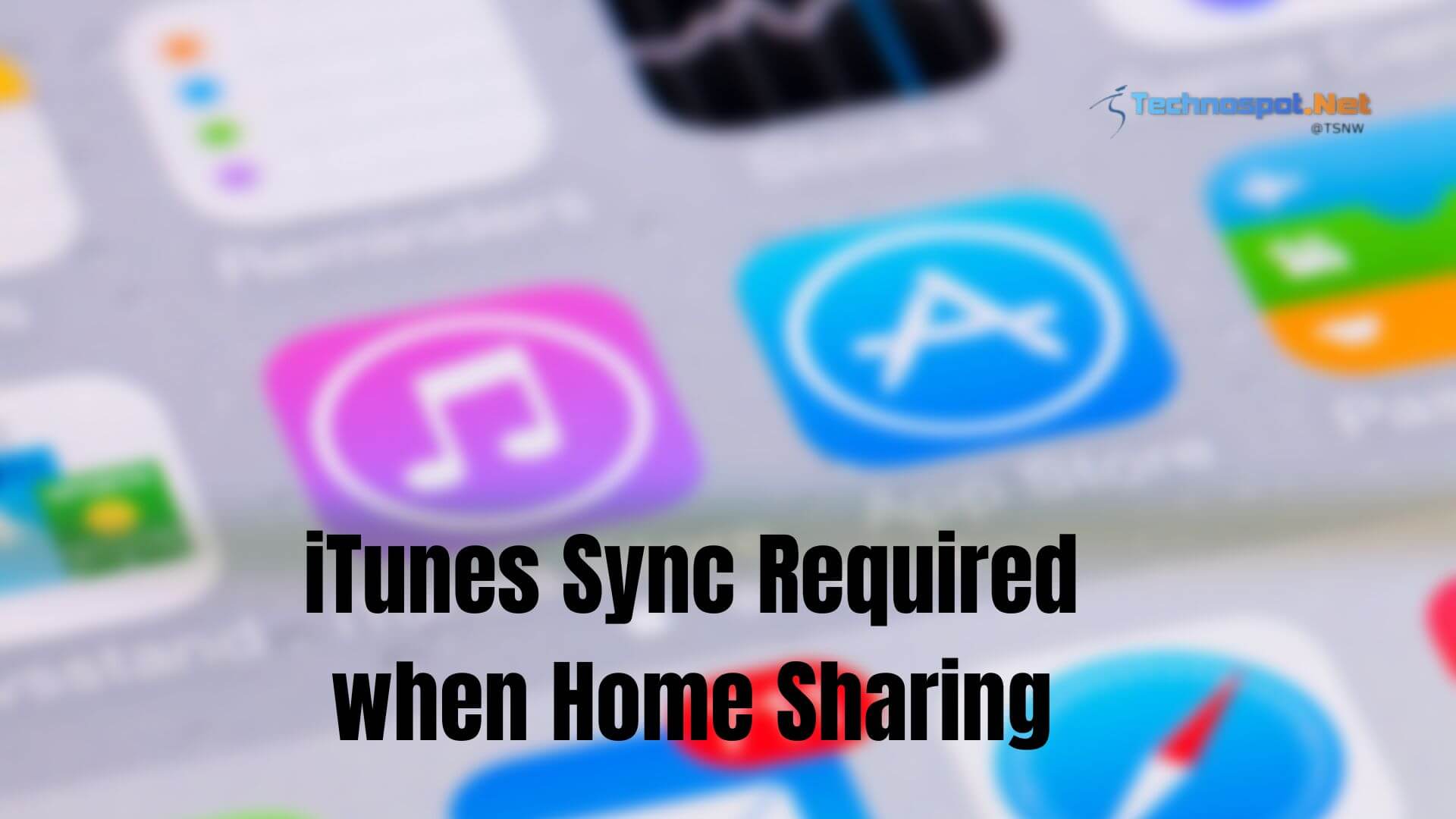 How to Fix iTunes Sync Required when Home Sharing
Fortunately, there are numerous solutions you can try to handle the Home Sharing problem. Check out some of them listed below:
Ensure Home Sharing is Turned On
Check Internet Connection
Ensure you have Authorized iTunes on your Computer
Turn On and Off Home Sharing
Connect all Devices on the Same Wi-Fi network
Use the Same Apple ID
Make sure you have access to Apple ID, and everything is connected to the same network.
1. Ensure Home Sharing is Turned On
The first solution one must try to resolve the Home Sharing issue is to check if it is enabled. You must ensure that the feature is turned on for all Apple devices. For that, you must adopt the below-mentioned steps –
For iPad or iPhone:
Open Settings on your iPad or iPhone.
Go to Music.

Go to the Home Sharing setting at the end of the page.
If you come across the Apple ID option, you need to confirm it or change it. For that, you will need to sign out and then log in using the desired Apple ID.
Alternatively, you can also see Sign in. In that case, you must enter the Apple ID along with the password.

For Mac: 
Click on the Apple logo on the top left corner of the screen.
From the drop-down menu, select the System Preferences option.

Choose Sharing option from the list of settings.

From the left sidebar, turn on Media sharing, followed by the Home Sharing option on the right-hand side.
Ensure you also turn on the options below to use home sharing fully.

Note: If you are not signed in with the Apple ID, you will be asked to do so. After that, Home Sharing is turned on.
For PC: 
Launch iTunes on your Windows PC.
Make sure you sign it with the same Apple ID you use on other computers or devices. Once you do that, click on File from the top menu bar.
From the drop-down menu, hover on Home Sharing and click the Turn on Home Sharing option.

For Apple TV (3rd generation or older)
Open Settings.
Go to Computers.
Now, you press the Turn on Home Sharing option.
For Apple TV (4th generation)
Go to Settings.
Press Account.
Click Home Sharing.
Enable the option.
2. Check Internet Connection
Another fix you can try out is checking the internet connection. It would help if you ensured that the VPN was disabled for all devices. Though the software offers protection while browsing, it can still interfere with the internet working.
3. Ensure you have Authorized iTunes on your Computer
Are you sure you have authorized iTunes on your computer? It is an essential criterion for Home Sharing to work. For that, you must follow the steps listed below –
On PCs, open iTunes for Windows.
For Macs, you need to run the Apple Books app, Music app, or Apple TV app.
After that, open the Account.
Click on Authorizations.
After that, you need to select Authorize This Computer.
Note: You can only authorize five computers simultaneously, not more than that. If you want to authorize another one, you need to de-authorize an existing one.
4. Turn On and Off Home Sharing
If you still have issues with Home Sharing, you can turn on and off the feature. To understand the process, take a look at these steps –
Go to File on the menu bar of the Mac screen.
Press the Home Sharing option.
Now, click on Turn Off Home Sharing.
Wait for 20-30 seconds.
Now, press the Turn on Home Sharing option.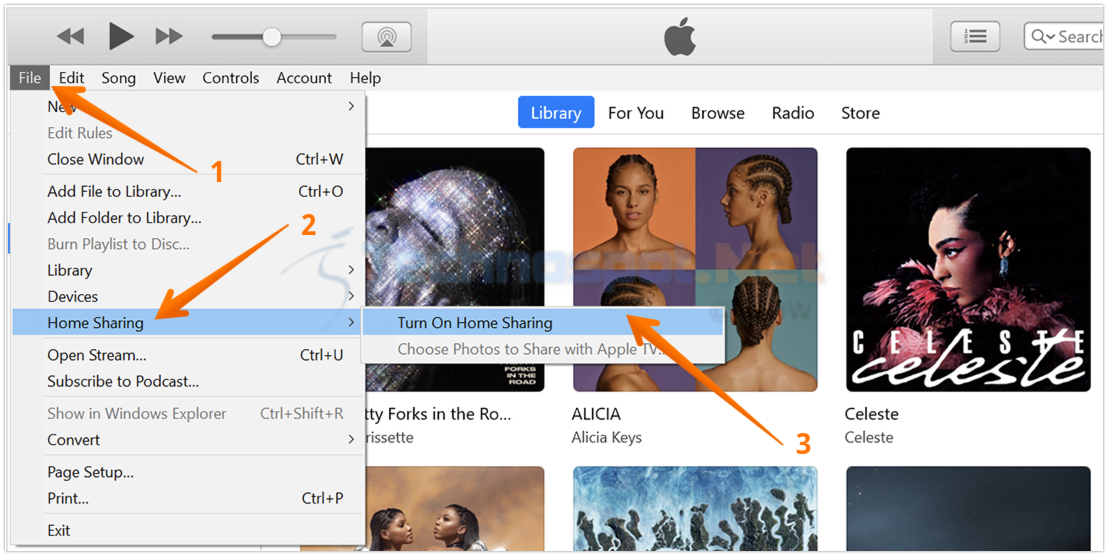 5. Connect all Devices on the Same Wi-Fi Network
It is critical to understand that using the same Wi-Fi network for all devices is essential for Home Sharing to work. If you are still having trouble, check out the Wi-Fi network and ensure it's the same.
You must check out the bandwidth if your Wi-Fi network has a tri-band or dual-band. All the devices must have the same bandwidth.
Setting up a guest network often makes sense if you don't want others to use the home network. In that case, you must ensure that the devices are connected to the home network. If they are connected to the guest network, Home Sharing will not work.
6. Use the Same Apple ID
One of the most crucial parameters you need to follow is the Apple ID. Each device connected to the Home Sharing network must have the same Apple ID. If you use different IDs, the feature will not work. That is why you need to ensure that all the devices have the same Apple ID.
Conclusion
Home Sharing is one of the most popular features of Apple devices. However, several issues might affect its working. Luckily, there are multiple solutions one can try to resolve the problem. Check out the methods mentioned above and try them now.
Why is Home Sharing not working on my devices?
There could be various reasons for home sharing not working. However, the first thing you need to check is home sharing option is enabled on all devices. Ensure you are using the same Apple ID as well.
What do Family Sharing and Home Sharing mean? Are these different?
Home Sharing means you can share the iTunes library from your PC or Mac to other devices on the same Wi-Fi network for playback. On the other hand, in the Family Sharing feature, you can share your iTunes purchases with other family members.
Why does my Home Sharing not work on Apple Music?
It might be because you are using different Apple IDs on the devices. Make sure you use the same Apple ID on Family Sharing and Media & Purchases settings. Also, check that Purchase Sharing is turned on in the Settings app.