Most modern-day laptops come with built-in internal microphones, and therefore, external instruments aren't required to be attached to the machine. Despite the popularity of headsets-microphones, several users have problems with them. Either it cannot capture sound or cannot use Skype, Teams, and other similar applications, etc. In the end, everyone needs a fix for the Microphone not working in Windows.
With every Windows update, the issues become more prevalent. There may be different problems causing the issue. In this post, I will guide you on How to Fix the Microphone not working in Windows 11/10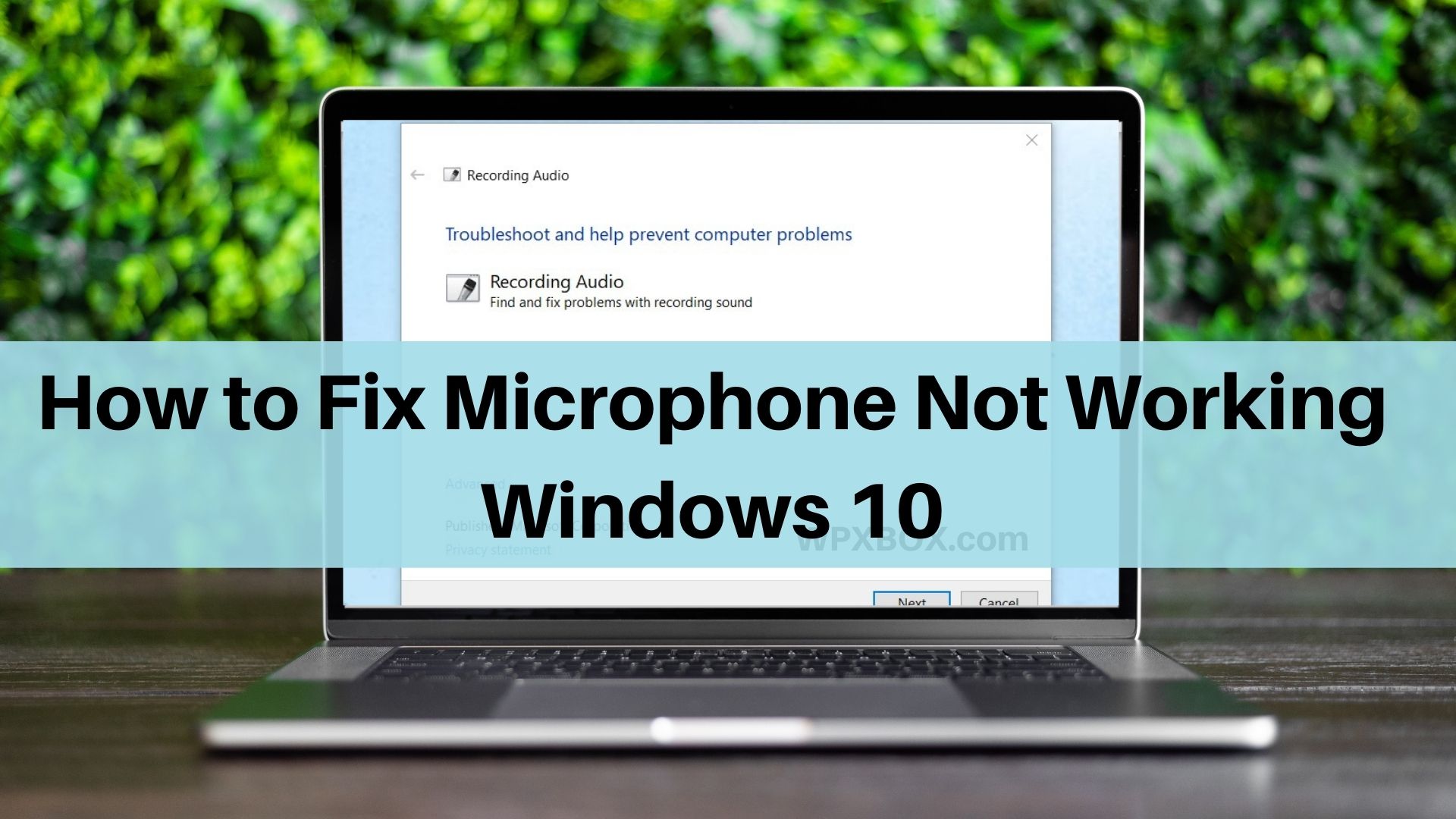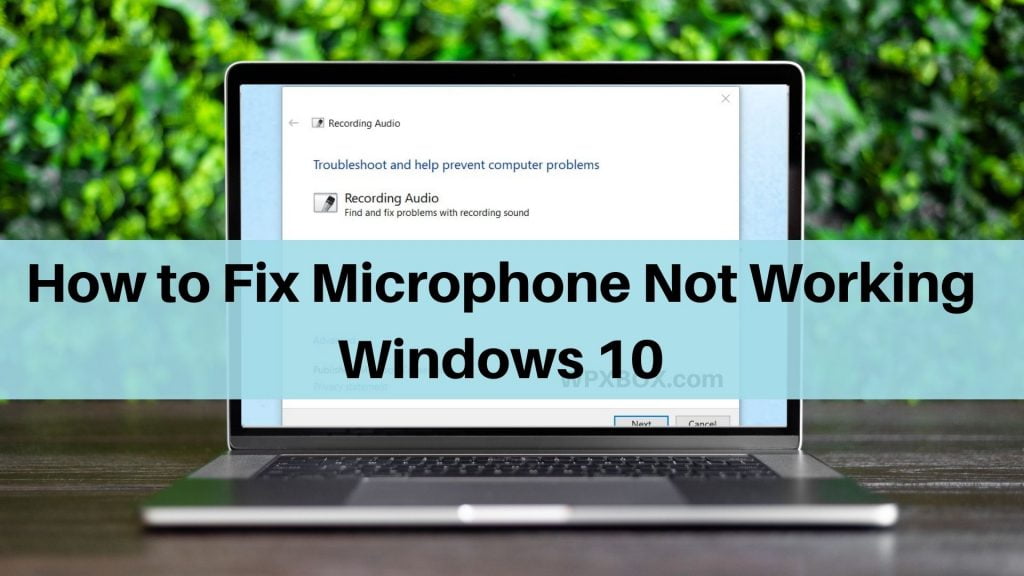 How to Fix Microphone Not Working in Windows 11/10
There can be various reasons behind the issue where the microphone isn't working or can't capture your audio.
Run Windows Troubleshooter
Check Microphone Status
Update/Reinstall Microphone Drivers
Restart Windows Audio Service
Here are all the methods we will be following to find a solution to the issue.
1] Run Windows Troubleshooter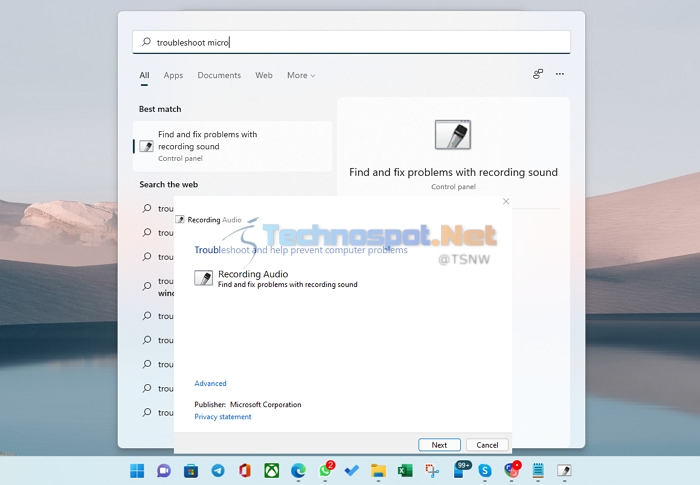 Windows 10 comes with a built-in solution finder tool for almost every issue that may occur. Here's how we could use the troubleshooter to fix microphone issues in Windows 10:
Open the Start Search Box (Win + S) and search for Troubleshoot Microphone. Choose the Find and Fix Problems with Recording sound option, which is also listed as the main result.
In the new window that opens, click on Next and let Windows diagnose and find solutions.
2] Check Microphone Status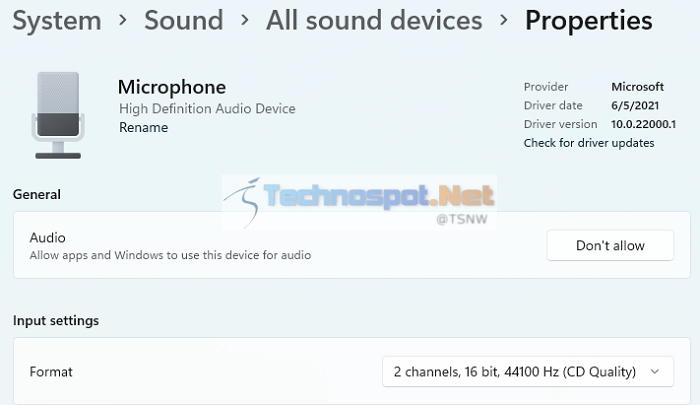 Accidentally or with intention, one may have disabled or turned off the Microphone either for security reasons or something else. With a turned-off Microphone, one cannot record sound; hence, enabling it back may help. Here's how:
In Windows 11
Go to Settings > System Sound > All Sound Devices > Microphone
If the button next to the Audio section says Allow, click on it to enable the Microphone.
In Windows 10
Open the Settings Panel in Windows (Win+ I)
Navigate to System -> Sound
Scroll down, under Input, choose Manage Sound Devices.
Here, select the input Microphone device name, and Choose the Enable option if previously disabled.
Check Microphone Privacy Settings
The Microphone's privacy settings may be set to disable so that no applications could access the Microphone. Here's how to enable it:
Open the Settings Panel in Windows  (Win+ I)
Navigate to Privacy -> Microphone
Under, Allow Apps to Access Your Microphone, turn the toggle on.
3] Update/Reinstall Microphone Drivers
The drivers of Microphone can be updated in three different ways:
Go to Settings > Windows Update > Advanced Options > Optional updates and check if a driver update is available. If yes, then install it.
Download and install the driver from the OEM website directly.
Use any of the third-party driver updater software to install the latest version of the driver.
4] Restart Windows Audio Service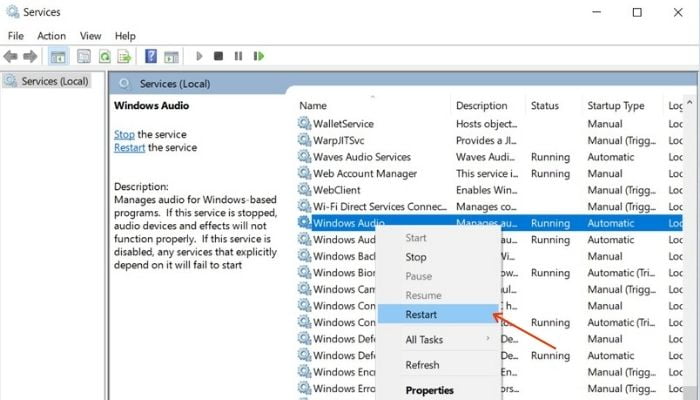 Windows Services (also known as services.msc) modify how Windows services run on your system. Here's how to use it to restart the audio services on Windows 10:
Open the Run dialog on Windows either using the Start Search Box or the Win + R shortcut.
In the Run Dialog, type in services.msc and press Enter.
Here, Find the Windows Audio service, right-click it and select "Restart" from the contextual menu.
How to Fix Sound or Audio Not Working in Windows?
Launched a game or a movie, and there's no sound?. As for the wiring, there's no apparent issue of why the sound is not going anywhere?. While Windows updates bring many cool features, it's also often the reason behind some software issues occurring on your PC. The update may cause clashes with the sound card's driver or several issues. So if you are searching for a way to fix the problems, you're in the right place. Read this post to learn how to Fix Sound or Audio Problems in Windows 11/10
Should I Attach External Microphone With My Windows Laptop For A Clearer Audio Input?
Attaching an external microphone with your windows laptop/computer will surely provide you with better clarity. Still, most mid-range and flagship laptops come with microphones good enough for most use cases. You can also use microphones paired with your headphones or earphones.
How To Check If My Microphone Is Physically Damaged?
Physical damage to the Microphone is a rare occurrence. If your Microphone is physically damaged, then the computer won't detect it at first. However, if nothing works, you can take it to a service center and get it checked.
How To Reduce Microphone Volume In Windows 11/10?
To reduce the microphone input volume in Windows 11/10, you need to go to the sound setting by accessing the speaker icon in the taskbar then look for your computer's Microphone from the list of Input and output devices. After selecting the Microphone, another menu of settings will open where you'll see a scrollbar to reduce the volume of the Microphone.