Remote Desktop Connection can allow you to connect to Remote Desktop enabled systems for troubleshooting. This software feature installed in Windows lets you join a remote computer that isn't in close proximity. In this post, we will share how you can fix the error where Remote Desktop Can't Connect to the Remote Computer
Here is the entire error message:
Remote Desktop Connection

This computer can't connect to the remote computer.

Try connecting again. If the problem continues, contact the owner of the remote computer or your network administrator.
What Are the Reasons When Windows PC Is Not Able To Connect To Remote PC?
The following are three reasons which can cause this issue:
The remote computer isn't accessible on the network.
Access to remote servers isn't disabled.
The remote computer is switched off.
It happens when you try to connect to another device or Remote Desktop Server (RDS) with Microsoft's built-in Windows RDP client (mstsc.exe). Ensure that the remote PC is turned on and connected to your network and enable remote access.
This issue can be because of various causes, most often due to incorrect configuration or problems with the network. This article will look at the root of the problems and offer suggestions for troubleshooting to help get the remote desktop connection functioning again.
Fix Remote Desktop Can't Connect to the Remote Computer
Below are some of the fixes to the Remote desktop connection problem. One of these fixes should work for you. If it doesn't, try seeking professional help.
Check Internet Connectivity
Network Failure
Verify That Remote Connections Are Permitted
Reset Your Credentials Via Remote Desktop Connections
Turn Off Custom Scaling
Change PC's Firewall Settings
Make Changes In Your Registry
Add The IP Address And Server Name To The Host's File
Check If The 3389 Port Is Enabled
Change Your Connection From Public To Private
Allow Users To Remote Desktop Connections
Capacity Exceeded
Let's know about the steps for each of these. Make sure you follow them closely. Some of them will need admin permission.
1] Check Internet Connectivity
Internet is required for Remote Desktop to connect with another device. So, check if everything is OK with your internet connection. If you have some problems connecting to the internet when using a VPN, check out our articles about Internet problems and Limited internet connection in Windows, and you might find the solution.
If not, you can go to Settings > System > Troubleshoot > Other troubleshooters. Run the Internet Connections troubleshooter, and then check again.
2] Network Failure
An invalid communication path can block clients from connecting to a Remote desktop. The most effective way to identify this issue is to use the elimination process. The first step is to establish the session using the client that was successful before. The aim is to determine if the issue is unique to a particular client, terminal server, Windows server, or network.
If you think that the network is at fault, try to narrow the extent of the issue to pinpoint its root cause. If you do that, you may find that the issue affects wireless connections, but it is not affecting wired connections. Also, you could observe that the problem is not specific to the VPN network or a specific subnet.
3] Verify That Remote Connections Are Permitted
Make sure that the computer is awake, and then try to connect. If the computer you wish to connect remotely to is in Sleep or Hibernate mode connecting it is impossible. To check to follow the below steps:
Navigate to Search, search for Allow remote connections to this computer. Once it appears in the list, click to open it.
Select Allow remote connections to this computer, and then press the apply button and save the changes.
If you are trying this function for the first time, you will have to permit Remote Desktop through the Firewall. You must also need to enable remote connections on your system. Follow the same steps to enable it on your PC.
4] Reset Your Credentials Via Remote Desktop Connection
The client stores the credentials to enable quick login if you are setting up a Remote Desktop connection for the first time. But, altered or corrupted credentials are often the cause of the Remote Desktop can't connect to the remote computer error. A quick reset of the saved credentials will fix this issue. Follow the below steps to do it.
In the Windows search box (Win +S), type Remote Desktop Connection and open the client.
Select your remote PC from the drop-down menu.
Under the User name section, click on the delete link. To confirm the deletion hit Yes.
After the credentials have been reset, restart your Remote Desktop Connection client and try connecting again.
5] Turn Off Custom Scaling
When Remote Desktop doesn't connect, one of the issues could be the scaling you have customized. A lot of users utilize custom scaling when they have larger monitors. However, it is not always a good idea to use this feature, as it can create problems for Remote desktops.
To open your Settings app, press the Windows + I key.
Then navigate to the System > Display.
In the Display settings, select the scaling as the recommended size by Windows. It will remove the custom scaling settings.
Logout, and then login again. It will reset the scaling to its default setting to solve all issues related to Remote Desktop. Many users reported that this trick worked for them, and we strongly suggest you give it a try.
If you cannot change, follow our detailed guide on fixing display issues on Windows.
6] Change PC's Firewall Settings
Based on the way you've created your Firewall's policy, it could block some outbound or inbound communication. Examine the settings of your Windows Defender Firewall to check whether Remote Desktop Connection is blocked. If so, then add the app to the list of permitted apps. To unblock any Remote Desktop in Windows Defender Firewall, follow the below-given steps:
Type Microsoft Security in the Windows Search and launch when it appears
Click and open the Firewall and network protection
Locate and open Allow an app through the firewall
Click on the Change Settings button to change or add permissions for apps. It will display an overview of the applications and features permitted for outbound and inbound connections.
Scroll down and check for the Remote Desktop box for Private and Public columns.
Select OK before applying the modifications done.
7] Make Changes In Your Registry
According to some users, they might solve this issue by making a minor alteration in their registry. After completing these adjustments, check if the problem is still present. It could be a complex solution, but many users have reported the solution worked, which is why you may consider trying it.
Use the Windows Key + R and enter Regedit. Click Enter or OK and launch Registry Editor.
On the left pane, direct yourself to this path:
HKEY_CURRENT_USER/Software/Microsoft/Terminal/Server Client key
You can right-click on the space in the right pane and select the New option. Then choose DWORD (32-bit) value. Type RDGClientTransport as the title of your new DWORD.
To open its properties, Double-click the newly made RDGClientTransport DWORD. Set the Value Data to 1, and save the changes.
8] Add the IP Address and Server Name to the Host's File
Another method to fix this "Remote Desktop can't connect to the remote computer" issue is to connect the IP address for the remote server to the host's file on your computer. Windows Hosts files contain details to map an IP address and a domain name connection.
Manually adding a Remote computer IP address to the host's registry can help resolve any issues due to the resolution of domain names. Follow the below steps:
Launch File Explorer and navigate to the following path
 C:\Windows\System32\drivers\etc
Inside the etc. folder, click on the HOSTS file, select Open With and then select Notepad from the list of applications.
There you will find some hosts' entries files that have been removed. All you need to do is add your IP address to the computer you wish to join and then, by Ctrl + S, save your file.
9] Check If the 3389 Port Is Enabled
When Remote Desktop doesn't connect, your Firewall could be the reason. Firewalls are known to restrict specific ports to safeguard your PC; however, sometimes, your Firewall can stop specific ports accidentally.
For instance, port 3389 is utilized by Remote Desktop. If your firewall blocks that port, you will not use Remote Desktop. However, if the port is active, you may also want to check if another application uses that port and try to change it.
10] Change Your Connection from Public to Private
Windows keeps Remote Desktop permission off as default. It is to keep users safe.
Open Settings (Win + I) and go to Network and internet
Select the name of your network connection.
Open network properties.
Select your network profile as private. The profile may previously be set as public.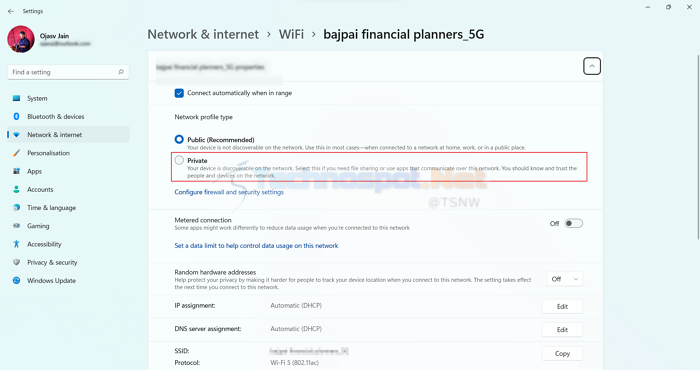 11] Allow Users To Use Remote Desktop Connections
You must give your users the Login Through Remote Desktop Services if you want them to access remote resources via Remote Desktop Services, formerly called Terminal Services. In the absence of this, users are likely to encounter errors when accessing the remote server. To ensure that you hold the correct permissions granted, follow below steps:
Start the Group Policy Object Editor by entering the GPEDIT.MSC command at the Windows Run prompt, then pressing the Enter key.
Explore the tree of consoles to the
Computer Configuration > Windows Settings >User Rights Assignment > Settings > Local Policies>Users Rights Assignment
Through Remote Desktop Services, Select Allow Login.
Incorporate the groups you need and press OK.
It should permit users to use Remote Desktop.
12] Capacity Exceeded
It is possible to experience issues with connectivity to remote desktops when you have exceeded the capacity of your infrastructure. If you have a company that uses virtual desktops, or VDI, clients could not connect if the licenses available have been exhausted.
Certain VDI implementations will also block connection to clients when the server is busy or if the launch of a new virtual desktop session will affect the performance of the existing sessions.
How To Solve Unable To Connect To The Remote Office Computer?
If you are facing this issue, please check for the following:
Availability of Windows update
Public network profile
Reset titles
Check permissions
Change firewall settings
Antivirus
Check RDP service status
If the issue persists, please get in touch with the office admin.
How Can I Access My Office Computer From House By Using Remote System?
To access your work PC from the house, open the Remote Desktop connection app.  Enter the IP address, the remote username, and the password for your office PC. Please note that you will only be able to access your office PC remotely if it has a working internet connection and a remote desktop service set up on it.
In this article, you learned why there could be issues with your remote desktop connections. We hope that some of these solutions have helped you resolve issues with connecting to Remote Desktop. Be sure to backup your computer and the registry before making changes.