When you record video using your mobile phone or handy cam where you don't use a stand, it's very obvious that the videos will be shaky even if you are in standing position.  So the annoyance come when you sit back and watch with family and share it with friends,  if the shakiness is more it's a big time problem.
YouTube recently came out with couple of editing feature of which the most important was the cure to these shaky videos. YouTube videos now be edited to reduce the shakiness to an extent. Unless you are running on your toes and recording stuff, YouTube editor can fix it. Below is a video demo and then details :
If you notice the side by side comparison of the video, apart from where I changed the angle of shooting, the video has stabilized a lot. Not sure what is the logic behind fixing this but it seems the it tries to rotate the angle a bit. If you select 10 as factor, you will see how much the video gets rotated.
To edit a shaky video follow the steps :
Go to YouTube Editor
Drag and drop the video which you want to edit.
Now mouse hover and you will see a magic wand icon.
Select and it will open a special editor which allows you to

Reduce shakiness of the videos i.e. Stablize the video
Change Brightness and Contrast.
Convert the video to black and white.
Option to see a live preview of changes made. This helps you to know if the video was looking better without editing.

To stabilize video, you have scale which is the default to 3. You will have to find out how much stabilization factor you will need. Test to see the live preview  and you will have an idea.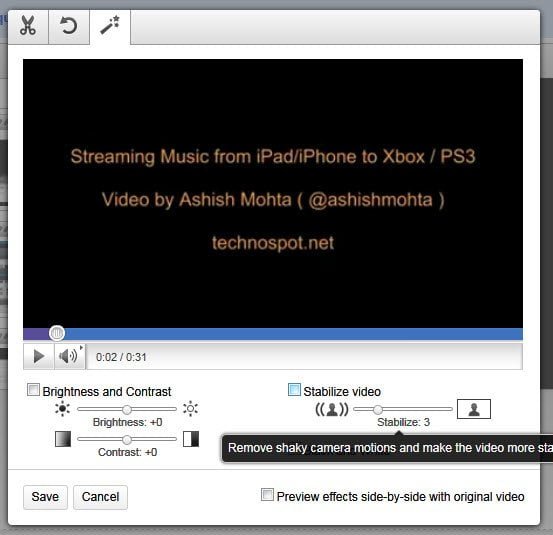 The really wish the shakiness can be fixed even before uploading, may be someday YouTube will come with an app which will help us fix the shakiness just before uploading.