Are you receiving the—Specified user does not have a valid profile error in Windows—error? Then you are not alone. Discussion forums like Reddit are filled with the users' experiences and frustration when encountering the same error. In this post, we will share how you can fix the error. We'll walk you through some actionable tips to fix the errors "Specified user does not have a valid profile" app error.
It is imperative to know before fixing any problem; we need to figure out the root cause of the problem.
What Causes the Error Specified User Does Not Have a Valid Profile?
Authentication error – Users might not be sufficiently authenticated, preventing them from accessing Microsoft Store apps.
Corrupted profile – user profile might be corrupted, blocking access from all the Windows apps.
Permission issues – the user might not have the required permission to access the profile, or the user's profile might be protected by permission that prevents the user from utilizing Microsoft Store apps.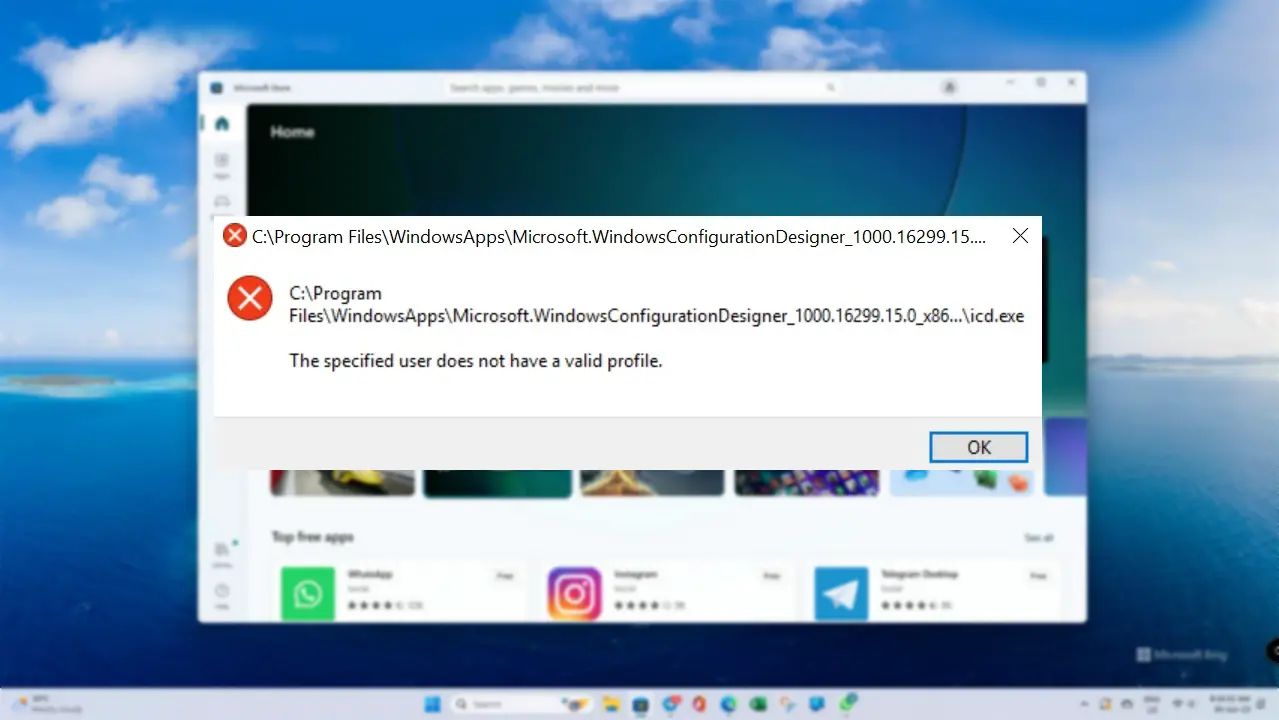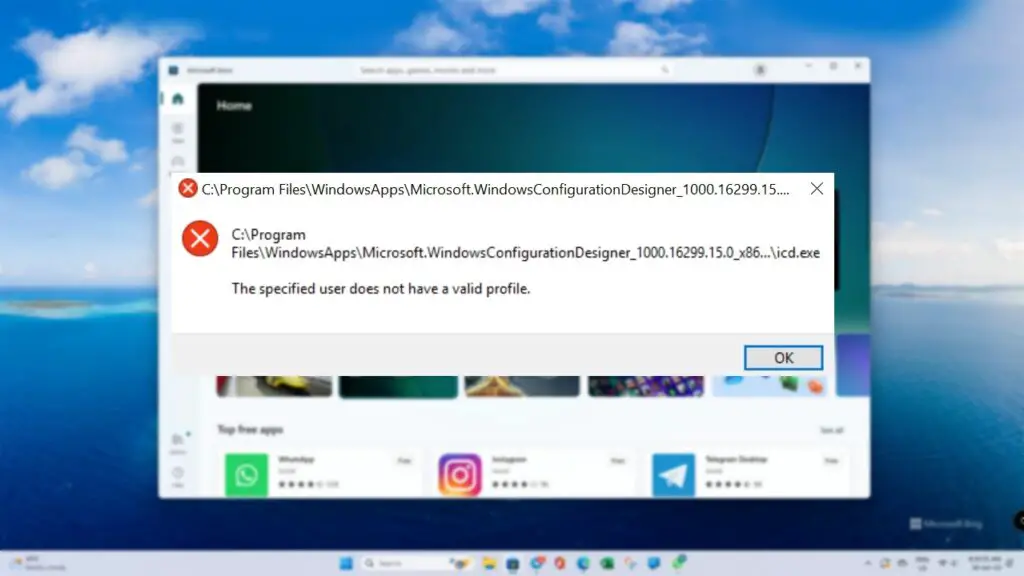 How to Fix the Specified User Does Not Have a Valid Profile App Error in Windows
Follow these methods to fix the valid profile error on Windows PC.
Sign Out and Back Into Microsoft Store
Reset Microsoft Store
Scan and Repair System Files
Re-install All the Affected Apps
You will need admin permission to execute these suggestions.
1] Sign Out and Back Into Microsoft Store
Sometimes this error can be easily eliminated by signing out and back into the Microsoft store. Here is how you can do it:
Open the Microsoft Store
Click on your profile picture and select Sign Out. Close the Microsoft Store app.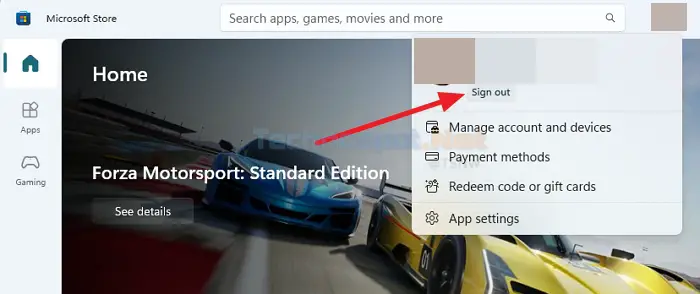 Restart your PC
Once the reboot is finished, re-login with your Microsoft account.
Reopen your Microsoft Store account, click the Profile icon, and select Sign-in.
Select the Microsoft account, and you'll be prompted to enter your PIN/Password.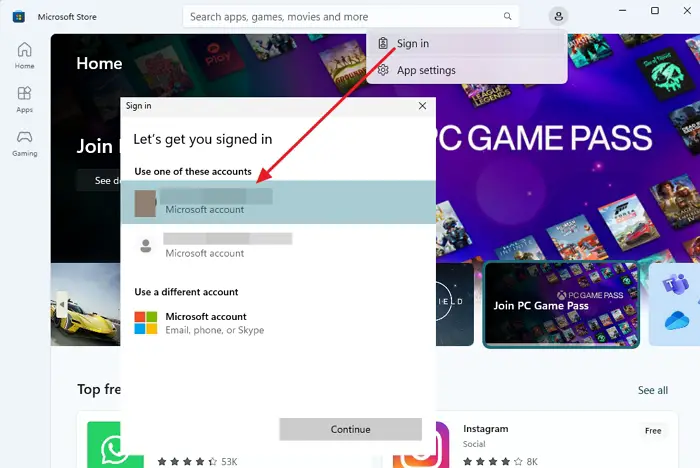 It will automatically sign you in.
2] Reset Microsoft Store
One of the reasons you see a pop-up with the error message is the user's account has no permission to run some Windows apps.  To some extent, it is undeniable that the account permission problem only arises in Windows and Windows-permitted applications.
To prevent this problem from occurring, you need to make sure that the Microsoft Store runs smoothly on your computer. To achieve this goal, you must reset the Microsoft Store app so that no corrupted or damaged files are left.
Press the Windows + R button simultaneously to open the Run box.
In the run box, type WSReset.exe and then hit the Ok button.
Once you hit the Ok button, the Store app will be reset.
Upon implementing these simple steps, you can re-launch the Microsoft store utilities like Spotify. The error should not be there anymore.
3] Scan and Repair System Files
Some users have reported in forums that System File Checker (SFC) tool can help eliminate this error. For this purpose, running a successful SFC scan is worth trying, as it's a straightforward solution. It will replace any corrupt file with a fresh set of files and eliminate the error.
4] Re-install All the Affected Apps
There could be an annoying issue with an app that only re-installation can solve. To do that, open Settings > Apps > Installed Apps, click on the menu, and select Uninstall. Done that; you can download the app from the Microsoft Store if it's an app from the store. If it's a desktop version, download it from the publisher's website and install it again.
Conclusion
The methods discussed above are the best potential solution to an error "specified user does not have a valid user profile." If these hacks work for other Windows users, they'll also work for you. As a result, you can launch affected apps that weren't working before because of this error.
How Do I Bypass the User Profile Cannot Be Loaded?
To address the User Profile Cannot be Loaded problem in Windows, consider rebooting your PC, accessing via Safe Mode, or performing registry modifications under HKEY_LOCAL_MACHINE > SOFTWARE > Microsoft > Windows NT > CurrentVersion > ProfileList. If these solutions aren't effective, you may need to establish a new user profile. Be careful when executing registry modifications, as they could lead to significant problems. Always ensure you back up your data before any changes.
How Do I Enable User Profile Service?
Launch the Run dialog to activate the User Profile Service in Windows by pressing the Windows + R keys and input services.msc. Locate the User Profile Service in the list of services, right-click, and choose Properties. Adjust the Startup type to Automatic and initiate the service if it's presently halted. Apply and store the alterations. This guarantees that the User Profile Service will operate and begin automatically during startup, possibly fixing any user profile troubles.