Many Windows users encounter network connectivity issues when attempting to connect to a network. Even after the major update to Windows 11/10, several bugs have still not been resolved. The most noticeable issue is probably the Unidentified Network error. When the problem occurs, Windows users have reported being unable to access the internet despite having a capable internet connection.
While there is no guaranteed way to resolve this issue, we have compiled a list of troubleshooting steps that have been proven to resolve this particular issue. The solution to this problem will be heavily influenced by its origin. Hence, it is recommended that you go through our article very attentively.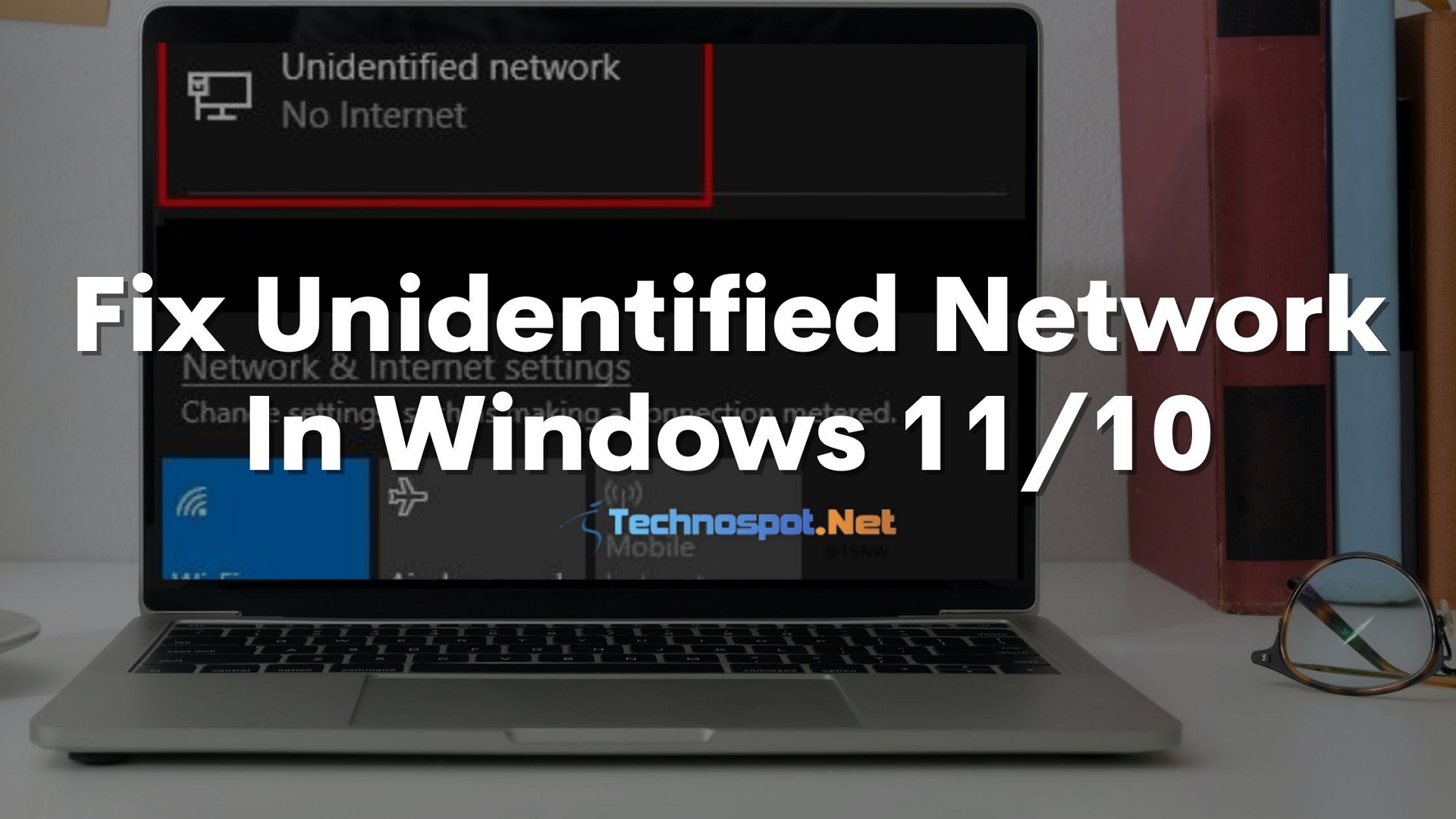 Why Does Unidentified Network Error Occur?
There are no fixed causes for this error, but the most common causes include incorrect network configuration, IP configuration issues, etc. Let's take a look at the most well-known reasons:
Wrong IP Configuration: Your IP address is automatically assigned to you whenever you connect to a network. But once in a while, the IP configurations can be inaccurate, leading to the unidentified network problem.
Unsupported Network Drivers: If you haven't updated your network drivers on your Windows 11 PC, it can be a significant reason for this issue. We've discussed how you can update the network drivers in Windows later in this article.
Security Programs: Inbuilt programs like anti-virus and firewalls can block an IP address if they suspect any malicious activity. It may also be the case if you face an unidentified network issue.
How To Fix Unidentified Network In Windows 11/10
As we've already mentioned earlier, there's no fixed solution for this issue, and the solution entirely depends upon the cause. Keeping that in mind, we've curated this list of top ways to fix the Unidentified Network in Windows 11/10
1] Run Network Troubleshooter
The introduction of Windows 10/11 also introduced some outstanding troubleshooting features. When we try to fix any errors on a Windows operating system, always run the inbuilt Troubleshooter first. In this scenario, our problem is related to the Network adapter, so we'll use Network Adapter Troubleshooter. Here's how you can run the Network Adapter Troubleshooter in Windows:
Open Windows Settings (Win + I) on your PC and go to the System tab.
Under the System Settings option, scroll down further and select Troubleshoot.
After going to the next page, click on Other Troubleshooters.
There, find the Network Adapter troubleshooter and click Run.
Finally, it will prompt with some on-screen instructions. Just follow them and complete the troubleshooting.
It will completely reset the local area network and check the Registry or system files for network and internet connection errors. If there's an error found, it will try to fix itself and display the diagnosed results to you shortly.
2] Update The Network Card Drivers
If your network card drivers are outdated, it can lead to incompatibility issues like the Unidentified network issue discussed in this article. Simply updating the drivers to the most recent version is the simplest solution. If there is an update available for your network drivers, you can find the same by going to Settings > Windows Updates > Advanced Options > Optional Updates.
Another way to find an update is by going to the network adapter manufacturer's website to look for updated drivers for your network adapter.
3] Change the DNS servers
This method might be rough for common users, but it is very effective. Changing the DNS server has more than one advantage. It can not only fix the Unidentified network issue but also boosts the internet speed of the user. Follow the steps given below to change the DNS servers:
Open Settings from the Start menu on your Windows PC or use Win + I
Navigate to Network & Internet option, and click on Advanced network settings.
After reaching the next page, click on More network adapter options.
Perform a right-click on the WiFi or LAN network and select Properties.
Double click on the option called Internet Protocol version 4.
Add the following addresses after clicking on Use the next DNS server addresses option:
Preferred DNS server: 8.8.8.8
Alternate DNS server: 8.8.4.4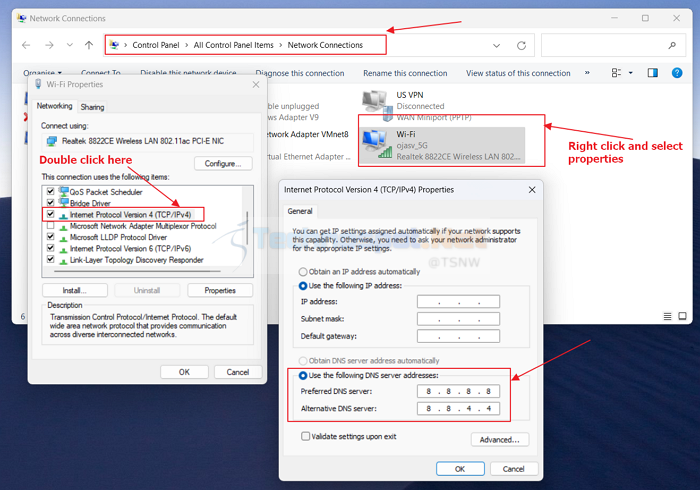 Finally, click OK and close the window. It will apply all the changes immediately.
4] Reset Network Configuration Using Windows Terminal or Command Prompt
Command Prompt is yet another excellent way to fix any problem in Windows 11. Below, we've listed a few Command Prompt troubleshooting commands specifically for this scenario. With the help of these commands, we can flush the DNS cache, release and renew IP configurations, and reset Winsock. Let us see how you can perform this action:
Press Windows + S on your keyboard, type Windows Terminal, right-click, and select run as administrator.
Now, you can type or copy/paste the commands written below one by one and press the Enter key.
ipconfig /release
ipconfig /renew
netsh winsock reset
netsh int ip reset
ipconfig /flushdns
ipconfig /registerdns
netsh int tcp set heuristics disabled
netsh int tcp set global autotuninglevel=disabled
netsh int tcp set global rss=enabled
netsh int tcp show global
After you're done, close the Powershell and restart your computer. Check whether your Internet connection is fixed and working again.
5] Disable Fast Startup
Fast Startup is an essential feature in Windows 11 that helps your PC boot up after a shutdown quickly. However, this feature is quite notorious as it can cause a glitch in the network settings, causing an error. Here's how you can disable Fast startup:
Open the Control Panel by typing control in the Run prompt(Win + R) and pressing the Enter key.
Click on System and Security > Power Options.
Select the option Choose what the power button does in the left pane.
After that, click on Change settings that are currently unavailable.
Uncheck the option called Turn off the fast startup and press the Save changes button.
Restart your computer.
Unidentified network problems can be a time-consuming and frustrating issue if you ever encounter them. We've listed five of the best ways to tackle this problem with ease in this post. If your problem is still unresolved, it is most likely a hardware issue. Try changing your WiFi modem or LAN cables. That concludes our article on Unidentified network problems. We hope that you found this article helpful.
What Is An Unidentified Network In Windows?
The unidentified network in Windows generally means that there are some issues with the IP configurations of your ethernet or WiFi network. It is generally not the case, and you can resolve the issue by following some simple methods.
Is It Safe To Use The Internet On Unidentified Networks?
It is safe to use the internet on an unidentified network only if you know who owns the admin rights to that network. If you are using the internet for more crucial things, it is recommended to surf on identified and closed networks rather than the public and unidentified ones.