Does your computer turn off instead of sleeping? In this guide, I will tell you how to fix Windows 11/10 shuts down instead of going to sleep. It is applicable to both Windows 11 and Windows 10 PCs and Laptops.
Many of you likely turn off your computer when you want to take a break for a while. Shutting down and starting your computer again can take a lot of time. However, you can save those precious seconds if you put your computer into sleep or hibernation mode.
What Causes the PC to Shut Down Instead of Sleeping?
Most people complain that closing the lid or putting their laptops to sleep or hibernate shuts down their computers. This issue is caused either by a problematic power setting, by disabling BIOS settings, outdated drivers, or by a bug with the Intel Management Engine Interface (IMEI) driver.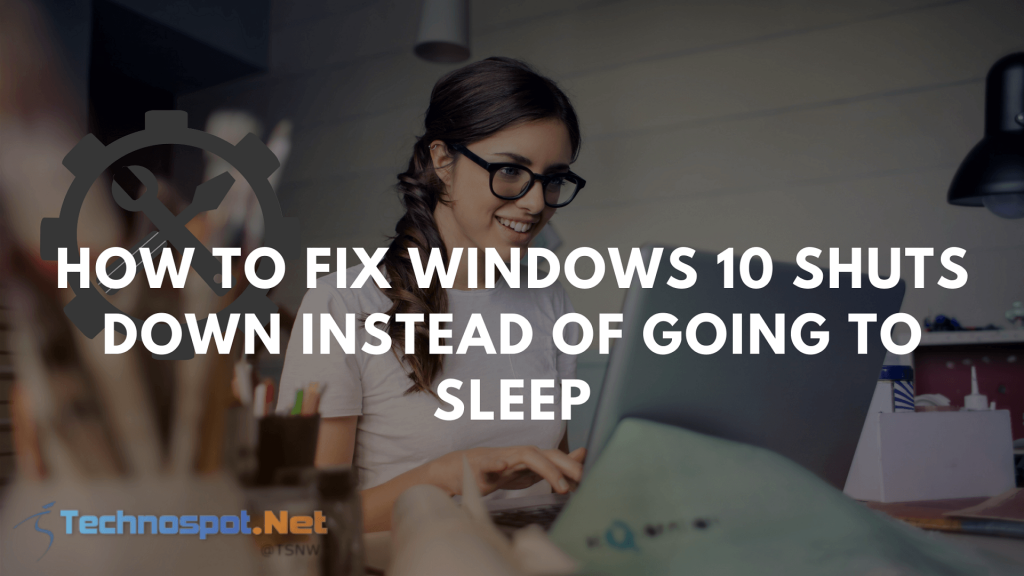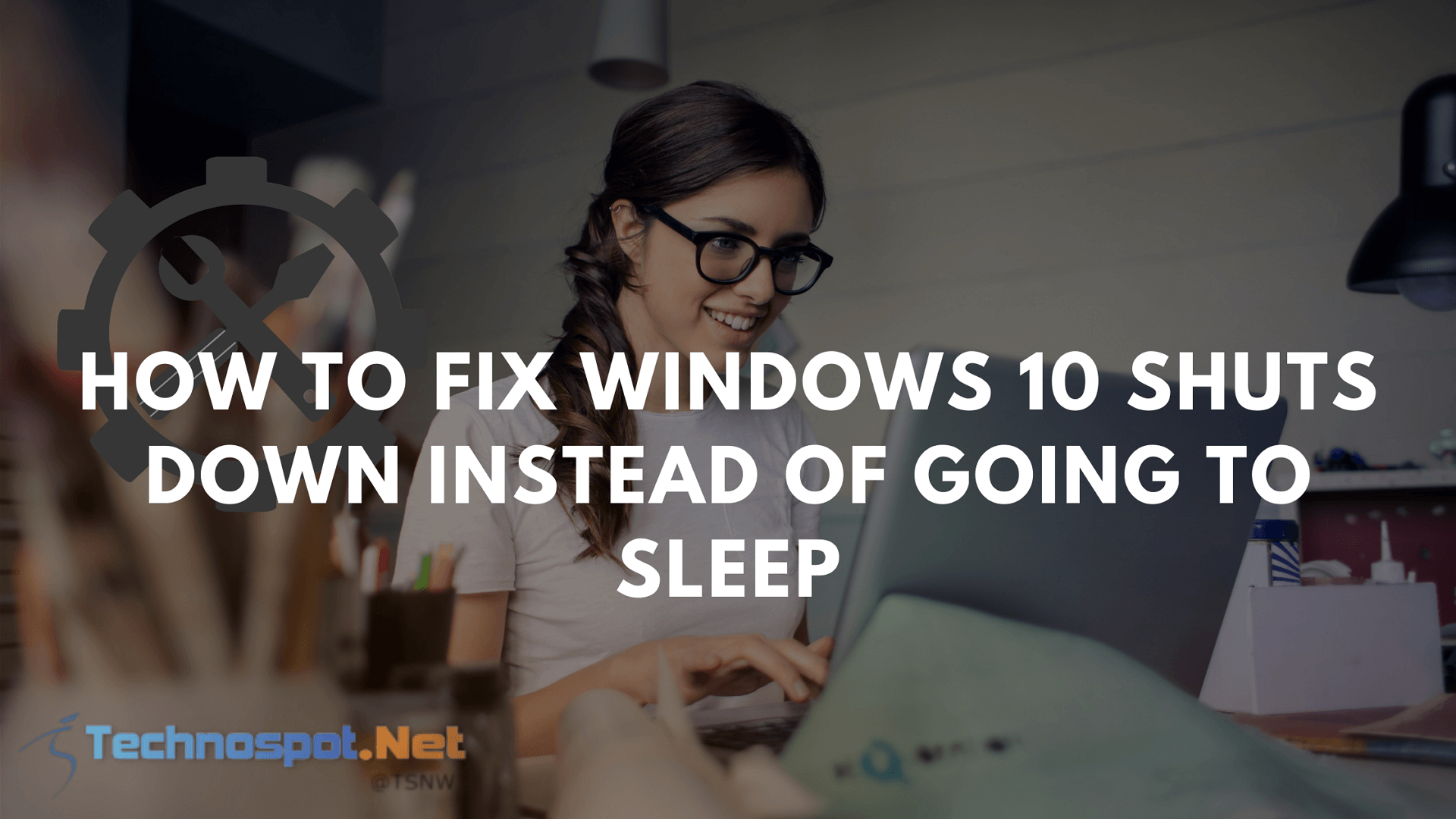 How to Fix Windows 11/10 Shuts Down Instead of Sleep
A sudden shutdown of windows causes many problems, such as it wastes your time, and you lose all your unsaved works. You need to restart again and relaunch the specific programs. Hence, you can fix this problem by following these methods:
Check the Power Settings of your computer
Running the Windows Power Troubleshooter
Enable Power Saving mode in BIOS
Install the latest version of the Intel Management Engine Interface (IMEI)
Update Windows
Let's try them out one by one to fix Windows going to sleep problem.
1] Power Settings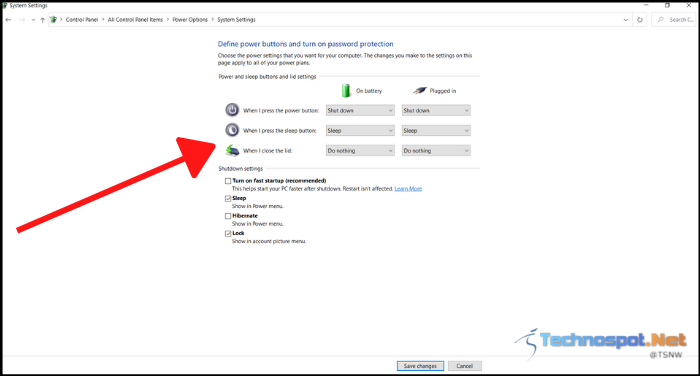 After you encountered this problem, did you check your power settings? Users can sometimes unknowingly change settings. In some cases, the installation of a new update can also alter the power settings. Follow these steps to fix this:
Press the Win+R keys to open the Run dialog box
Type Control and Press Enter. Then click on Power Options
In the Power Options menu, click on Choose what the power buttons do
Change the behavior of each of these options: When I press the power button to Sleep, When I press the sleep button, and also When I close the lid using the two drop-down menus
Click on Save changes
Next, close the lid or press the power button to see if this method worked.
2] Run the Windows Power Troubleshooter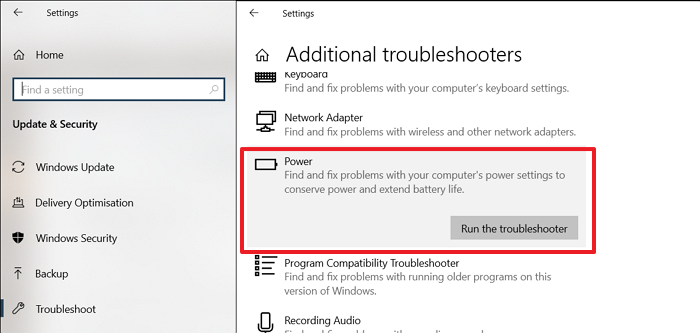 Troubleshooting in Windows 10 is quite powerful and can be used to resolve quite a few problems on its own. This is a built-in feature that integrates several investigation and repair strategies to troubleshoot common problems. Follow these steps to run the troubleshooter:
In Windows 10, Press the Windows Key+X key > Click on Settings > Update and Security > Troubleshoot > Additional Troubleshooters
In Windows 11, Go to System > Troubleshoot > Other Troubleshooters
Select Power from the left-side menu, choose to run the troubleshooter. in Windows 11, click on the Run button in the Power panel.

See if that fixes the problem.
3] Enable Power Saving mode in BIOS
If you disable Power Saving Mode from your BIOS settings, Sleep mode will not function properly (or at all). By accessing your BIOS settings, you can determine if this is the issue. Follow these steps to enable it:
Power on your computer > Press the appropriate key to enter the BIOS
Go to the Power Management Setup
Please search for the Power Saving Mode option, and enable it.
Save and exit BIOS
Once you enable the option, check if the problem is sorted.
4] Update Your IMEI
Outdated IMEI drivers can ruin the power settings that you carefully crafted. Intel's Management Engine Interface (IMEI) driver is often the cause of power issues.
It has been reported that some users were successful in restoring the functionality of sleep mode simply by uninstalling the current driver for the Intel Management Engine interface and then manually installing the latest version from Intel's website. Follow these steps to install it:
Press Windows key + R key to open up a Run box
Type msc > Press Enter to open Device Manager
Expand the drop-down menu > Click System devices
Now, right-click on Intel Management Engine Interface > Choose Properties
Go to the Driver tab and check the IMEI driver version. If it is 11.0.X or older, you need to downgrade your drivers to 10.xx or 9.xx.
Uninstall the driver and download the latest version of the driver from the intel website.
Restart your Computer
5] Update Windows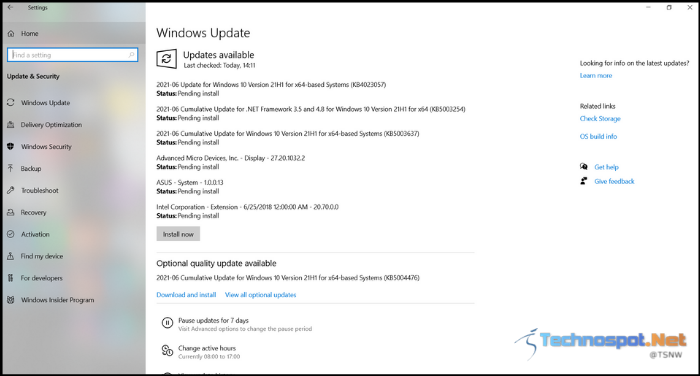 If your computer keeps shutting down instead of sleeping or hibernating, you might need to update your Windows to the latest version, especially if a patch is delivered via an update for the known bug. Even though Windows usually updates itself on its own, you can speed things up. Follow these steps to do so:
Press Windows key+I to open Settings > Click Update & Security
Locate Windows update
Download the update and then install them
Restart your computer and check if the issue is solved.
I hope this post was able to fix Windows 11/10 Shuts Down Instead of Sleep