If you are one of those who are suffering from an oddly behaved wireless mouse on Windows 11/10, you need not worry. This post will guide you on how to fix the wireless mouse when it is not working in Windows 11/10.
There may be times when working with Windows OS may be problematic if the wireless mouse you bought recently may not work correctly. You may see the device move erratically, OS unable to detect it,  or even stop working after some time.
However, there is no need to panic regarding this issue. We bring to you some methods which would be able to fix any of the problems you have regarding this matter.
Why Does Your Wireless Mouse Stop Working?
Before knowing how to fix the problem, let's first understand the main reasons causing the issue. Here are a few of them listed below:
Hardware damages
Power loss issues
Connectivity issues
Outdated drivers
Interrupting devices and programs
Operating system anomalies.
Let's fix these issues by the given methods below.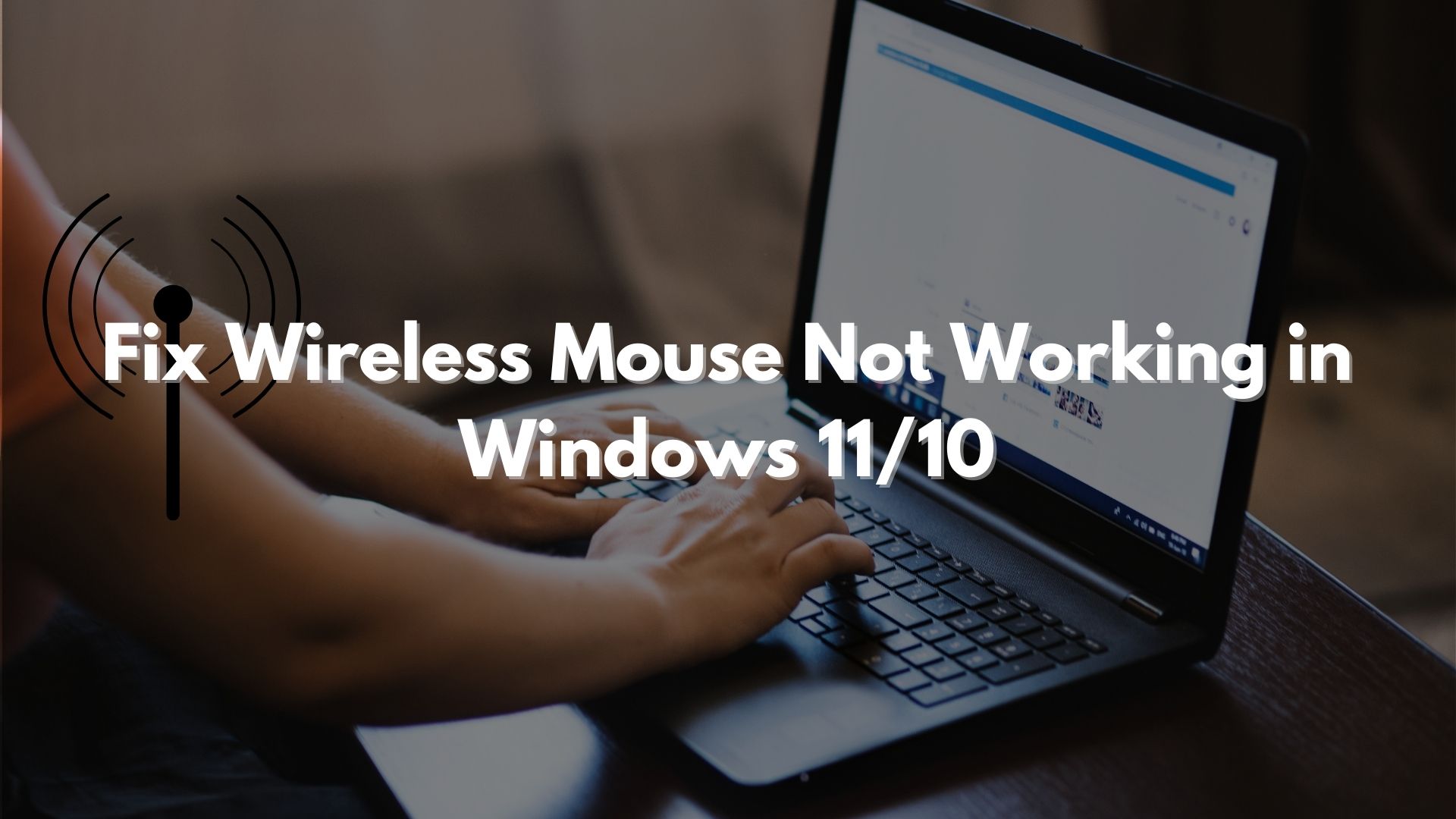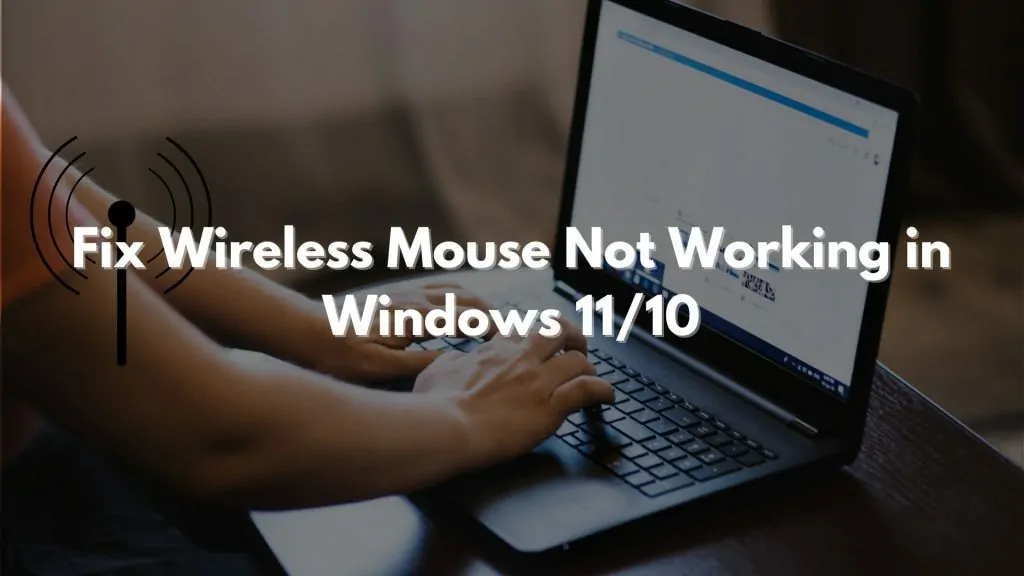 Fix Wireless Mouse Not Working in Windows 11/10
Before proceeding with any advanced solutions, you should try out these easy fixes first:
Connect your wireless mouse to a different port on your computer. If you're using a desktop, try to place them in the USB ports behind the system since they usually have more power than the rest.
Make sure the mouse battery isn't completely discharged. You can try putting a battery from another device into your mouse and check the results).
Remove the wireless receiver, wait for a few seconds, and plug in the USB wireless receiver.
Now, try out these best possible solutions listed below to fix your wireless mouse:
Run Bluetooth Troubleshooter
Repair Bluetooth Connection
Run Hardware Troubleshooter
Reinstall the Wireless Mouse Driver
Let's go through them one by one.
1] Run Bluetooth Troubleshooter
Go to Settings > System > Troubleshoot > Other Troubleshooters. Locate the Bluetooth section, and then click on the Run button next to it. It will start the Bluetooth Troubleshooter, reset the adaptor, and other methods to fix the problem. Try using your mouse again, and check if the issue still exists.
2] Re-pair Bluetooth Connection
If your mouse connects via Bluetooth rather than a USB receiver, disconnect the device and reconnect it again. You will need a keyboard or a secondary mouse to accomplish these steps. Here's how you do it: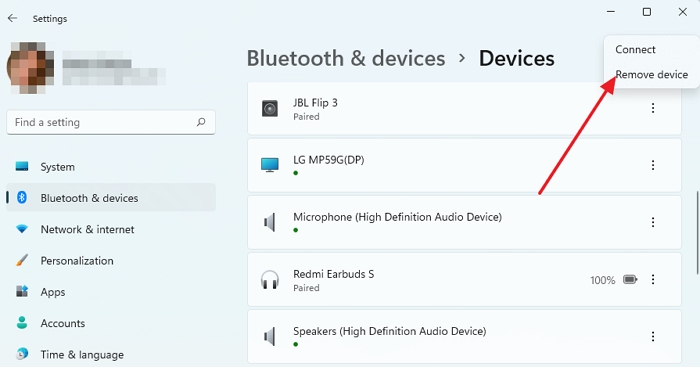 Go to Start > Settings > Bluetooth & devices > Devices
Click on the three-dot menu next to your device > Choose Remove Device.
Next, Select Add Bluetooth or other devices from the same menu > Choose Bluetooth from the list of options.
Now, find and pair your wireless mouse once again.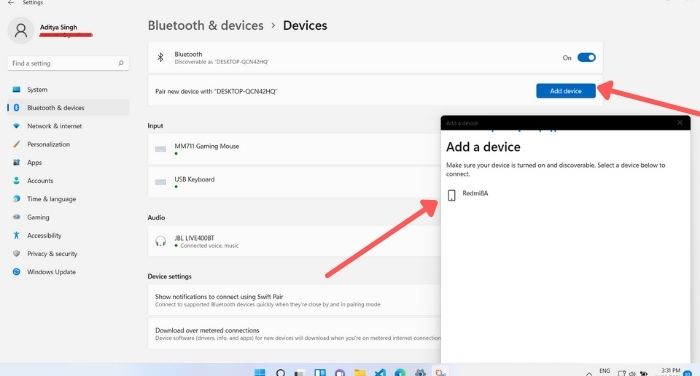 This method can quickly resolve the problem of the wireless mouse doesn't work correctly even though it is available in the device list.
3] Run Hardware Troubleshooter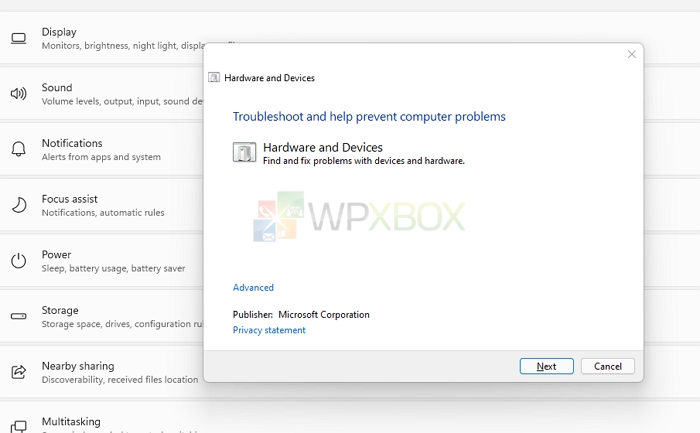 There are numerous built-in troubleshooters for various Windows device components. One of them deals with hardware components. The built-in Hardware and Devices troubleshooter may be helpful if you are experiencing issues with a current device or other hardware on your computer.
It scans your PC for common problems and ensures Windows can detect any new device and hardware. Follow the steps given below to fix this:
Open a Command Prompt or Windows Powershell window on your Windows.
Next, type in msdt.exe -id DeviceDiagnostic and press Enter to bring up the Hardware Diagnostic prompt.
Click on Next in the new window that pops up and wait for Windows to detect issues with your Hardware.
If it finds a problem, Windows will guide you through fixing the same.
You will see issues with your wireless mouse and all the other accessories connected to your PC.
4] Reinstall the Wireless Mouse Driver
Using one of the methods you can check if the mouse driver needs an update.
Windows Update Method
Go to Windows Settings > Windows Update > Advanced Options > Optional Updates
Check if there is a driver update available, and you can choose to update.
Download from OEM
You can also download the driver installer from the OEM and install it. Ensure you choose the right device when downloading the software.
Driver Updater Software
There are third-party applications that can download and manage all driver updates on your PC. Choose from one of the driver updater lists.
Now restart your computer again so you can make the following changes. See if the problem persists.
It would help if you restarted your computer or laptop to see the changes. As soon as your computer starts up, the drivers currently installed on it will be installed fresh. Therefore, it might take a longer time for your PC to startup.
What Should I do If my Mouse Freezes or the Cursor Disappears?
You might want to disable the Realtek HD Audio Manager from auto-starting if you are experiencing issues with your cursor disappearing or the mouse freezing frequently. Having problems with the mouse in Windows 10 is often caused by Realtek HD Audio Manager.
What Should I do If my Pointer Drifts Suddenly from One Corner to Another?
Mouse Acceleration is likely the cause of this problem. Users of Windows 11/10 have complained about issues with mouse acceleration in several situations. However, there isn't a single solution to the mouse acceleration problem. Here's what you can try:
Go to Start > Search for Control Panel > Hardware & Sound > Mouse > Pointer Options
And uncheck the option for Enhance pointer precision.
What is the Cause of my Mouse Not Clicking?
If you have a wired mouse plugged in or the battery is complete, then the mouse has a mechanical failure, and you must replace it. Check if the problem has been resolved by disconnecting, waiting for a while, and then restarting the computer.
I hope this article will help you in fixing your wireless mouse unworking in Windows 11/10.