How about getting suggestions, complaints, and a scope of improvements for your business through varied people? If you are into a business, or startup, or have a team working along, you always seek room for improvement. Different people, including employees of an organization, competitors, clients, customers, and similar ones, would like to suggest something. But often, they would not want to reveal their identity as being opinionated. In such a scenario, anonymous feedbacks work the best! If you are looking for how to get anonymous feedback from trusted people, then we have covered you all!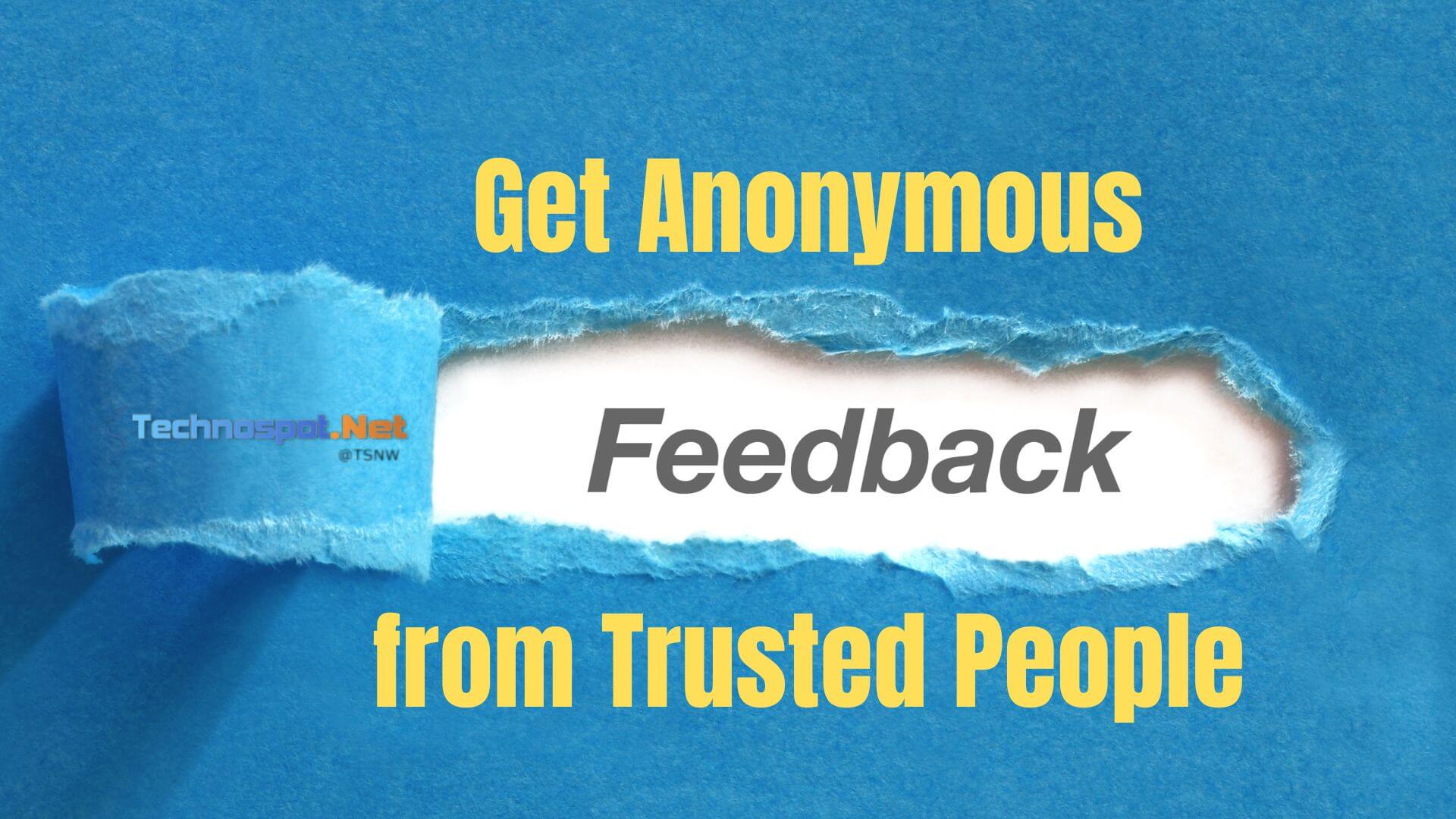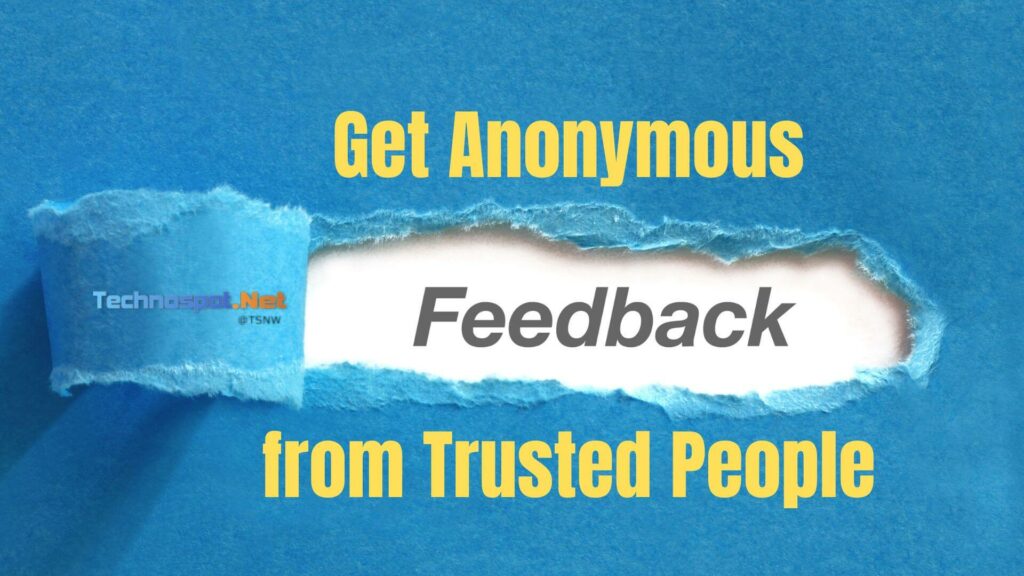 5 Tools to Get Anonymous Feedback from Trusted People
Finding feedback tools is not difficult. But finding effective tools with advanced features is challenging. Therefore, we have handpicked and selected the reliable tools which will allow you to fetch honest feedback:
The following are the top 5 tools that will help you get anonymous feedback from trusted people:
Free Suggestion Box
SurveyMonkey
Poll Everywhere
Incogneato
Fellow
Specific tools are used to create surveys and share them among prospects. When they respond anonymously, you can analyze things and work accordingly.
1] Free Suggestion Box 
How about an anonymous feedback tool that is entirely free to use?

If you are not willing to spend on feedback tools, then Free Suggestion Box is your ultimate choice.
You do not need to install any software or app but only a web browser. Yes, you heard that right. The tool can be accessed using a web browser. So, whether you own a Windows, Mac, iPad, Tab, Smartphone, or similar, you can use the tool from any device. Furthermore, the feedback will be credible and even encrypted. Thus, the site developers would not even glimpse what it is about!
Due to an easy-to-use GUI, it tends to eliminate complexities in usage. However, the downside is that you cannot integrate the tool legitimately into other vital platforms.
2] SurveyMonkey 
Are you looking for a reliable tool with templates to create and prepare feedback questions smartly?

SurveyMonkey is your ultimate rescue when you want to work smartly without much effort!
This feedback creation tool has many templates suiting your enterprise or startup needs. Within a few clicks, prepare a survey and share it with your teammates, employees, and prospects. Later fetch everything, and you can have a healthy discussion with your team regarding the constructive feedback. The best part is that with its enterprise plan, you can integrate it with other tools. SurveyMonkey has everything whether you want to create, share or analyze.
You will have to spend $25 per person for its enterprise plan!
3] Poll Everywhere 
How about an anonymous feedback-creating tool wherein you can create surveys in your desired format?
If yes, then Poll Everywhere has this desirable feature.
Be it a quiz, polls, question and answers, MCQs, or similar; you can create surveys in any format. Thus, you can get the most relevant and to-the-point feedback. Moreover, it is specially designed for virtual meetings, which gives real-time feedback for you to work on. But it suffers from a drawback! If you do not buy its premium plan, there will be a limitation on the number of participants. Its premium plan begins at $120/year.
4] Incogneato
Do you prefer to have more detailed and constructive anonymous feedback for you to work upon?
If that sounds like a good idea, then Incogneato is the perfect choice for you!
Apart from receiving feedback, you can chat with an anonymous user. Thus, you will get an in-depth analysis that you can share with other platforms. But its paid plans are pretty costly. In the process for multi-question feedback, the subscription is priced at $9/month. If you require unlimited employee feedback, then it's the ideal platform for you!
5] Fellow
How about a credible anonymous feedback tool that lets you integrate with Slack?

If yes, then Fellow is your "perfect fellow"! With its outstanding features, you can get the most customized feedback. Though you would know it as a meeting platform but with its elements of optional feedback, users get a real-take check. When some of your employees do not have any input, this tool helps them avoid it. Thus, you will get genuine and reliable insights, not unnecessary ones.
Apart from a free tier for 12 months, its paid plans cost $5/month for every user. For enterprise needs, you can customize your subscription and choose accordingly.
Pros and Cons of Anonymous Surveys
Like every coin has two sides, anonymous surveys also have advantages and disadvantages!
When someone fills out the surveys anonymously, the response is more genuine and reliable. But, like often, your employees would fear sharing their answers, stopping them from being opinionated. Thus, you miss out on making healthy decisions. But often, bold feedback might be extreme, or some may even share unpleasant remarks.
You tend to receive more responses when you go for an anonymous survey. You cannot ask them for brief information upon negative or incomplete answers.
Most importantly, anonymous feedback from trusted people may not necessarily be constructive but could also be destructive!
Anonymous Surveys vs. Confidential Surveys
Anonymous and Confidential have similar meanings, implying keeping something hidden. Therefore, you would often use the term interchangeably. This would further puzzle you up about Anonymous vs. Confidential surveys.
When you conduct an anonymous survey, the respondent's identity is unknown to anyone, including you. While performing a confidential survey, its creator and specific people would know about the respondent's identity. Confidential surveys have a plus point over Anonymous Surveys as you can follow up with the responder whenever required. On the other hand, you cannot follow up on Anonymous feedback as the person's identity would be unknown to you. Hence, when your employees, clients, team, or prospects want to keep their identity hidden, Anonymous Surveys work the best.
The Final Word
You can make healthy business decisions when you get genuine opinions and reviews. But unfortunately, some reviews often disrupt professional relationships, and people prefer to stay anonymous. In such a scenario, anonymous surveys work the best. Here, the third party's identity is unknown even to the creators. Therefore, you can use tools from where you get anonymous feedback that you can trust.
Free Suggestion Box, Free Suggestion Box, SurveyMonkey, and Poll Everywhere Incogneato Fellow would help you out with them!
Is Anonymous Feedback Effective?
Anonymous feedbacks work wonders if you need a reality-check on your organizational needs. When an end-user feels relieved that their response would not be shared, more bummer of users participate in it. Hence, more suggestions increase engagement and promote healthy-business decisions.
Is the Suggestion Box Anonymous?
Yes, Suggestion Box is entirely anonymous and end-to-end encrypted. Therefore, its developers cannot view the feedback or know about the person's identity.