Many of us like to schedule blog posts on WordPress. However, if there is a YouTube video which you need to embed inside the post, we get stuck.
So today I am sharing a small tip which you can use to copy the embed code while the video is still uploading. This will help you embed the video code in the post and schedule it publish around the same time when the video goes live.
Start your Video Upload.
In few seconds, you will see that YouTube uploader displays the link where the video will go live.

Open that link in a new tab.
In the video page you will get the message "This video is currently being processed." Skip that and scroll down to the tabbed section which says "About Share Add to" etc.
Switch to Share and then switch to Embed. Here  you can grab the embed code. Use that in your post.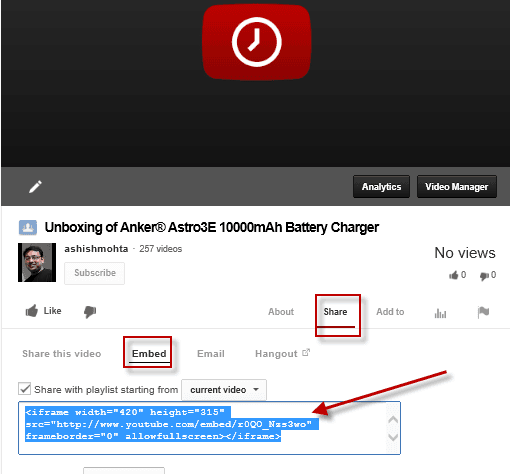 If you are in habit of grabbing the embed code from Edit Video Page link it will not work.  Even though the video gets listed in  Video Manager, you wont see any video preview because the video upload is still in progress. Instead click on the title of the video (which is view page of the video) and follow the steps above.