Google Plus is slowly growing and we never know how much contribution it can make into search result of users who are connected with you on your Google Profile or your Google Plus page profile.  The future cannot be predicted but in my opinion the webmasters should never miss this opportunity, because you never know where your users will be when you push the updates.
Google Plus Page Verification :
So coming back to topic, Google Plus pages can also be verified which means Google Plus team will have that gray button with a tick mark which will have a huge impact on the users who view that page. After all we all want to be seen as trusted to every users.
So now there is a contact form which you can fill in and send out details for verification, and according to Google Plus team, You need :
Verification for Google+ pages is available to a wide range of businesses and organizations. To be eligible for verification:
Your Google+ page must be authorized by your commercial entity, organization, brand, or product.
Your Google+ page's profile must contain a link to your organization's website.
Your organization's website must connect to your Google+ page, by adding the Google+ badge or by adding a snippet of code.
A meaningful number of people must have added your Google+ page to their circles.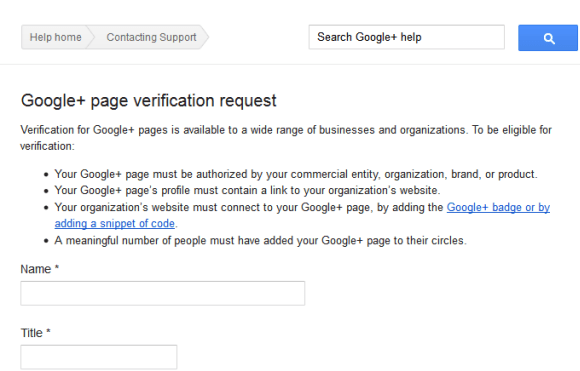 Looks simple right ? Its probably evenly tougher. Problem is all those factors, and how much an approve will be convinced even if you look authentic.
So if you read through all those factors, in my opinion, probably the last factor is what matters a lot, and this is not something new. Even in real life unless a lot of people are recommending you or your page, nobody will trust you even if it looks good enough.
So the best way before you go and apply for the verification process, I will suggest you to get a lot of users who can recommend your page, and have you added in their circle.
Use this contact form and wish you all the best.
Google Plus Page Vanity URL :
I came to know about this from this Google Plus post by Saurabh Sharam, where he shared that some of the Google Plus pages already have the vanity URL like https://plus.google.com/+hugoboss/. Since the page in the example is a verified page, vanity URL will probably come to them, and then rest of users, but if you are pretty sure you can get yourself or your page verified, I will suggest you to do now and get the vanity url as soon as possible.