Many of Window users hate to restart our machine, primary reason because if you have loads of application installed, chances are that the computer takes a lot of time to come to a state where you can start using it.One way is to restart your machine when you got and take a break but if it is password protected you are still stuck.
So today we will talk about a software, Boot Snooze, which helps you get rid of this issues by bringing a small automation. This application once set can
Restart > Login > Standby
or if you are not coming back soon can Restart > Login and Hibernate.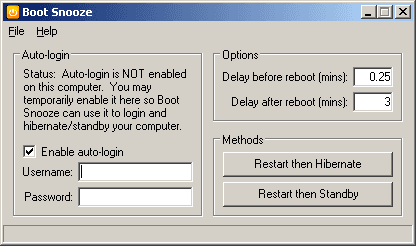 You can set time delays before and after reboot which gives enough time for computer to complete a stuck work. You will have to give your username password or set it from Windows to login automatically for you.
This application is free to use and can be downloaded from here.