In 2017, Whatsapp introduced Snapchat's Stories like feature, which allows one to share videos, photos, or texts that disappear after 24 hours of posting. Despite being a clone of Snapchat Stories, Whatsapp Status has seen a radical growth in users' number and is increasingly becoming prevalent amidst WhatsApp users. As per a report, data reveals that the Status feature is being by more than 450 million daily active users today.
However, sometimes there's that awkward moment when you and your contact save each other's contact and have to bear their Whatsapp Stories. There's a way to hide your Whatsapp story from a specific person or a group of people without deleting the contact from the smartphone. This post will guide you on How to Hide Whatsapp Status from Specific People.
How to Hide Whatsapp Status from Specific People
People tend to store contacts of many people. Doing this on both ends can lead people to view each other's status, which may raise privacy matters. Fortunately, Whatsapp offers an option to hide a status from a group of specific people or show only a handful of them. Here's how to hide Whatsapp Status from a group of specific people
Step 1: Launch the Whatsapp Messenger application on your smartphone.
Step 2: On the home screen, swipe from right to left, or directly tap on the Status button available on the header to land on the Status Page.
Step 3: Here, click on the three-dotted menu icon from the top of the screen and choose Status Privacy.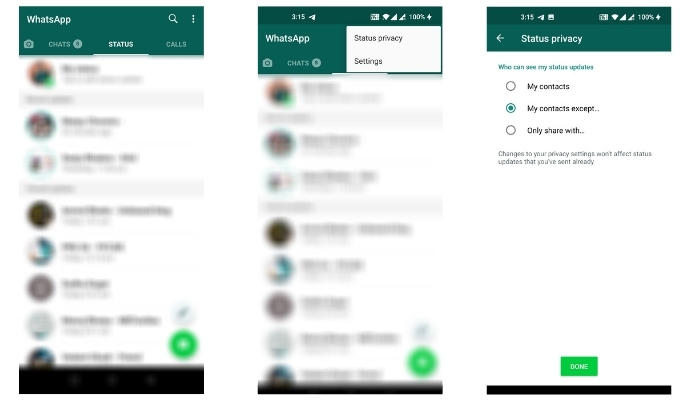 Step 4: Next, you'll be prompted with three options: My Contacts, My Contacts except, and Only share with. Selecting the My Contacts option shares your status with every person on your contact list. However, using Contacts will prompt you to select the contacts you don't want to share with. Finally, using the Only share with will lead you to select contacts, and Whatsapp will only display your status to people you have approved.
Step 5: Choose the one that fits you the best, and click on Save.
Step 6: Now go ahead and put up a status normally.
Alternatively, you could also set Whatsapp to show your status to only a group of selected individuals by choosing the Only Share with the option included in Status Privacy settings.
With that said, How many status messages do you put up in a day? Do you find the hide status option useful? If yes, let us known in the comments what other tricks you use on WhatsApp