Many like to use Outlook.com as their primary email id. If that's you, but you have a lot of conversation in your Gmail account, then in this post, we will share how to import all the Gmail messages into your Outlook.com account.
How to Import Gmail Messages into Outlook.com Account
You can export all the Emails from Gmail into Outlook.com using the POP feature in Gmail. It is possible that this feature might not be enabled by default, and you will need to allow it to. Below are the steps you need to follow :
Enable POP in Gmail
Add/ Import Email Account into Outlook
Decide what to do next with Gmail Account
After setting this up, you can still log in to your Gmail account and access the Emails.
1] Enabling POP in Gmail

Since we need to export the Gmail Messages out, POP forms our gateway, which you can use for Outlook for any Email server or even clients like Office Outlook.
Login to your Gmail account, go to Settings > Forwarding and POP/IMAP or click this link.
Click on the radio button which says Enable POP for all mail to enable it.
Make sure to keep a copy in the Gmail Inbox if you need to look at it again. You may choose marked as read or archive if you wish.
2] Import Gmail Emails into Outlook.com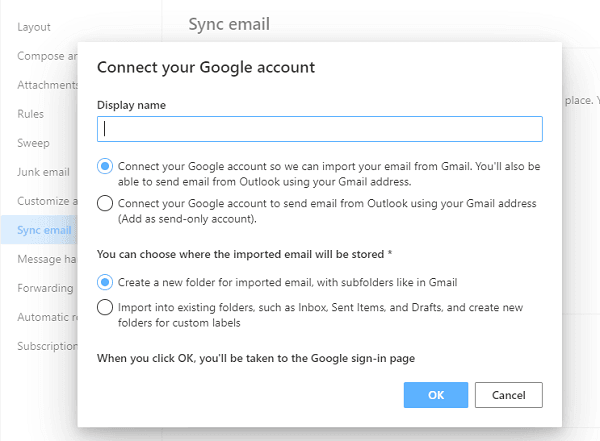 Since our setup is ready to export out, let's set up Outlook to communicate with Gmail and download all the Emails using POP Settings.
Log in to the Outlook account and go to Mail Settings. Click on the gear icon on the top right.
Select Mail > Sync Email. This page lists all the external Email accounts.
Click on the Gmail option that is readily available, and it will open settings to connect to a Google account or Gmail account:

Display Name
Import your Email from Gmail
Send Email from Outlook using Gmail Account (It is added as sent the only option)

Choose where to import all the emails:

Into a new folder that will mimic all the Gmail folders. If you have set up folders in Gmail, then you get the same structure here.
Import into existing, standard folders and label them according to the folder name.

Click ok, and sign in to your Google account.
Done this, you will start receiving all Emails from Gmail into Outlook and will be able to reply to those Emails as if you were replying from your Gmail Account.
What should you do after this?
Do not Delete Gmail Account: It doesn't hurt if you have the account kept idle. At times you may have to login into the account and do some deep searches for Emails you are missing on Outlook.
Do Not Delete Emails: Again, the same point but very specific; keep it as is. It is better to archive or mark it as read or move it into some folder. If you delete it from Outlook, you can still recover it.
Make sure to enable Gmail Two-Step Verification: Enable it without thinking anything. As of now, it is the most secure way to keep your account safe.
We hope the tutorial was easy to follow, and you were able to import all the Emails into Outlook from Gmail.