Windows Store apps or Microsoft Store apps when not used for a while move into a Suspended mode. It ensures that they do not consume battery, and get back to the same state when launched. It also makes sure they do not consume CPU and Memory unless allowed. In this post, I will show how you can kill suspended apps Windows 10.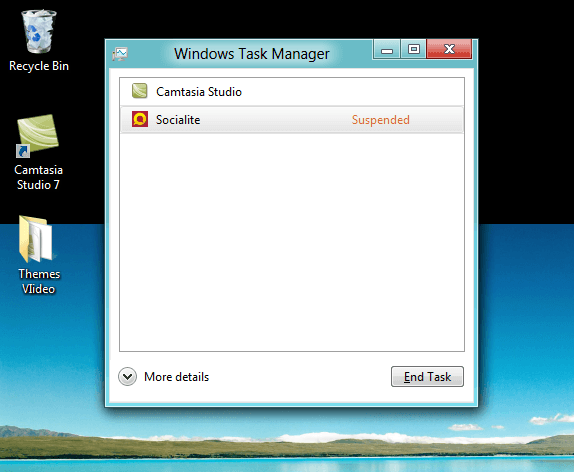 How to Kill Suspended apps in Windows 10 using Task Manager
Now before you go and kill the apps, you should know that Suspended mode is not a bad thing. It is designed to help you save from restarting or relaunching the apps all the time. However, if for some reason, the app is misbehaving, and you have no other choice to follow the method below :
Launch the Task Manager by following short cut key Ctrl + Shift + Esc (This is an old shortcut, nothing new )
You should see a list of apps that are in suspended mode. In case you see that some apps are not, then it means that they are not metro apps.
Now you can select the app and click on End Task, which is available right there.
In case this doesn't work, and you see the metro app still running, then click on More Details of Task Manager, and you should see the gigantic details about the app.
Now right-click on the app and select End task. It's the same old method just because Task Manager's first view is simple; this full menu is not available there.
Again to remind, make sure you only kill the apps when you see them not responding well else suspended mode they will not consume any CPU time.
We hope the steps were easy to follow, and you were able to kill the suspended apps to resume back work properly. Its like killing any other application but easy to identify with a suspended tag.