Microsoft Edge is a game-changer for Microsoft and Windows. Not only did the team use the same open-source Chromium code and tweaked it further to build Edge, but they made it very competitive. Post-launch there have been several improvements, and one such feature is Startup Boost. This post will guide you on how to load Microsoft Edge Faster with Startup Boost.
Released with Microsoft Edge version 88, the foremost function of the Startup Boost is to decrease the loading time of the Edge browser by speeding it up when launched through a desktop icon, taskbar, or via hyperlinks on a website. It is a highly anticipated feature for the Edge browser as it may give it an edge over other counterparts. This article will go over how you can load Microsoft Edge faster with the Startup Boost feature. Before we get there, let's define the Startup Boost feature and its use.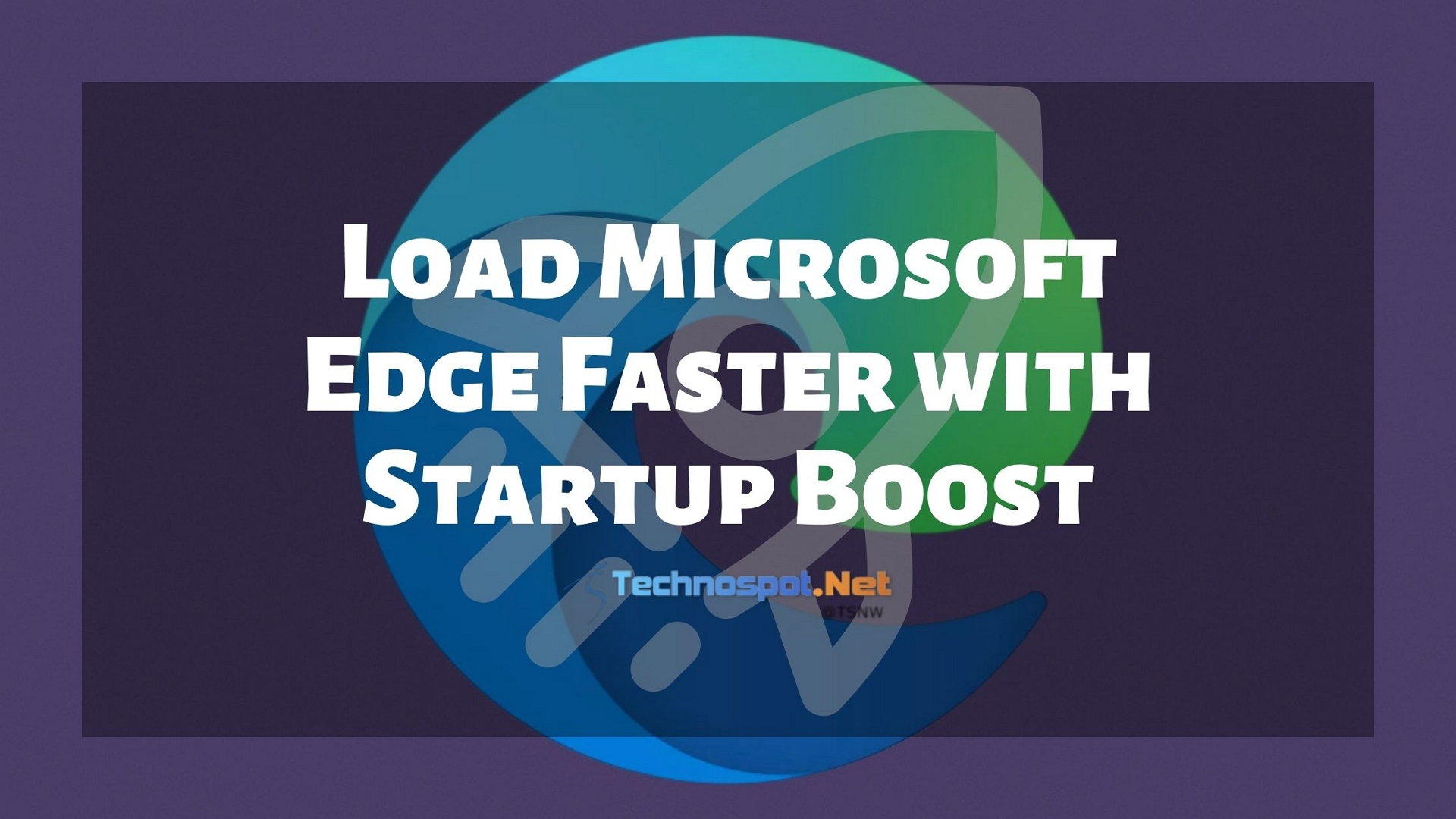 What Is Startup Boost In Microsoft Edge?
As previously stated, it improves the startup speed of Microsoft Edge. It keeps the browser running in the background while using as few resources as possible. As a result of Edge always being in memory, it will start much faster when launched. Startup Boost consumes very few resources from the computer, resulting in a minor impact on the device's actual performance. Microsoft Edge background processes are set to low priority to reduce the number of RAM and other elements required.
When this feature is enabled, Microsoft Edge will appear in the Task Manager in the Startup menu. Now, whenever you boot your PC, Microsoft Edge will automatically start running in the background until and unless you turn it off manually from the Task Manager.
How To Load Microsoft Edge Faster With Startup Boost
There are three ways to enable the Startup Boost in Microsoft Edge
Settings
Registry
Group Policy
While the first one fits in for individual users, the latter can be used in businesses and multiple PCs.
1] Enable Startup Boost In Edge in Settings
If Microsoft Edge is sluggish to open on your PC, that's probably because the Startup Boost feature is disabled by default. If you need to use the Startup Boost feature, you have to enable it from the Microsoft Edge browser settings. Here are the simple steps by which you enable as well as disable the Startup Boost feature:
Open the Edge browser on your computer. On the top right corner of your screen, you'll see three dots. Click on it.
Open Settings from the ellipsis menu.
In settings, go to the System option.
There'll be an option present as Startup Boost. Click on it to enable it.
The Startup Boost can also be disabled from following the same steps.
You can access the Startup Boost feature from here at any given time.
You'll notice a difference in the opening speed of Microsoft Edge as soon as you enable Startup Boost. However, if you are unconcerned about the fact that it will only take a few seconds longer to open the Edge at the expense of saving your PC's resources, you can disable it. There are other ways, too, by which you can enable or disable the Startup Boost in Microsoft Edge.
Although a more user-friendly way to enable the Startup Boost in Microsoft Edge for common users mentioned above, it can also be achieved using the Registry Editor and the Group Policy Editor. We'll look at each way one by one.
2] Enable or Disable Startup Boost In Edge Using Registry
Here are the steps required to enable or disable the Startup Boost in Microsoft Edge using the Registry. Before going ahead, make sure to create a System Restore and take a Registry backup.
Press the Windows+R key to open the Run utility.
Type Regedit and press the Enter key on your keyboard.
Due to security reasons, the UAC prompt will appear on your screen. Click the Yes option to proceed further.
Now, navigate to the path given below.
HKEY_LOCAL_MACHINE\SOFTWARE\Policies\MICROSOFT
Press right-click on Microsoft and choose New>Key.
Name it Edge.
Again, right-click on the Edge key.
Select New > DWORD (32-bit) value.
Name that as StartupBoostEnabled.
Finally, to enable the Startup Boost feature set the value data as 1, and to disable it, set the value data as 0.
Press OK.
3] Enable Or Disable Startup Boost In Edge Using Group Policy
Make sure that you've downloaded Group Policy Templates for Edge beforehand. Otherwise, Microsoft Edge's settings won't be available to you. If you are on Windows Home, then you need to install it.
Here are the simple steps by which you can enable or disable the Startup Boost in Microsoft Edge using the Group Policy:
Press Windows+R to open the Run utility.
Type gpedit.msc and press Enter.
Now, navigate to the path mentioned below.
Computer Configuration > Administrative Templates > Classic Administrative Templates > Microsoft Edge > Performance
Perform a double-click on the Enable Startup Boost setting.
Select the Enabled option to turn on the feature and the Disabled option to turn off the feature.
Press Ok.
Troubleshoot Edge Startup Boost
The most prominent issue faced by the Edge users is that the Startup Boost is grayed out or turned off. There are multiple reasons why this issue occurs. We'll look at them in a serial-wise manner.
1. Extension Warning
We use multiple extensions on our browsers. If there's an issue with the extensions, it will be marked. Go to the Settings on Microsoft Edge > System Performance to check that. Go to the Startup Boost section, see if any extension is causing the problem, turn it off.
However, if it isn't fixed, disable all the existing extensions. Now, turn them on one at a time, now you can figure out the specific extension causing the issue.
2. Create a New Profile
If you're still facing issues, creating a new profile might resolve the issue. Delete the existing profile and create a new one. Doing that forces Edge to launch everything as new without any conflict.
Click on the profile icon on the top-right corner of your screen and select Add profile option to create a new profile. Start without data or an email account.
3. Disable the Extension Sync Across Devices
Most of us have our data sync enabled across all our connected devices. If you also have data sync, your extensions will also be synced. Go to edge://settings/profiles/sync in the address bar to disable it. Doing that will stop the syncing of extensions across your connected devices.
4. Reset Microsoft Edge
If all the above procedures to resolve the issue didn't work out for you, then your only hope is to reset the Microsoft Edge browser from scratch entirely. Resetting Microsoft Edge will most likely fix all the problems related to the Startup Boost feature. However, keep in mind that resetting your browser will erase all your existing data, cache, cookies, and extensions. So be sure to remember your settings before erasing them.
Now, any issues regarding the Startup Boost in Microsoft Edge will likely be fixed by performing the troubleshooting methods we've mentioned above.
Does Edge Startup Boost Consume A Lot Of RAM?
While the Edge Startup Boost feature is primarily based on keeping Microsoft Edge running in the background to speed up the startup process, it surely does not eat up much of your PC's RAM since the feature's been rather optimized. Unlike Google Chrome, Microsoft Edge does not consume a lot of RAM and PC resources in general.
Does Edge Startup Boost Improve The Browsing Experience?
Apart from speeding the startup process, the Startup boost feature on Microsoft Edge has nothing to do with improving the browser's performance.
That sums up our article on how to load Microsoft Edge faster with Startup boost. We hope this article was helpful for you. If it was, please make sure you share this article with everyone.