Privacy in this digital age is one of the most valuable things. Your data, photographs, and files are valuable, and someone gaining unsolicited access to them can hamper your personal and professional life. While Windows has Bitlocker for pro version users, it still cannot hide the folders. So, in this article, we will learn how to lock and hide files and folders in Windows.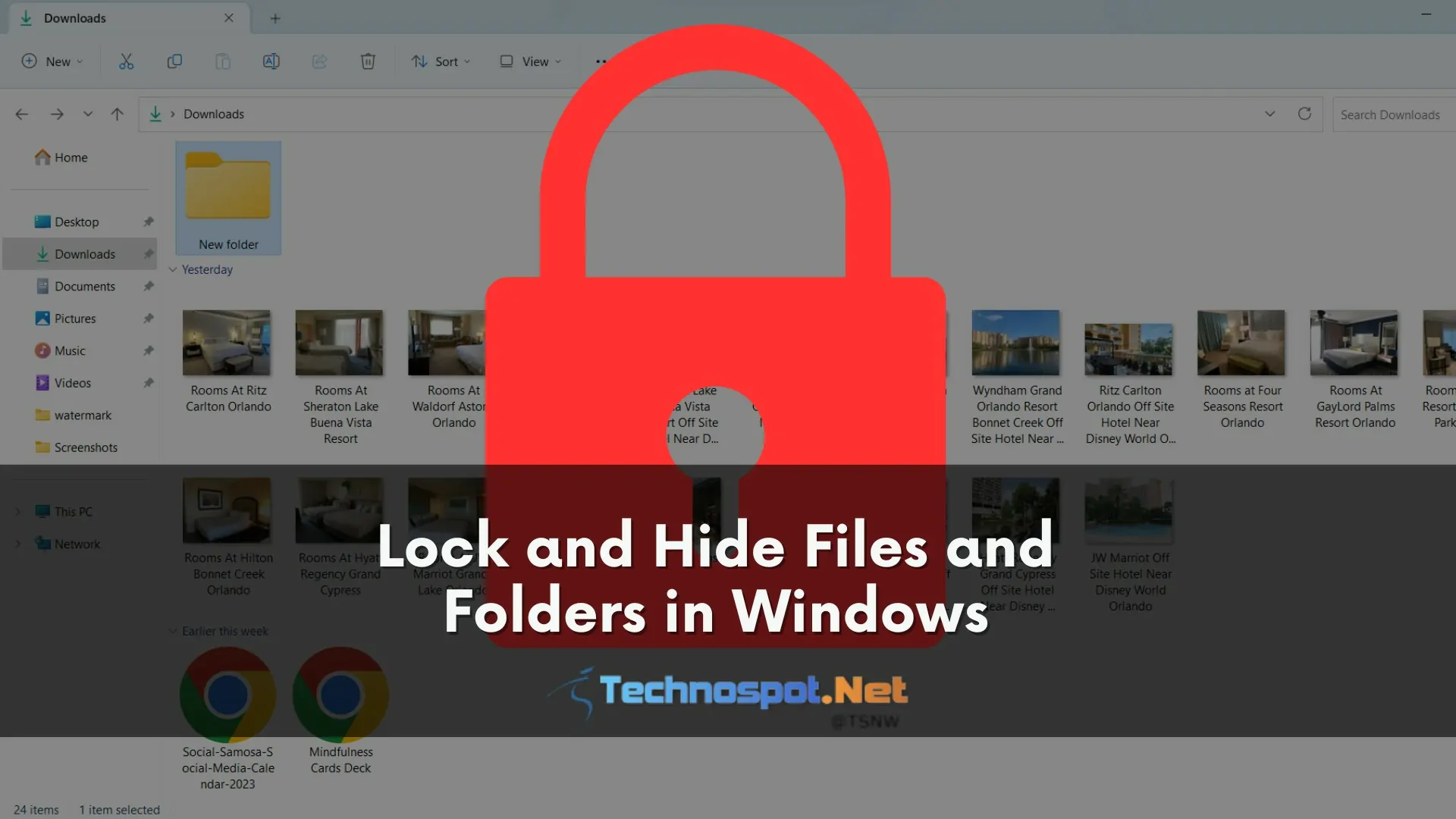 How to Lock and Hide Files and Folders in Windows
In this section, we will learn about popular third-party apps and a built-in Windows function to lock and hide files and folders in Windows. Here's all that's covered:
Restrict File Permission
Encrypt contents to secure data
My Lockbox App
Lock and Hide Folder App
Vera Crypt
VHD and BitLocker
Let's now have a detailed look at each of these methods.
1] Restrict File Permission
In Windows, you can restrict users from accessing your file. If you use an admin account, you can also restrict other accounts' permission. This can be done from the file-sharing window, preventing the user from seeing and accessing the file.
Here's how to restrict users from accessing a file or folder in Windows:
Navigate to the location, then select the file you wish to restrict users from accessing.
Right-click and click on the Properties menu.
Head to the Security tab in the properties window and click the Edit button.
It will open the Permissions window where you can select the user and deny all their permissions by checking the deny box for each.
Click Apply to save changes.
Note: You should deny permission to all accounts except yours, or you can choose to remove the account in the Security section.
2] Encrypt contents to secure data
For drives formatted with the NTFS file system, you can encrypt a file or an entire folder to prevent unsolicited access to the file or folder. Here's how to do it:
Right-click the folder or file you wish to encrypt data from. Ensure it is stored in a drive formatted with the NTFS file system.
Head to the General tab in the properties window and click the advanced button.
In the advanced settings, check the Encrypt content to secure data box and click OK to apply changes.
You will receive a pop-up asking you to save your encryption key. You may save it if you want to.
3] My Lockbox App
MyLockbox from FSProLabs is a remarkable software. It's fundamentally a tool to secure folders with passwords, making them accessible only through the MyLockbox app. If the app is uninstalled, the data and folder vanish completely – an impressive security feature.
The simple interface of MyLockbox facilitates its use. Its inbuilt file manager allows easy movement of files via drag-and-drop, similar to Windows File Explorer operations. Once you enable protection on your chosen folder, it becomes invisible and inaccessible even with administrative privileges.
However, one drawback lies in its dependency on manually enabling protection each time after moving files into the folder; failing this leaves your data vulnerable. The free version doesn't offer automatic protection upon closing the software, which can pose serious risks for users if overlooked. Despite this minor flaw, there are no other significant issues with MyLockbox.
To Use My Lockbox, follow these steps:
Download And Install the app on your PC.
Once installed, open the app. You will be asked to set a password for the app and provide a password hint and email.
After that, you will be prompted to select a folder to protect. This folder can only be accessed with a password thereon; all the files that need to be protected should be moved to this folder.
Once you select the folder, a file manager interface, similar to Windows file explorer, will open. You can move your files and folders to this and then enable protection to lock and hide them.
The software excels in providing robust protection for sensitive data at no cost. The intuitive UI makes it easy for even novices to archive information securely. MyLockbox is an excellent utility for individuals and small businesses to guard confidential data affordably. For most practical purposes, MyLockbox delivers satisfactory data security with minimal fuss.
4]  Lock and Hide Folder App
UP Software's Lock and Hide Folder is a quality application with a straightforward interface and user-friendly features. Unlike similar software such as My Lockbox, this app only allows hiding folders rather than individual files. To hide separate files, users must first place them in a folder.
While it provides password protection like its counterparts, it lacks an integrated file manager. Another drawback is that it isn't free; even personal use requires purchasing a license key after the trial version expires.
To use the Lock and Hide folder app, follow these steps:
Download and Install the app.
Upon opening the application, you will be asked for the registration key or to proceed with the trial. Do the needful.
In the application, Click on the Add button. Then, select your desired folder from the window that opens.
Select the folder you wish to hide and click the Hide button. To make a folder visible in the File Explorer again, select the folder and click the Show button.
To set a password for hiding, showing folders, and logging into the app, click the Options menu from the top bar. A new window will open.
In the password options section, type a password, and select where you want the password to be required.
In summary, although areas require refinements, such as its interface and restricted functionality concerning file protection, UP Software's Lock and Hide Folder stands out due to its ease of use and solid features. It may be worth considering for those willing to invest in the full version.
Download the Lock And Hide Folder App
4] Vera Crypt
Veracrypt is an advanced, open-source encryption software with remarkable capabilities to hide and secure folders. It offers a multitude of combinations and encryption styles, which may initially seem overwhelming due to the complex setup process. However, Veracrypt's hidden folder feature is virtually undetectable once configured correctly.
Despite the initial learning curve in its setup, it's worth noting that this high-end software is entirely free and trustworthy. Setting up Veracrypt might be challenging for some users, but considering its foolproof security measures, it's worth a try for those seeking exceptional file protection.
Follow these steps to set up Veracrypt:
Download And Install VeraCrypt.
Upon opening the app, Click the Create Volume button and select Create an Encrypted File Container from the open window. Click Next to proceed.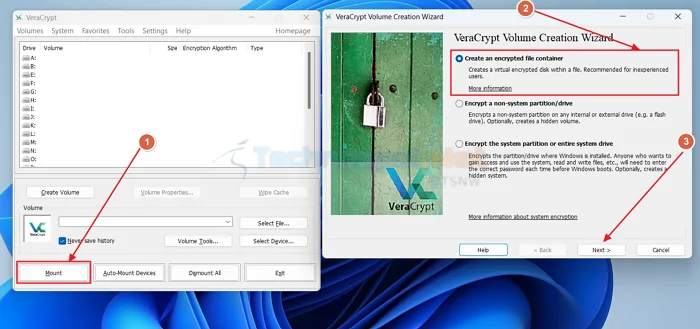 In the Volume type Window, select Create Hidden Veracrypt volume and proceed. The hidden volume creates an outer volume inside which a hidden volume is contained. Both can be accessed from the same drive but with different passwords. You can put some dummy confidential files in the outer volume and actual files in the hidden ones. So, if you are forced to open the protected volume, you only disclose the password to the outer volume.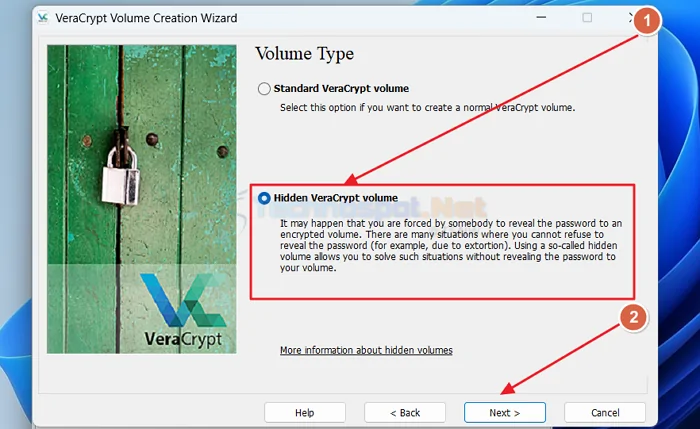 Now, please select a location for the volume file and assign a name to it. Make sure you add the hc extension to the file name.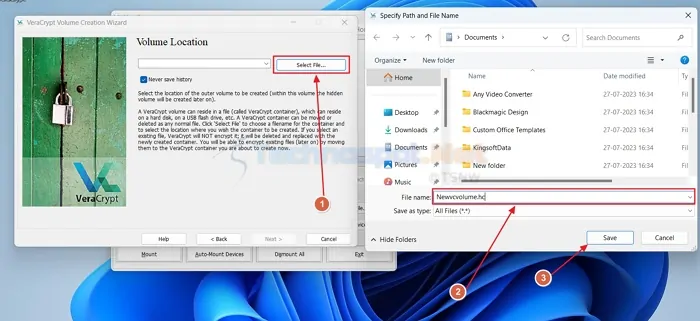 You must select a volume size, encryption algorithm, password, and formatting style in the following steps. It will also ask if you'd store large files; select no.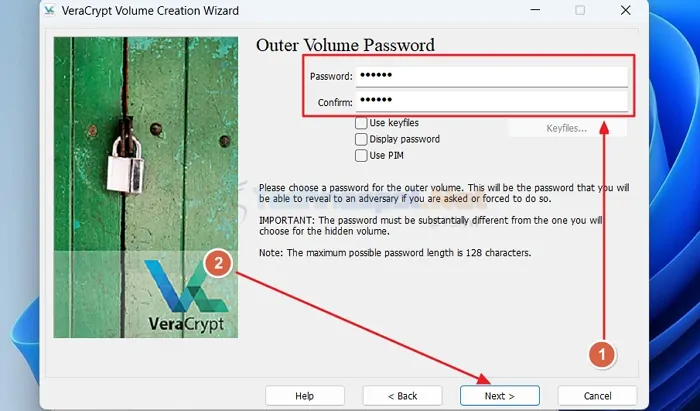 After this, the outer volume is created. Following the instructions on the screen, move dummy files to the outer volume.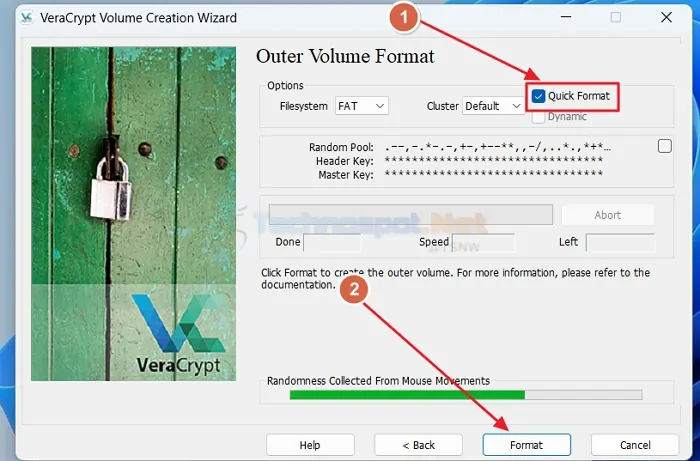 After moving the dummy files, you will be asked to follow the same steps of selecting the encryption method, allocation size, and password for the hidden volume.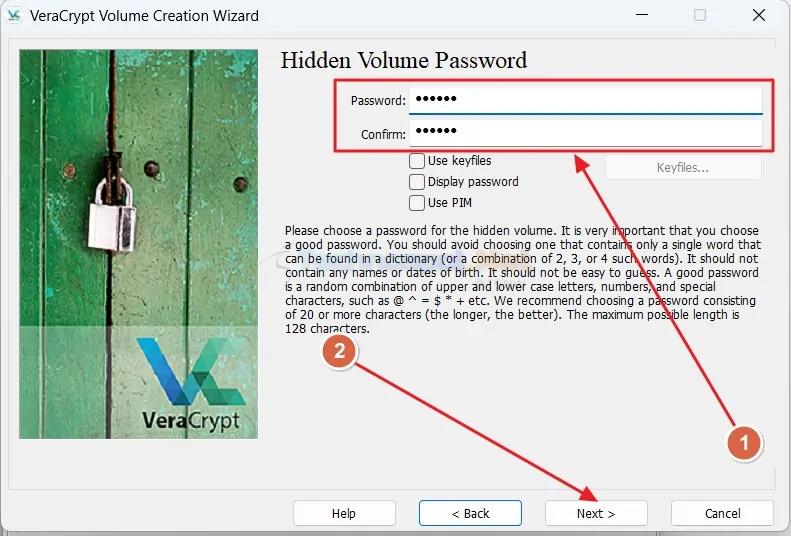 After both volumes are set up, and created, to access those volumes, you need to select the volume file and mount it to the numerous options available.
Once done, add the hidden volume password to access it or vice versa.
5] Use VHD and Bitlocker
If you are on the Windows Pro version, you can protect a drive using the Bitlocker. Since Bitlocker can only encrypt entire drives, not individual files or folders, you must create a VHD. Follow these steps to create a VHD and encrypt it with BitLocker:
Open Windows Computer Management by searching for it in the start menu.
From the left pane, click Disk Management to open it. Then head to the top bar, expand the Action option, and click Create VHD.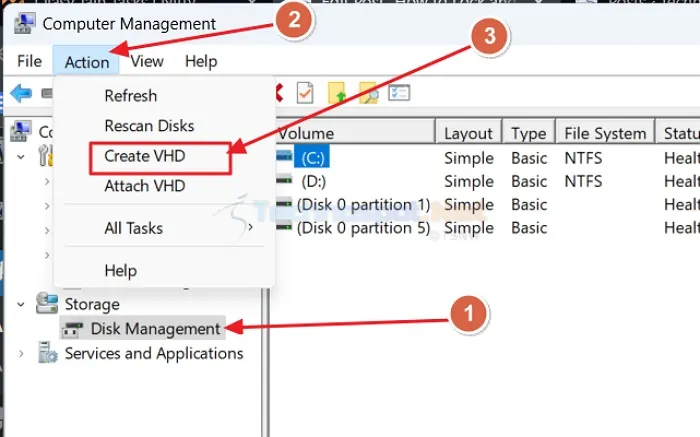 Now, a new Window will open, asking you to select a location for the VHD, then select the VHD format as VHDx and VHD type as dynamically expanding. Also, type how much initial storage capacity you need on the VHD.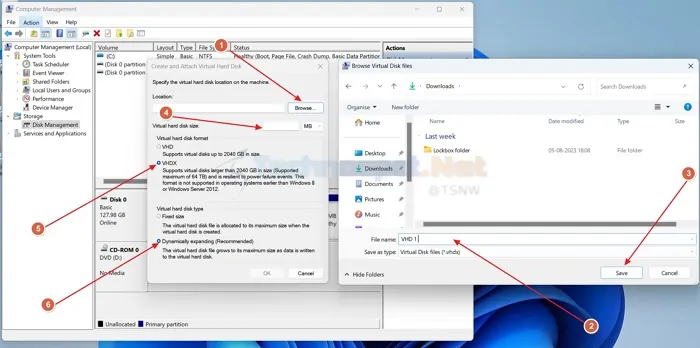 An uninitialized disk will now appear in the view, right-click it and click Initialise Disk from the context menu. Now, select either of the partition styles and proceed with it.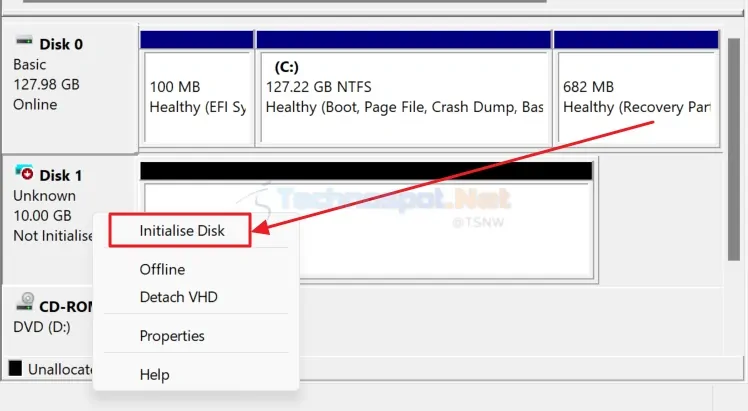 Once initialized, right-click the unallocated space and click New Simple Volume from the context menu.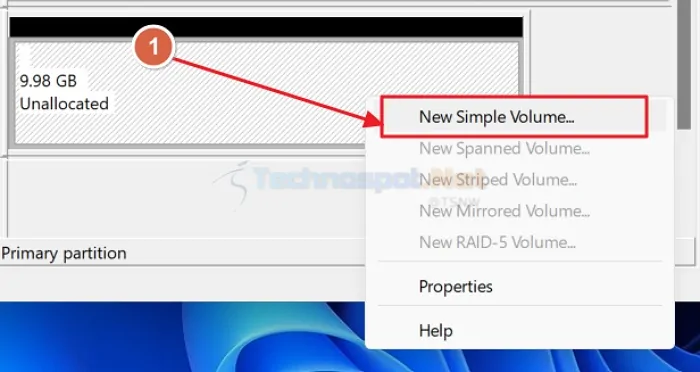 Now, specify the volume size in the next window.
Then, select the file system, label, and allocation unit size for the VHD. Also, check the Perform a quick format option.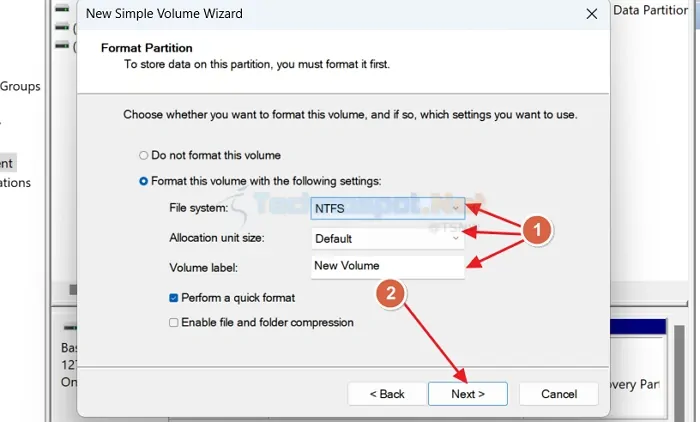 Once done, click next, on the following Window, assign a drive letter, and you are done.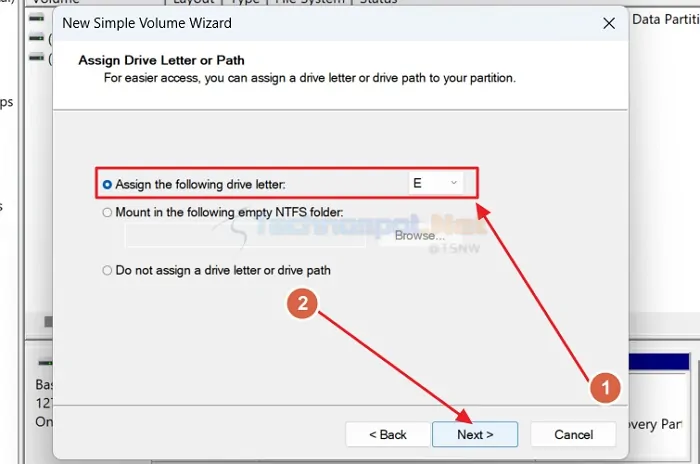 The VHD will now appear at your preferred location in file explorer. You can proceed with encrypting the drive with Bitlocker.
Conclusion: 
In this article, we learned how to lock and hide files and folders in Windows. Microsoft has always ensured that even the users of the most basic versions of Windows have great utilities at their disposal; however, it lacks a direct method to lock and hide files and folders. You can successfully lock and hide your folders using trusted third-party software and some workarounds. We hope you found the article to be insightful. Please make sure that you share it with everyone.