If you are one of that person who gets tons of messages on Facebook for whatsoever reason, you might already know how difficult it is to delete the messages one by one. Facebook as of now only allows you to remove the messages once you are inside the chat history and select Action > Delete Message. This option is not there right where the message list is available or even on a per-message basis. The only option you get is to archive the message. It seems Facebook does not want you to lose them, ever. In this post, we will share an extension which can mass delete all Facebook messages.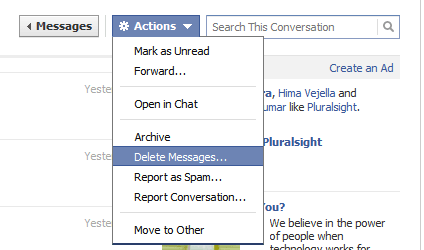 How to Mass Delete All Facebook Messages (Chrome Extension)
1] Fast Delete Facebook Messages
So keeping this in mind, Developer gorillasbrain, came up with a chrome extension which hacks into these settings and brings the delete button right where you need it. Once you have the extension installed, click on Open Messages, and then choose to delete all message. It will automatically remove all Facebook messages from all your chats. There is no option to delete messages one by one, and from individual conversations. Its a nuke button which clears all chat messages.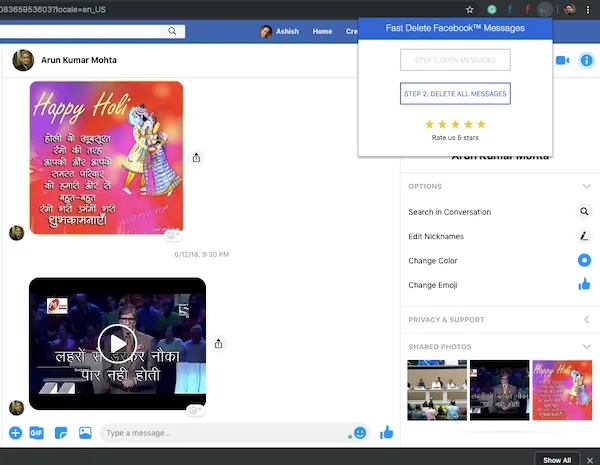 Said that, since there is no recovery process to get deleted messages back. Make sure to use this smartly else you might delete all your messages or any important messages. You will receive a warning message before the process starts.
Download the extension from here
2] Delete All Messages for Facebook
The second extension is to Delete all messages from Facebook and is a better one. It can remove all messages from your Facebook account, or you can also select several specific messages and then delete them in one click.
Install the extension and then click on it.
Once you are at Facebook Messages, click on it. It will do its analysis, and then offer you to delete all messages or delete individual messages.
When you click on the individual option, it will enable the checkbox next to all conversation heads, i.e., not for personal messages in a particular chat but each person or group on the left.
Select, and then click on the green highlighted button.
All your message with that contract or group will be deleted at once.  The contact will disappear from the messenger, and the browser will refresh itself.
The advantage here are those checkboxes. You can select multiple contacts and clear chats. Not something Facebook offers as of now.
Download it from here.
We hope both of these extensions where help to remove all messages from Facebook messenger.