Google Plus app for Android and IOS brought in some seriously cool feature apart from communities.  One of these features is Uploading Images on Full Resolution which is geared with UPLOAD ALL option.
Now if you aren't aware, All the images uploaded are stored in Picasa and it shares the 5Gb space with Google Drive. This means if you have too many high resolution photos i.e. anything above 2048PX, you might start running out of space soon.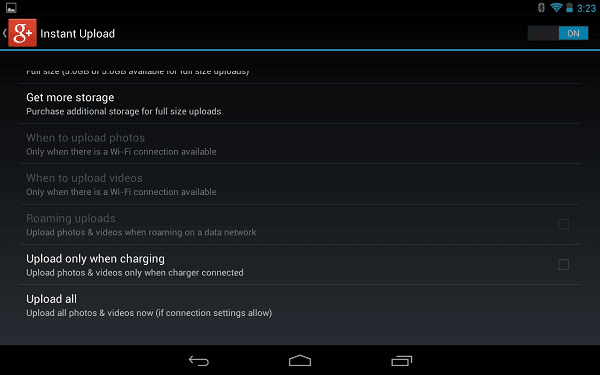 So how do you quickly wipe all these Instantly Uploaded Photos ?
If you decided to delete all the photos you just uploaded, here is what you need to do :
Scroll till the end unless the loading is complete.
Then use your mouse to start selecting all the images and moving up. This is similar to what you do on desktop when selecting all the files using your mouse. You Need Press Left Click + Keep moving up.
Once done, You should see a bar appearing.There is a delete button right there which you can use to instantly clear all the photos. 
In case you are worried that it may delete some old photos also. Each of thes ephotos are sorted b
Setup the upload size :
Now that you have the uploads wiped, make sure to change the Upload Size option to Standard Size from Full Size. This way you will never run out of space as it is eligible for free storage. Follow the steps as below :
Launch the Google+ app,
Touch the menu and then settings and then Instant Upload.
Tap on Set Upload Size and choose Standard size.
Keeping Check on Bandwidth :
In case you have decided that you will be moving all your pic to cloud with the highest resolution, make sure to choose the option of using WIFI only and only when on charge.