One thing which I really hate about Chat in Gmail is because its more like Pop-up window which doesn't allow me to switch with any shortcut. So if you aren't using Gtalk and want to use Gmail Chat, it becomes a terrible idea. However if you using Chrome, there is a handy feature for any pop-up window which lets you open it as new tab.
Steps to Open Gmail Chat as New Tab :
Start a Chat first.
Now look for an arrow out button which lets you make the chat window bigger
Now right-click on the pop-up window over top left and select open as tab.
This will launch the chat into a new tab which is separate from the existing tabs.
Now drag the tab of the chat and drop into your existing set.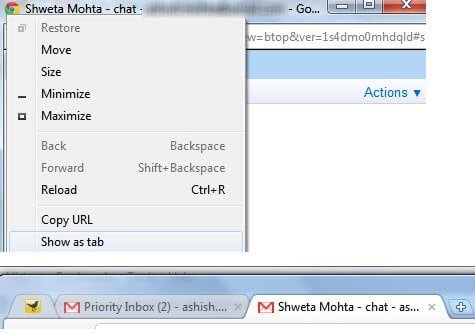 Like I said this can be done with any popup window meaning if you have any game that opens in Popup window can not be played in tabbed window.