Many a times you need to make changes in a Microsoft office document but you dont want to touch the original copy. The most popular approaches which I have seen are :
Create a copy of it by using Windows Copy and then edit it.
Open the document and do a save as to some other name and then edit it.
These options work well but then why not use the feature which comes with Microsoft Office to do it in lesser clicks. Right click on any Microsoft office Document and you would see an labeled as "NEW". This menu opens the selected document with a new name which is suffixed with a integer. So if your document name is Office Work.XLSX it would open it as Office Work1.XLSX which contains all the contents from the original document.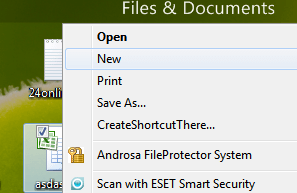 This numbering feature differs little when it comes to word documents. It does not open this way integer suffixed but as Document 1 which is traditional name format Windows  Follows.
This makes your orginal document much safer as you dont have to do any save as to make sure you dont change original.
Now if you say copying the file will give me same protection yes but then you dont have control over the file name. Even though It creates file name for you but it does not actaully save it unless you hit ctrl + S and when you do it propmpts for a file name.
So what do you think ? Can it save your time ?