Are you unable to open a WINRAR or WINZIP file on your Windows PC? Are you wondering if you need to install the official apps full of ads and some paid? This post will guide you to open Zip or RAR files without WinZip and WinRAR apps in Windows.
Data compression is an essential aspect of storing large files on our computers. Most modern files containing software and their resources are enormous and take multiple gigs of storage. To reduce that, data compression techniques, such as creating ZIP archive files, are used prominently.
Archiving, also known as zipping, is the process of compressing data into smaller sizes to take up less storage space on your computer. There is no risk of data loss, and you don't need an external third-party tool to zip or unzip the files or folders. Let us go over it in greater detail.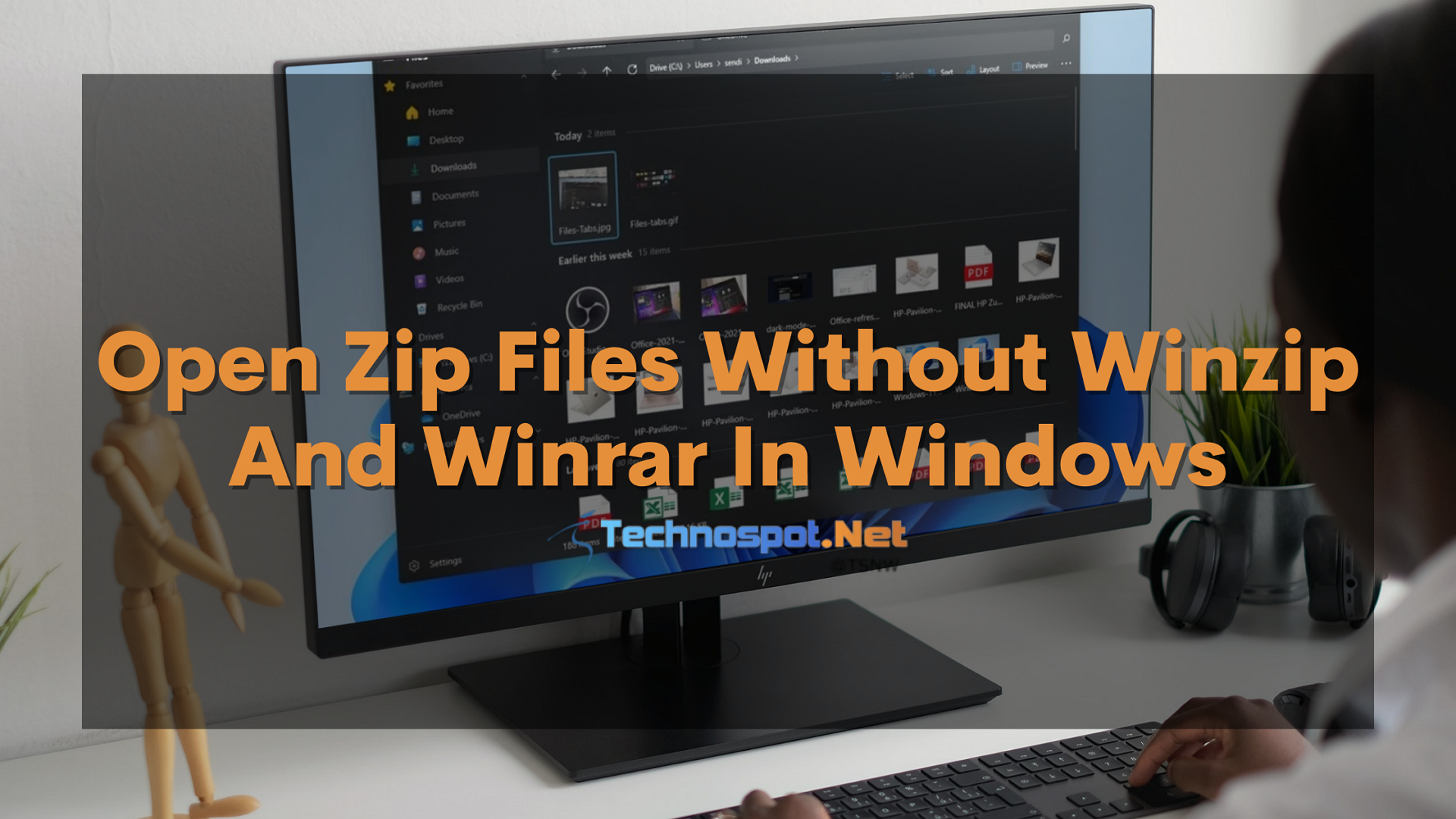 Why Opening Archive Files So Hard in Windows?
The problem is that proprietary apps are paid, full of notifications and prompts asking you to buy those apps. On top of this, the experience is not smooth for those who want to extract the files and be done with them.
Unless you have a need or your business wants you to use it, there is no reason for you to install them. Now that Windows allows you to create and extract the archive files, the need is even less. The most annoying is the RAR files which windows doesn't support, but we have an alternate.
Open Zip Files Without WinZip And WinRAR In Windows
If you need to unzip a file in Windows 11/10, you don't need to use additional software. You can zip and unzip files and folders on your Windows 11/10 PC using the built-in utility method. Yes, Windows 11/10 includes a built-in utility for zipping and unzipping files, eliminating the need for a third-party application. First, we'll look at how you can zip a file/folder using this in-built utility.
Unzip Files/Folders In Windows Without Winzip
Windows File Explorer has an Extract All option that can be accessed by right-clicking the zip file you want to extract. Let us take a look at the elaborated steps for your better understanding.
Find the required ZIP file. Navigate to the location of the ZIP file you want to extract. Because the ZIP stores regular files in a compressed format, you must extract them before using them.
Right-click on the ZIP file. It will open the context menu containing numerous options.
Click on the option Extract All. This option will be available in the context menu.
Click on the Browse button. After selecting the Extract All option, click on Browse, which will open a list of files/folders on your computer.
Navigate to the desired folder where you want to extract and place these files. You're free to choose any folder on your PC. When you unzip a file, a new folder will be created with the same name and placed inside the folder you've chosen.
Click on Select Folder In the Files will be extracted to this folder field. You should now see the name of the folder you chose.
Check the box present next to "Show extracted files when complete.
Finally, click on the Extract button. Now the extracting process will begin. After finishing, you can browse and open the files that you've unzipped.
Windows do not allow users to extract or open any compressed files other than the Zip format. While you can use WinZip and Winrar for that, the whole point of the article is to suggest methods that don't use these softwares as these are the premium ones.
Extract RAR Files In Windows Using 7-Zip
7-Zip is a free, open-source, and reliable file compression/decompression software. 7-Zip supports a variety of other formats on top of the most common. Zip and. RAR formats. You also get fast decompression and compression speeds, and the software is very compact. Here's how you can use 7-Zip: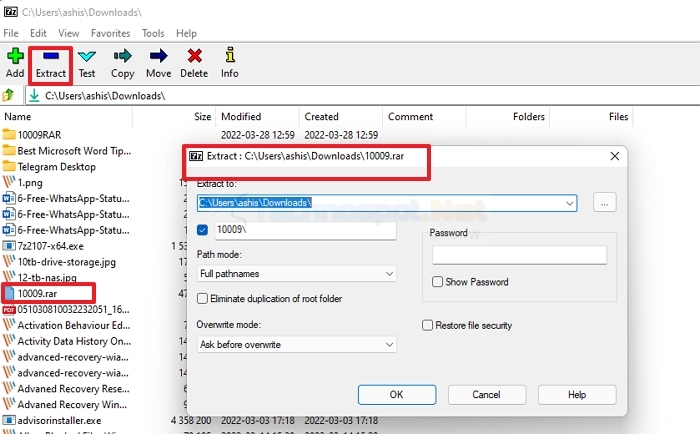 Download 7 Zip from the official website.
Now, install the software and run it on your computer.
When you open 7-Zip, you'll see various directories on your computer, navigate through them to find the file you want to extract.
Now in the top bar, you'll see various icons. Click on the one that says extract.
Once you click extract, a dialogue box will open to select the path you want to extract the file in. Select the path and click OK.
Why Should You Archive Or Zip Your Files?
There are numerous good reasons for zipping your files and folders. Here are some of the major ones that highlight the positives of it.
The primary reasoning behind compressing the files into a Zip archive is to make them easier to share or port to other devices, cloud storage, or send it to an Email address. It will not distort the nature and structure of the file, and the content inside the folder will stay.
Some online services do not allow specific file extensions. The prime example is, most organizations block emails with .exe file attachments as it imposes a risk to security. You can zip the EXE file and send it as a zip archive file in this scenario.
Files sharing devices and Emails are only as suitable as sharing individual files. If you have multiple files in a folder regarding your work or other reasons, you cannot send them to your recipient. You have to send each file separately, which can be a hassle. The best solution is to archive all the folders into a single file and send it to the recipient.
Large files, as previously stated, are not ideal for sharing because they require more time and effort; additionally, if your Internet connection is slow, it can take forever to send that file. On the other hand, Zipped files are ideal for sharing due to their smaller size and ability to maintain data integrity.
Using The Built-in Utility to ZIP Or Compress a File/Folder
This method entails zipping your files or folders using the File Explorer app. To carry out this action, follow the steps outlined.
Open the File Explorer app by pressing Win+E keys, search for the file or folder you want to compress in the zip format.
Select the file you want to compress. If you're going to select multiple files, hold the left click on your mouse and drag the cursor over the files you want to select.
After selecting the file, go to the top bar and click on the option Compress to Zip file from the triple dot menu.
Now, Windows will automatically create a zip archive file including all the previously selected files.
When the zip is created, the file name will be highlighted so that you can easily change its name to your personal preference. Press Enter after entering the name.
These are the simple steps that you can follow to archive a file or folder. Now, let us look at how you can unzip a zipped file using the in-built utility of Windows 11/10/10.
Why Is the Zip File Asking For a Password?
To keep the archive safe from prying eyes, you can password-protect it. Most compression tools, in general, include a password function. If you are prompted to enter a password to unzip a given archive, you must contact the password's creator. It ensures the safety of the sensitive data contained in zip files.
Why Is the Unzipped Folder Showing as Empty?
If your unzipped folder is empty after unzipping the zip file, there are two possibilities. The first is that there was nothing in the zip file, or an error occurred during the extraction process. Try unzipping it again; if the problem persists, contact the source.
This article talked about how to open a Zip file without Winzip and WinRAR in Windows 11/10. Always scan the file for any viruses before attaching it to an email or sending it to your colleagues or friends. We hope you found this article helpful.