BlueStacks is a well-known software for PC that lets you run all of your android applications on your PC, including all your favorite games. Recently launched their new product named BlueStacks X. In this post, we will share how you can use BlueStacks X to play Android games on Windows PC, Mac, iOS, Android, Chromebooks, and other devices for free.
Before games begin, the company runs pre-roll ads to support its service. It will also integrate with Discord, allowing gamers to launch games straight from their Discord chats.
What is BlueStacks X?
BlueStacks recently launched their new product named BlueStacks X, a cloud-based gaming environment that you can access directly from your Browser.
Using BlueStacks X, you can play any native Android game running on an Arm-based or x86 PC or tablet. In particular, BlueStacks is going cloud-based, allowing you to enjoy your favorite Android apps and games within your PC's Browser.
It is available on Windows, Mac, iOS, Android, Chromebooks, and other devices for free. Before games begin, the company runs pre-roll ads to support its service. It will also integrate with Discord, allowing gamers to launch games straight from their Discord chats.

What BlueStacks X has to offer
No matter what your device or OS is, you can enjoy playing on the cloud.
Most people today use their phones for the same things they do on their computers. Today, it is virtually impossible not to own a mobile device, whether you use it for work, browsing, or running errands.
Developers can, however, have trouble creating software and games that work well on any of the many hardware and devices available today. BlueStacks X, on the other hand, provides gamers with a unified platform for playing their favorite games, regardless of their hardware.
BSX is accessible via our website whether you're a Linux, Windows, or Mac user. We allow you to stream all of our 200+ titles with the best visual and performance settings without any installation or configuration.
There is no download. You don't have to wait, and you don't need to store anything.
Playing a game on the cloud through BlueStacks does not require you to download anything or any files locally. You can also play any game that you want without leaving a trace on your computer outside of your browser history. In addition, because it automatically updates all our games server-side, you'll never be delayed by a manual patch download and installation process.
You don't have to worry about waiting for updates, nor will you be required to manually download them with BlueStacks X. Since the games are in the cloud, you won't have to pre-dedicate storage space to them since they'll be available instantly.
Especially if you have a phone or PC with a limited ROM space, you'll be able to save space since many mobile games take several gigabytes of data.
Your progress will be synced across all devices.
In BlueStacks X, the essential feature is that your progress can easily be shared and synchronized across your devices so that you can pick up where you left off on your PC, tablet, or phone.
With BlueStacks X, you can play any game within our catalog simply by clicking or tapping on it. You can also sync your progress across all platforms since your game progress is stored on your Google account.
BlueStacks X gives you seamless cross-platform play across every device, including your phone, a tablet, and a PC.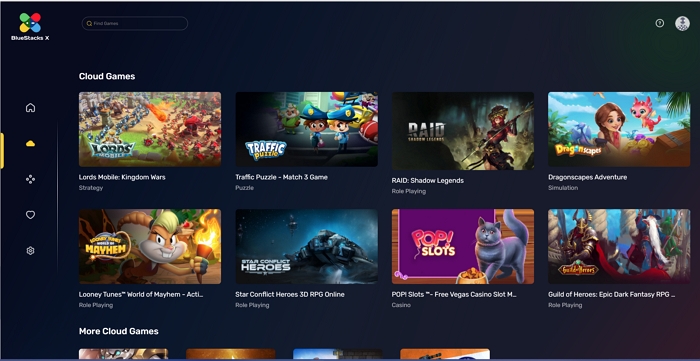 Access to an expanding selection of games.
A significant strength of the mobile gaming industry is undeniably the world's most extensive library of games, with millions of titles streaming each month and more being added each day. A lifetime probably won't be enough time to play all of the games on offer.
With such a vast selection of mobile games, gamers have plenty of options. At the moment, you can choose from over 200 titles on BlueStacks X., All of which have been carefully selected to offer the best of what this industry has to offer. Adding more developers to the platform will only spur this number to grow.
The fact that you don't need a phone to play these games is significant because you would have to have a phone running the appropriate OS and meeting the necessary hardware requirements to play these games.
How To Play Android Games on Windows PC Using BlueStacks X
As with BlueStacks X, you don't have to worry about downloads or any installation as you will do everything in your Browser directly. To use it, follow the steps below:
Open your Favorite Browser on your PC.
Go to BlueStacks X's official website.
You will need to log in before playing any games, so click on the top-right button and sign in using a Google account, Facebook, or Discord.
Now, search for the game you want to play.
Hover on it and click, Play on Cloud option.
Just that and you are playing your favorite Android game on your PC's Browser, no download, no installation needed.
First-Hand Experience of BlueStacks X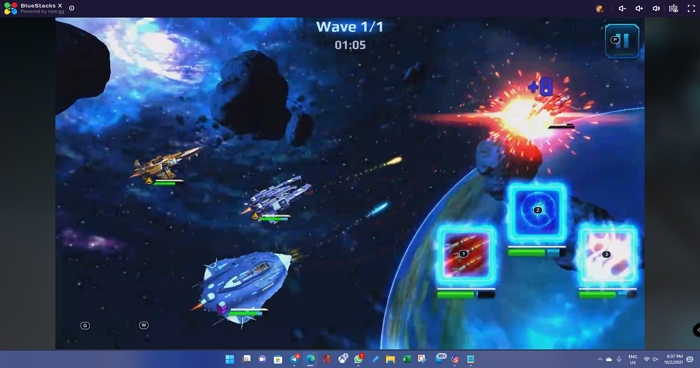 I played a few of my favorite games on it and was surprised with the performance and quality of offers. The part that all I had to do was log in and click the game to start playing was terrific.
As soon as I clicked on the "Play on Cloud" button, the game was opening, and there are already key mappings available that you can use, so you don't have to worry about controls.
For some games, graphics were on point, and surprisingly when I tested it in a low-end machine, there was no lag even on heavy games. However, there was lag for some games, and it did not feel very smooth, to be honest.
Also, you may need to update some of the games, and you can either use Chrome or sign in with your Google Play account.
Further, as more apps and games will be available, I can see BlueStacks X replacing traditional emulators.
BlueStacks X Cloud Games List
BlueStacks X is in its beta phase; therefore, only a few games are available for users to test. But, the company anticipates that there will be more than 200 cloud games available. Here are some available and popular ones:
Traffic Puzzle – Match 3 Game
POP! Slots – Free Vegas Casino Slot Machine Games
Looney Tunes World of Mayhem
Star Conflict Heros 3D RPG Online
Dragonscapes Adventure
Lords Mobile: Kingdom Wars
RAID: Shadow Legends
Dynasty Scrolls
Guild of Heroes: Epic Dark Fantasy
Evony: The King's Return
MU ORIGIN 2
War Robots
The BlueStacks X Cloud Games List includes Asphalt 9, Battleground Mobile India, and PUBG Mobile. We will likely have lots of games to play when BlueStacks X's stable version becomes available since the company promised to add new games regularly.
Mobile Gaming on Windows PC is here to stay?
Well, I can't say that Mobile Gaming on PC is the future of games, but it is here to stay. As with time, mobile games are becoming way more complex than they were, say, three years ago.
It indicates that some people may want to enjoy those Android games but are limited to just a tiny screen. When you play games made for Android on PC, you for sure lose the benefit of portability but gain a massive advantage of:
Better viewing experience.
Enhanced Performance.
Better controls using Keyboard and Mouse.
And there are many more.
Though you may also find a lot of negative comments regarding the topic, as in some competitive games, using an emulator like BlueStacks X gives the player a considerable control advantage over touch screen devices.
My PC is not powerful enough. Can I still play heavy mobile games using BlueStacks X?
The benefit of cloud gaming is that you don't need a robust system as all your games are hosted on the cloud and run on their server. So, even if you have a low-end machine, you can be sure when your favorite game comes online on BlueStacks X, you will be able to enjoy it freely.
Are there any hidden charges for playing games on BlueStacks X?
Currently not, as the company offers a complete program as free to use. They support the service by showing ads at the beginning of the game, which is their primary source of revenue.
Can I play games on BlueStacks X with a low-speed internet connection?
You can, but the experience won't be suitable as you need a minimum of 30mpbs to run games properly on BlueStacks X; anything below will cause your game to lag and eventually crash.
I hope the post offers a clear explanation of the experience, and what BlueStack X has to offer when it comes to Android Gamin on Windows PC