iPad by default only supports printers which can work with AirPrint technology. The latest HP ePrint  printers work fine but the problem comes with the older printer which do not have ePrint technology and cannot be upgraded. Below is my technique to print documents ( PDF and TXT only ) from iPad using a non ePrint HP Printer which in my case is HP Photosmart Premium C309G which came as review unit to us last year.
What I am trying to do :
I need to print PDF or text document from iPad to my HP printer which does not have ePrint capability.
Why I did not use Dropbox ( or Similar Service ) directly which has HP iPrint integration on iPad ?
The problem is with the HP iPrint application for iPad. When I try open a document like text or pdf, it doesn't open. Either it displays the last opened document or just gives me a black screen. I even tried download a PDF file online and it did not open with HP iPrint. If this can be fixed you can directly use Dropbox to print.
Printing image works fine as you first need to save it to iPad Photos section and HP iPrint Application has direct access to it.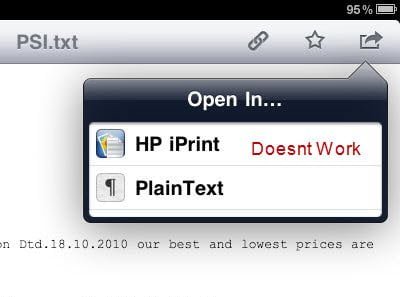 The idea :
Save File to a Dropbox folder
Sync that folder to HP iPrint Shared storage in iPad
Print
Tools used :
First you need to install these apps on your PC and iPad or iPhone. Secondly, Copy to Synchronize is used for syncing files between Dropbox and HP iPrint. You can use any equivalent application for Mac or Windows.
Step 1: See is the HP printer gets listed in HP iPrint App
Once you have HP iPrint App installed on your iPad, check if your printer is listed as one of the print device in there. If you have configured your printer to be discoverable and added to the network it should work without any need of installing and configuring on your PC or Mac.If you see like I see below you are good to go.

Step 2:  Configure HP iPrint App
HP iPrint App makes your iPad available on Windows or Mac as network drive using sharing feature. When you open the app Go to the Saved Files Tab. Here you will that two folders are already available, namely  Documents and Images. The images directly access the Photos on iPad but documents are empty for the first time.
Right below that on bottom right you will see option, Sharing.  Open the Settings. Here you can configure Port number, password protection and to enable / disable the file sharing feature. Keep it on and add password protection to it. Click on done.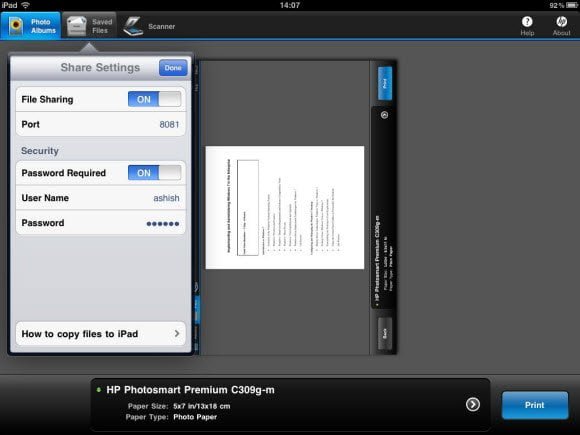 Now when you come back to the Saved Files Tab, you will see a URL which will be like http://192.168.01.01:8081/ for example. Note this as we will need this to add to your computer.
If you access this url from your computer, you will get an instruction page which explains how you can map as network drive to your computer. The instructions are available for Mac,Windows  and mobile phones.
Step 3:  Map iPad as Network drive on your computer
Below are the instructions available in the app. However make sure you do store your password so when the Sync application accesses the mapped drive it does not fail.
For Mac OS X
Open the Finder.
Choose Go > Connect to Server or press Command-K.
Type the URL found at the top of the Saved Files screen and click Connect.
If you set up a password when you configured Wi-Fi on your mobile device, type your user name and password and click Connect.
Your device appears in the Finder, allowing you to copy files to and from your mobile device.
For Windows 7
From the Start menu, choose Computer.
Click Map network drive at the top of the window and follow the onscreen instructions.
Type the URL found at the top of the Saved Files screen.
Clear the Reconnect at login check box.
Click Finish.
If you set up a password when you configured Wi-Fi on your mobile device, type your user name and password and click OK.The new network drive is now available so you can copy files to and from your mobile device.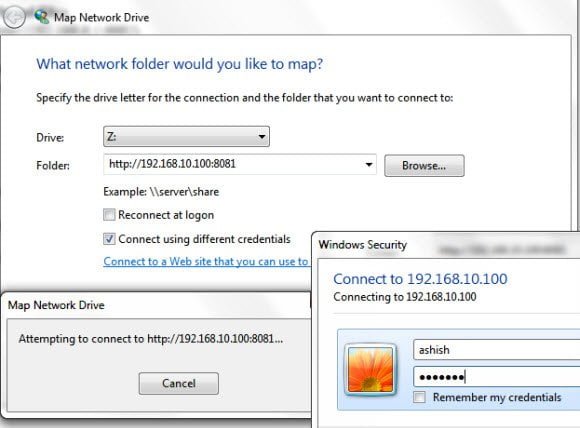 Step 4 : Setup Sync between Network Drive and Dropbox
Create a folder in your Dropbox. Lets say HP iPrint.
Use Copy to Synchronize (  Download | Tutorial ) to set a sync relationship between them. So if you add files to your Dropbox it gets synced to the network drive and hence back to your iPad.
Set up a Task Scheduler to run every few minutes which execute the Copy To Synchronize instruction so when you have new files in Dropbox it gets synced to your Dropbox immediately.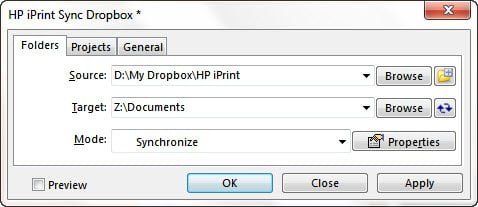 Step 5 : Moving Files to Dropbox
This is the toughest part as Dropbox doesnt integrate well for documents. The problem partially is both with Dropbox and the apps since cross data sharing is very restricted with iOS. However if the apps can use the API provided by Dropbox they can directly send files to Dropbox folder.
There are few applications which you can use to send files to Dropbox. They actually integrated with your Dropbox and you send files to Dropbox directly instead of storing in your local iPad storage. Thats a bit of annoyance as you cannot take advantage of the Lan Sync feature.
iPad Apps :
There are a couple of apps already listed for iPad and Dropbox integration. You can find the complete list here. Grab one which lets you save to Dropbox and if preferably to local Dropbox installed on the iPad. Some of the apps are Goodreader, Office to Go,
Online utilities :
Send to Dropbox : You can send attachments or documents as email to Dropbox. All the attachments appear in Attachment folder.
Note if you plane to use Send to Dropbox, you will have to sync the attachment folder with iPad mentioned in Step 4.
Step 6 : Its time to Print
Now when you want to print a document just save it to the Dropbox folder that is mapped to sync with HP iPrint app. The document will be uploaded to your iPad and you should be able to see it in the Documents Folder of saved files in the HP iPrint iPad App. Select and send it to print.