You often want to print only parts of an article written on a website or maybe selective parts, which are on top and left. The traditional way of sending print command doesn't give an option to do that directly except if you are using any Screenshot tool to capture and then print. All these are a bit of hard work.
Why Bother To Print Selected Parts On A Webpage?
A website is full of ads and different data. If you want to print only a particular section of the website, it is inefficient to print the whole website, which is a total waste of resources like paper and ink. By printing only a section of the website, you are saving your resources. Another reason is that a website may not offer a "print-friendly" version. So you can print only your desired section.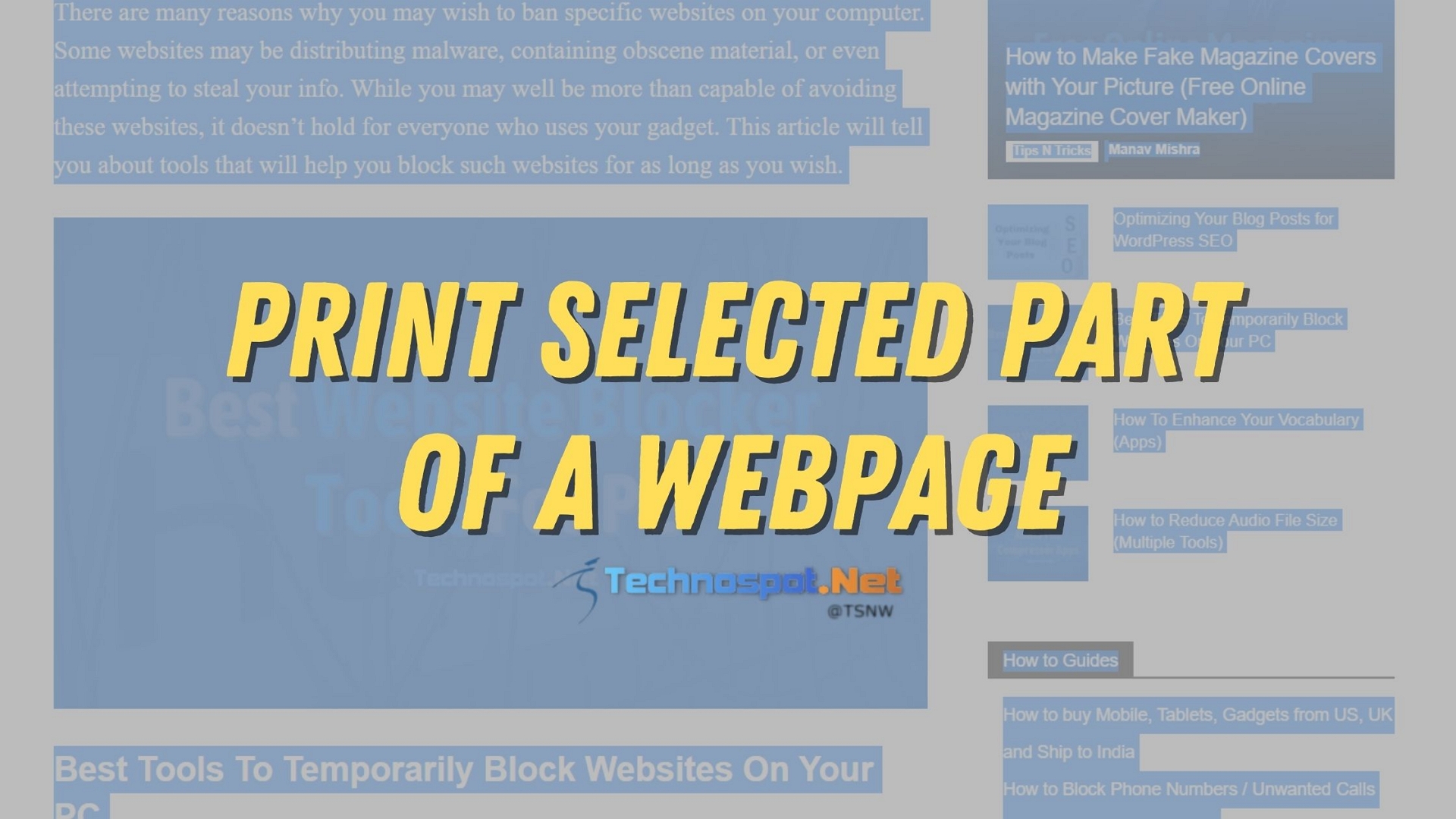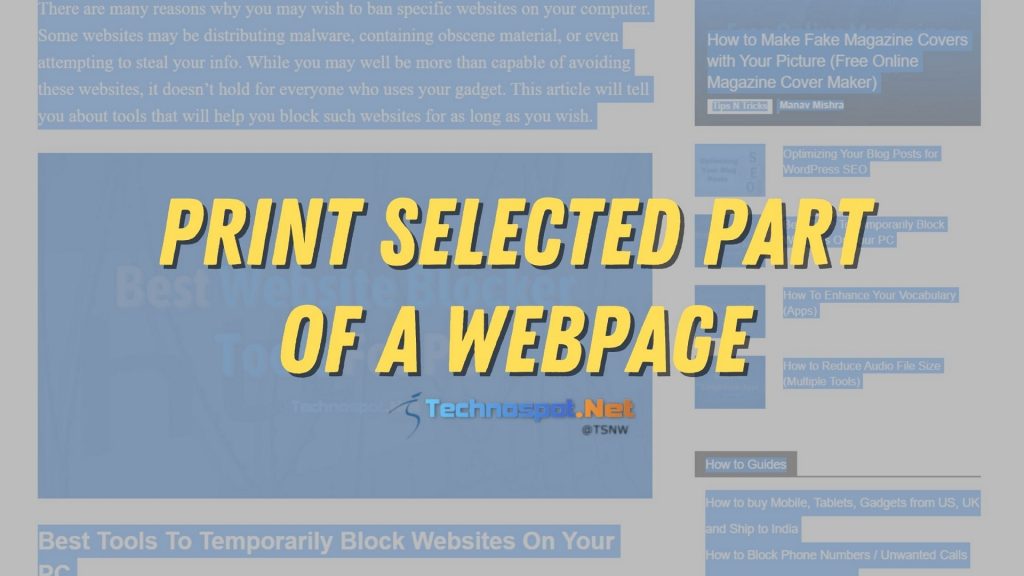 How To Print Only Selected Part of Any Webpage
You can use any of the following methods and a service I talked about a long time ago, but it still works.
1] PrintWhatYouLike
Print What you like is an online service that lets you print a selective part of the website, anywhere on the page, change it a bit, or even crop the rest of the webpage, and then lets you print. Once you open a website in it, each element can be removed. All you need to do is click on the image or paragraph and then choose to remove it. The elements next to it may automatically shift.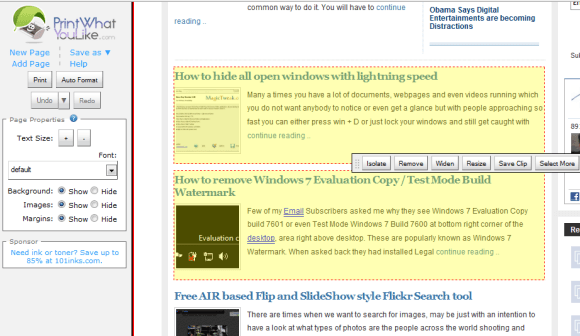 Features:
Before printing, you get the option to remove backgrounds, images, or margins.
Increase or decrease the text size.
Add more pages and then combine them to print.
Change Font type.
You can also save it as a snippet to use later.
Check out PrintWhatYouLike
2] Print Friendly 
If you find the above solution complex, then the Printer Friendly website can make it a lot simpler for you. Print-Friendly pulls content directly from the RSS. It means you only get to see a printer-friendly version of the link.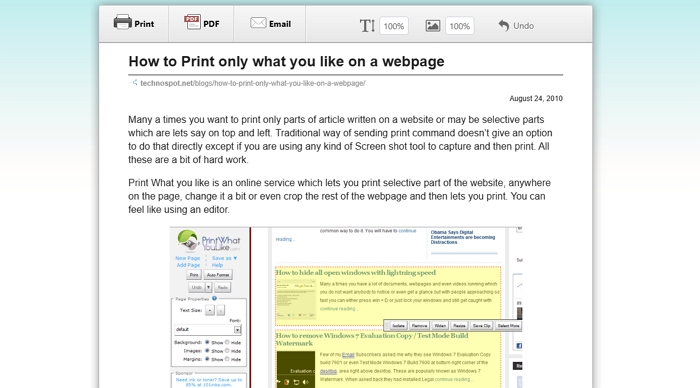 You can then mouse hover, delete elements you don't like, and save them as PDF. You also have options to change font size, image size, and directly print.
3] Copy Paste With Source Formatting
Open the browser and open the website. Then open the webpage.
Select the desired part that you wish to print. For highlighting, place the cursor at the start, press the left key to hold the data, and move the cursor to the end of the section. Now you have selected the data.
Copy the content. To copy, place the cursor in the highlighted area and select "copy" by pressing the right key.
Open the software through which you want to print the data, such as MS Word or notepad. Click on the New option to create a new document.
Now paste your highlighted text by pressing CTRL+V or press paste. If you want the same formatting, then while pasting, select Keep source formatting, or use your formatting.
If you want to delete some text, then select that text and delete it.
To print, you can press CTRL+P or select Print from the file menu.
4] Delete Parts of Webpage Using Inspect Element
Reader View helps you only to view the website's content. Open the URL, and then click on the Reader view. Now you can only see the content that is only pictures and text. There will be no ads on it.
If you don't want any picture in the document, then delete it before printing. You can also delete images of the web pages using the safari browser. Once you select the reader view button, then right-click at an empty area. A pop-up menu will appear to choose Inspect Element.
Delete images from reader view before printing.
Open the safari browser, select print to print the document, and adjust the settings.
Now you have printed your desired content that is according to your requirements.
How Do I Print A Webpage Without A Picture?
Here are the steps to printing a webpage without a picture;
      Open the website from where you want to copy the content.
      Please copy and paste it into MS word
      Press CTRL+P
      In print settings, check the Remove Images checkbox.
How Do I Print Only The Content Of An Email?
Suppose you don't want to print the header and reply features in the email. Select your email without the header part and press Home> Reply. A reply message page will appear. Remove the recipient and subject and remove the header. Select your printer and select Print.
Conclusion
All books, magazines, or articles on the websites can be printed. However, websites contain different ads and other data that you don't require. So if you don't want to print the entire web page and a section or some pictures, then these are the best methods to print. Just select the text and print it if you want to waste your time, ink, and paper.