Data is a digital currency. Our personal data is being sold and traded globally to manipulate the target and influence people from all over. It means that finding a way to make our private data secure is a serious business.
With companies, banks, schools, and so much more going digital to make it simpler to access our information via online connections, it is now more important than ever to secure our usage of the Internet. Learn how to protect your data online with these tips and tricks of the trade.
How To Protect Your Data Online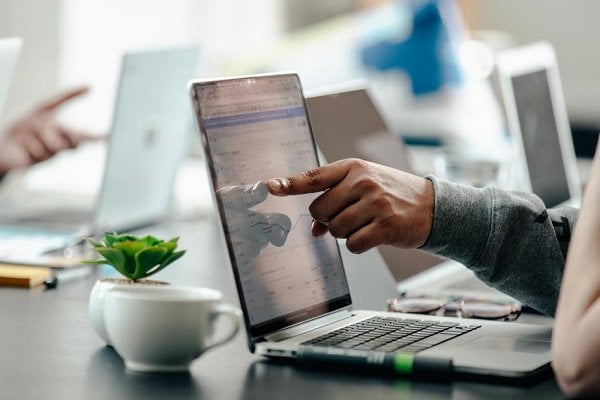 1] Passwords
The first step to securing the data you send and that which you generate while using the internet is to ensure you employ secure passwords. We all know that using our birthday, our name, the word password, 'qwerty,' or a string of numbers in order is a bad idea. Additionally, anything that can be guessed by someone who knows you, like a favorite band or sports team, is also an easy target for hackers. But, how can we protect ourselves further than just using a hard-to-guess password?
2-factor authentication (2FA) is a two-step process to secure accounts. It requires the user to enter the second piece of information or perform a second activity after introducing the initial password. Several sites have implemented this process so that there is an additional layer of security for their users. It usually requires the user to answer a secret question or enter a pin.
Also, despite the ease of this facility, it is recommended not to 'remember' your passwords or store your credentials in the browser. This practice makes it exceptionally easy to gain access to your data if someone were to come across your device.
2] Social Media Privacy
Everyone has a social media site of some kind; it is practically impossible these days to stay connected without one. However, it is essential if you are planning on sharing parts of your life digitally, that you ensure to have a high level of security established.
First and foremost, you should be careful with what you put online. Certain personal data should never be made public, and you do not know who can see it or even download it, and further share it. Next, use the website privacy settings to make sure any information you share is only being viewed by people you know. These settings can be found in the control panel. Remember to establish the highest level of privacy on all sites where you share information, including webs such as YouTube that might not initially seem like social media sites.
3] Use of Public Networks
When using a public network such as can be found by connecting to the Wi-Fi in cafés, airports, hotels, etc., it is vital to consider your digital safety. Where possible, always avoid sending sensitive data through bank or payment transactions because this information is susceptible to interception from outsiders given that the network is public. Another crucial factor to remember is to sign out from any sessions you open before closing the browser. It ensures that they are not accessible by those who open the session next.
Another method of securing your use of a public access network is to set up a VPN — virtual private network — that you use to make your connection safer. A VPN means that neither the ISP (Internet Service Provider) nor anyone else accessing the router network can intrude on your privacy or gather data from your use of the public Wi-Fi.
4] Take Care with Emails
Email is one of the simplest methods of hacking and, thus, collecting private data. It is, therefore, crucial that you inform yourself and stay alert on how to keep these connections safe. Phishing scams are so prevalent in today's society that, according to a report by Recruiter, a whopping 76% of businesses were targeted and became victims in the last year. Individuals are even easier to hack because they often do not have the updated technology that businesses can use.
Never open emails with attachments from unknown sources. It is the easiest and most common way that hackers send viruses to destroy files and gain access to your network. Also, remember not to download any files that are not safe, according to your email provider. Check with the sender if it is someone you know, and if not, ignore and delete it. If it is necessary, that person will contact you, and you can find a secure way to transport the files necessary.
5] Encrypt Everything
Encrypting may sound like a difficult task, but really, it can be straightforward. Most programs have a way of encrypting the information held in a file by requesting a password that you set. It means you can send files without worrying about them being intercepted. Nowadays, often accounting and medical firms use these simple but effective methods to send sensitive data about patients and clients.
Additionally, be aware of the secure URLs when you need to make a transaction online or send personal data. The secure URL will always be shown in your browser with a padlock symbol and begin with https://; as opposed to the standard http://. It means that the network is secured with an encrypted digital certificate.
6] Security Software
In addition to the methods mentioned above of securing your data, one of the most fundamental actions you should take is to install the right, reliable security software on your devices.
There are many systems available nowadays to help prevent cyberattacks and keep your data safe. Beginning with a basic firewall, which will help detect any unauthorized access to your system, to a variety of privacy plugins available as extensions via your web browser.
It is also advisable to maintain your operating systems and various software programs updated to rely on the most recent security patches. Additionally, an excellent anti-malware system will protect your device from viruses and spyware.
7] Back-Up Plan
Once you have implemented all of the possible contingency plans, you should also make sure all your personal data is stored elsewhere. In this manner, if the worse happens, you will still be able to access it. It is advisable to either store your files on an external hard drive or to use the cloud. The latter allows the data to be retrieved from any device through your private password protection.